Marketo Partner Certification Awarded to LeadMD
New Company Level Certification Presented to LeadMD for Its Ability to Empower Customers in Revenue Performance Management
(May 24, 2012)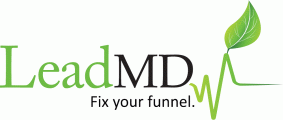 SCOTTSDALE, AZ -- (Marketwire) -- 05/24/12 -- LeadMD, specializing in marketing automation and CRM consulting services, today announced it has been awarded the Marketo Partner Certification. Marketo's Certification Program recognizes partners for achieving required marketing automation and sales effectiveness competencies and for providing a scalable learning environment in which to teach and assess these proficiencies.
"As the first services company to reach this milestone put forth by Marketo, it proves our commitment to the customer and leaves no doubt that we are on the front of this curve," said Justin Gray, CEO of LeadMD. "Marketo is a powerful platform and change can overwhelm businesses that are new to marketing automation. We are not only adept with its ins and outs, but we also now have a high level measurement by which we can show our grasp of the platform."
It's been shown that LeadMD customers who deployed the Marketo platform for six months achieved $10.2 million in new net monthly revenue, and an average boost of 76 percent in qualified leads when specific nurturing campaigns were employed. Because of the substantial adoption rate of marketing automation software, LeadMD has seen 300 percent year over year growth.
This program is groundbreaking for Marketo, as it's the first time the revenue performance management leader has defined a benchmark of knowledge and best practices for its partners to become successful Marketo consultants. Now customers have insight into whether the lead generation company they choose to amplify their marketing efforts has been approved by Marketo.
"By becoming a Marketo Certified Partner, it proves LeadMD's level of commitment to Marketo customers' revenue growth and success," said Amy Guarino, VP of business development at Marketo. "It's imperative to educate customers in how to optimize the buying process to drive top line revenue. Marketo's Partner Certification utilizes marketing resources to turn partners into trusted advisors and true Revenue Performance Management leaders."
Introduced in March of this year, the program tests individuals on proficiency in the areas of setup, data management, programs, campaigns, asset/studio design, lead scoring, lifecycle management and reporting. The content of the test material demands a thorough and comprehensive understanding of the Marketo platform, of which LeadMD's team impressively surpassed.
About LeadMD
LeadMD is a marketing services firm specializing in lead generation and marketing performance management. Founded in 2010, LeadMD is a full service marketing solution that helps marketers make sense out of marketing automation and CRM. With deep expertise in Marketo, Salesforce integration, and in how to shape a strong working funnel, LeadMD can develop, streamline, and maximize any lead generation program. For more information, please visit www.leadmd.com.
About Marketo
Marketo is the fastest growing provider in Revenue Performance Management. Marketo's powerful yet easy-to-use marketing automation and sales effectiveness solutions transform how marketing and sales teams of all sizes work -- and work together -- to drive dramatically increased revenue performance and fuel business growth. The company's proven technology, comprehensive services and expert guidance are helping more than 1,800 enterprise and mid-market companies around the world to turn marketing from a cost center to a business-building revenue driver. Marketo also offers Spark by Marketo™, a new brand of marketing automation tailored specifically for small businesses - the fastest-growing and largest segment of today's economy.
Marketo was recently named one of "America's Most Promising Companies" by Forbes Magazine, the fastest-growing private company of 2011 by the Silicon Valley Business Journal, and the "2011 CRM Market Leaders Awards Winner for Marketing Solutions" by CRM Magazine. For more information, visit www.marketo.com, or subscribe to Marketo's award-winning blogs at blog.marketo.com.
Marketo, Spark by Marketo and the respective logos are trademarks of Marketo, Inc.
All other trademarks are the property of their respective owners.
Media Contact:
Aly Saxe
Ubiquity Public Relations
Email Contact
602.268.6849


Copyright @ Marketwire
Page: 1
Related Keywords:
marketing automation, lead genertion, demand generation, Sales, Marketing, CRM - Customer Relationship Management, Sales & Marketing, Management, Sales, CEO/CFO, Sales, Marketwire, Inc., , Marketing Services, Business, Other,
---