Marketfish Sets New Standards for Accuracy and Effectiveness in Lead-Generation Campaigns
Two New Reporting Capabilities Added to Marketfish Platform Ensure Marketers' Success in Reaching Targeted Demographics With Ease, Within Budget and in Record Time
(April 03, 2012)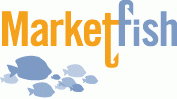 SEATTLE, WA -- (Marketwire) -- 04/03/12 -- Marketfish, a fully automated lead generation platform for list marketing, today unveiled two new features that promise to greatly impact a marketer's ability to fine-tune their lead-generation campaigns. Marketfish Customer Insights is unique in its ability to automatically generate reports that highlight demographic patterns of a marketer's current customer base that can be used to further focus marketing efforts. Marketfish Demographic Reports delivers information on a campaign's open and click-through rates, adding demographic and psychographic profile information about the campaign's recipients. Both new features provide critical information with an efficiency that improves marketers' effectiveness, their conversion rate and, ultimately, their bottom line.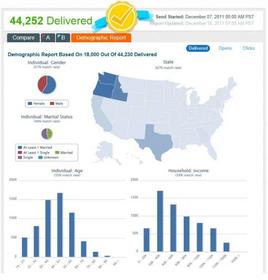 Marketfish Customer Insights
Marketfish Customer Insights gives marketers the power to further focus marketing efforts by filtering data about gender, marital status, age, job title and more, then delivering the information in a detailed report. The idea behind Customer Insights is not new to the industry; however, automating the process is. Marketers can typically spend days sifting through historical demographic details to assemble appropriate recipients for more precisely targeted campaigns. With Customer Insights, users start with a minimum of 1,000 email addresses (encrypted or not) and a report highlighting demographic patterns is automatically generated. Clicking a link in the report takes the user directly to the Marketfish platform, where a target audience has been culled from Marketfish's more than 500 million records. All that is left to do is upload the creative asset and deploy. Using Customer Insights, marketers integrate campaign analytics and execution in one streamlined process that takes minutes as opposed to days to complete.
"I didn't know the demographics of our house list until I saw [the Customer Insights report]," said Heather Jones, marketing manager at Zipfizz, the maker of a high-energy drink-mix powder. "This is very helpful in understanding our core customer and choosing targets for our acquisition campaigns."
Customer Insights is a free feature available to Marketfish platform account holders.
Marketfish Demographic Reports
Marketfish Demographic Reports also delivers a high level of insight and detail into a marketer's engaged customer base. Demographic Reports provides a summary of open and click-through rates -- and adds a unique twist by including the recipients' demographic and psychographic profiles.
"Marketfish's new demographics reports are awesome. They are extremely user friendly, and the level of data we can view is impressive," said Richard Gengler, CEO of Prevail Health Solutions. "It's fascinating to see this level of detail on our acquisition efforts, and by using this information we have been able to make smarter targeting decisions on our subsequent campaigns. Anyone who is used to using Google AdWords or MS Adcenter is going to love this new functionality."
Designed for Marketfish Platform users, Demographic Reports details information about gender, age and household income for B2C campaigns; and job title, company type and company size for B2B campaigns. This information helps marketers deliver the right content to those who want to receive it, aiding in the elimination of SPAM complaints associated with email lead generation and unwanted marketing emails. The information gleaned from this insight into a marketer's engaged customer base can also be used for retargeting efforts, saving marketers money and resulting in optimum conversion rates.
Demographic Reports is available at no extra cost to marketers using the Marketfish platform to run a campaign.
"As any marketer knows, the key to successful marketing campaigns is to reach the right targets with the right information, and do it as efficiently and cost-effectively as possible," said Dave Scott, CEO and founder of Marketfish. "With these two new features, Marketfish delivers exactly what is needed to achieve these goals. In the process, we're raising the bar in the list marketing industry, and setting new expectations for intelligent marketing solutions."
For more information about Customer Insights or Demographic Reports, please visit www.marketfish.com.
About Marketfish
Marketfish is the only fully automated lead-generation platform that offers free access to an online marketplace of permission-based, third-party marketing lists, the ability to build and execute a marketing campaign in under 30 minutes, and a cutting-edge suite of analytics tools that deliver detailed customer insight in real time. Founded in 2008, Marketfish services more than 600 agency and enterprise clients. The company is funded by Rustic Canyon Partners, Javelin Venture Partners and Accelerator Ventures. For more information or a free test drive of the platform, please visit http://www.marketfish.com. To gain a better understanding of the challenges list marketers face, please view our video: www.marketfish.com/video/promo.html
Image Available: http://www2.marketwire.com/mw/frame_mw?attachid=1936683

Media Contact
Jennifer Rivera Ridless
BOCA Communications
Email Contact
+1-415-738-7718 x5


Copyright @ Marketwire
Page: 1
Related Keywords:
lead generation platform, lead generation, list marketing, , Marketwire, ,Spam,Email,
---