Margaritaville(R) Cargo Launches Mixed Drink Maker Landing Page and Free Party It Up(SM) Mobile App to Host the Ultimate Celebration
Company Kicks Off Its Digital Marketing Campaign With Giveaways and Sweepstakes in Time for Father's Day
(June 05, 2012)

BOCA RATON, FL -- (Marketwire) -- 06/05/12 -- Margaritaville® Cargo announces the launch of the Mixed Drink Maker landing page -- www.TheMixedDrinkMaker.com -- as the first phase of its digital marketing campaign for the Mixed Drink Maker, the only home appliance that makes 48 different cocktails at the push of a button. In mid-June, the company will unveil the second part of the campaign, its free mobile application, Party It Up(SM).
On the Mixed Drink Maker landing page, users can customize Facebook Timeline covers by filling templates with fun user profile content such as comments, photos and Likes. The company will also use the page to generate excitement for the Mixed Drink Maker with special giveaways and sweepstakes. Party It Up(SM) will help hosts create parties from scratch and enable everyone who is invited to interact and see what people are bringing to the party.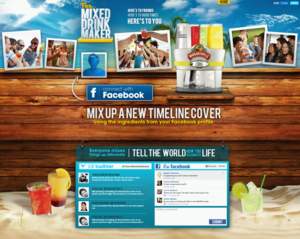 "As we are getting close to Father's Day and summer cookouts are already heating up, we developed the perfect app to host a flawless party and Timeline covers to share the fun," said Heather Turner, Margaritaville® Cargo's Product Manager. "With Party It Up(SM), hosts can customize what they want guests to bring and guests can create their own twist by adding something special they want to contribute. Each guest can then share the highlights of the same party with friends by 'mixing' their own 'Social Cocktail.'"
Margaritaville® Cargo Mixed Drink Maker Landing Page
The Mixed Drink Maker landing page features an application that lets users create new Facebook Timeline covers, "Social Cocktails," which are fun, imaginative and customized. The landing page is easy to use: users connect via Facebook, choose from one of the customizable themes and hit the MIX button. The online tool will take photos, items the user Likes and comments from one's Facebook profile to design a unique "Social Cocktail" Timeline cover. Don't like the cover? Just hit the MIX button again. Users who prefer text over photos can choose among the themes that create a custom message, which is artistically placed in the "Social Cocktail." All that's left to do is download the new cover and post it on Facebook. The final, fun step is a personalized cocktail that is 'mixed' based on a user's profile and preferences.
On the Mixed Drink Maker landing page, users will also have a chance to buy the Margaritaville® Cargo Mixed Drink Maker. The first 1,000 people to buy the product will receive a free Chillin' Pour Liquor Chiller, valued at $199.99. Users may also enter Margaritaville® Cargo's sweepstakes for a chance to win prizes such as the Salt & Lime Trays and Margaritaville® branded sunglasses.
Party It Up(SM) Mobile Application
No more making multiple phone calls, emailing every guest or receiving calls from guests asking what they should bring to the party. With Party It Up(SM), every guest has all of the details for the fun night out at their fingertips. The app lets users invite guests by sending invitations directly to their friends on Facebook or to their mobile phones if they also have the app.
Party It Up(SM) has everything a party could need covered. Hosts can choose from a long list of suggested items that guests can bring, including specific foods, drinks, games and music. Guests can see what others are bringing so multiple guests do not bring the same item.
Party It Up(SM) will be available on the Mixed Drink Maker landing page, iTunes App Store and Google Play by mid-June.
The Margaritaville® Mixed Drink Maker
The Margaritaville® Mixed Drink Maker was developed to fill the need for a product that would easily make a fun variety of cocktails. Rather than spending the evening behind the bar, the MDM allows hosts to do what people like to do best at a party -- socialize. The Margaritaville® brand mixologists concocted the perfect blends for 48 of the most popular cocktails using three liquor types: tequila, vodka and rum. A party host/hostess simply has to select his/her favorite cocktail from the easy-to-read digital display, push a button and the perfectly mixed cocktail is created in minutes. To stir things up, the "I Feel Lucky" button chooses a drink at random and the "Strong Pour" adds an extra ounce of liquor. The Mixed Drink Maker retails for $299.99.
About Jarden Corporation
Jarden Corporation is a leading provider of a diverse range of consumer products with a portfolio of over 100 trusted, quality brands sold globally. Jarden operates in three primary business segments through a number of well recognized brands, including: Outdoor Solutions: Abu Garcia®, Aero®, Berkley®, Campingaz® and Coleman®, ExOfficio®, Fenwick®, Gulp!®, K2®, Marker®, Marmot®, Mitchell®, Penn®, Rawlings®, Shakespeare®, Stearns®, Stren®, Trilene®, Völkl® and Zoot®; Consumer Solutions: Bionaire®, Crock-Pot®, FoodSaver®, Health o meter®, Holmes®, Mr. Coffee®, Oster®, Patton®, Rival®, Seal-a-Meal®, Sunbeam®, VillaWare® and White Mountain®; and Branded Consumables: Ball®, Bee®, Bernardin®, Bicycle®, Billy Boy®, Crawford®, Diamond®, Dicon®, Fiona®, First Alert®, First Essentials®, Hoyle®, Kerr®, Lehigh®, Lillo®, Loew Cornell®, Mapa®, NUK®, Pine Mountain®, Quickie®, Spontex® and Tigex®. Headquartered in Rye, N.Y., Jarden ranks #371 on the Fortune 500 and has over 23,000 employees worldwide. For in-depth information about Jarden, please visit www.jarden.com.
Image Available: http://www2.marketwire.com/mw/frame_mw?attachid=2003020

Add to Digg Bookmark with del.icio.us Add to Newsvine
Media Contact:
Birgit Johnston
for Margaritaville® Cargo
+1 (408) 656 8025
[email protected]


Copyright @ Marketwire
Page: 1
Related Keywords:
Margaritaville, Mixed Drink Maker, Father's Day, landing page, mobile app, sweepstakes, Timeline , Home, Displays, Movies & Music, Marketwire, Music, Business,
---