Manion's Holds Rare Hitler Art Auction Through April 20
Online Event Features Five Pre-1920s Original Artworks, Including Three Watercolors and Two Oils
(March 22, 2012)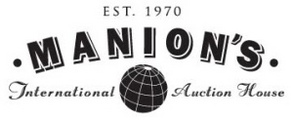 KANSAS CITY, KS -- (Marketwire) -- 03/22/12 -- Manion's International Auction House announced today it is conducting an unusual online auction of rare original artworks by Adolf Hitler from now through April 20. The five works being offered all are dated prior to 1920, long before Hitler rose to power in post-WWI Germany.
"It's extraordinary to be able to offer this many pieces at one time, since Hitler's work has been scattered in private collections for decades," said Jody Tucker, Manion's president. "The provenance for each of these works is well documented.
"Although we have sold numerous oils, watercolors and sketches by Adolf Hitler in our online auctions in the past, this current set of offerings is different quite simply because it's rare to find these items in the U.S. and to be able to offer this many at one time. Most such sales are held in Europe," Tucker noted. "We have sold a dozen of his pieces in the last 10 years."
The current auction items may be viewed at www.manions.com/hitler-art-auction-manions.htm.
About Manion's
Founded in 1970 in Kansas City, Kansas, Manion's International Auction House, Inc., provides one of the world's leading venues for collectors and dealers of militaria. The firm's auction web site has approximately 20,000 items up for bid at any given time, in online auctions running 365 days a year. The company offers thousands of military collectibles from the U.S., Germany, Japan and many other countries -- representing eras from the U.S. Civil War to WWI, WWII, Vietnam, modern day military and more. Manion's also deals in other areas of antiques and collectibles such as vinyl records, comic books, entertainment memorabilia, autographs, fraternal collectibles, Boy Scout memorabilia, Americana, vintage clothing, sports memorabilia, jewelry, stamps, tools, and the list goes on. For more information please visit http://www.manions.com.
Manion's International Auction House understands some of the artifacts listed for auction may be deemed sensitive by some. Manion's neither supports nor glorifies Nazism, fascism or any other dictatorial regime or destructive ideology. We present all artifacts in their original historical context to historians, private collectors, museums, archives, and re-enactors.
Add to Digg Bookmark with del.icio.us Add to Newsvine
Editors, for additional information, please contact:

Mr. Jody Tucker
President
(866) 626-4661
Email Contact


Copyright @ Marketwire
Page: 1
Related Keywords:
Manion's, Militaria, Hitler, Artworks, Auctions, Collectibles, Germany, USA, Japan, Vietnam, Marketwire, Inc., , Sports, Internet Technology, Entertainment, Sports, Outdoor Sports, Other,
---