Mac Users Now Have a New, Free Source of Advice, Answers and Easy Solutions -- in Pocket and Digital Editions
Just-Published "TEKSERVE Mac FAQ" Helps Mac Users Through Freezes, Crashes, Keyboard Spills, Back-Ups, Upgrades -- and Many Mac Questions or Issues
(May 07, 2009)

NEW YORK, NY -- (Marketwire) -- 05/07/09 -- My computer won't wake from sleep; what do I do? I just spilled beer on my keyboard. My Mac froze up; now what? My computer was just repaired, and now I can't play the stuff I purchased on iTunes. What back-up strategy should I choose?
Mac users now have a free, easy-access resource to help them resolve scores of these kinds of questions and situations -- with the publication this week of the Ninth Edition of the "TEKSERVE Mac FAQ," a clearly written, 58-page pocket book. It's available free at TEKSERVE, the premiere New York City Apple reseller and service provider. Those who can't make it to TEKSERVE (119 West 23rd Street in Manhattan) can find the content at www.tekserve.com/faq or order the pocket version (for $4.95 shipping and handling) by calling 212-381-6300.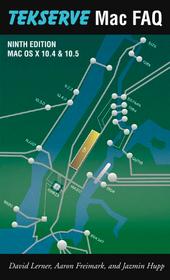 Said David Lerner, Chief Executive Officer and Co-Founder of Tekserve, "We published the first 'TEKSERVE Mac FAQ' in 1998. Since then, technology has changed, but our commitment to Mac users and to helping them keep their Macs running smoothly and trouble-free hasn't."
The Ninth Edition of the "TEKSERVE Mac FAQ" offers tricks and troubleshooting tips on how to...
Handle crashes, freezes and kernel panics: Frozen mouse? Keyboard not working properly? Is the screen getting all wonky with messages in English, German, French and Japanese?


Deal with computer slow-downs: Have iTunes tracks stopped working? Perhaps a DVD has gotten stuck in a laptop? Does the operating system start at a snail's pace?


Back up data with or without Time Machine: All hard drives are prone to failure. The book walks users through setting up a back-up plan, whether it's with Apple's Time Machine, an external hard drive, or with a stack of DVDs.


Avoid spam, viruses and other bad stuff: Although less common than PCs, Mac OS X is vulnerable to viruses and worms, and it's smart to take the appropriate precautions. The "TEKSERVE Mac FAQ" also shows users how to set up a spam filter.


Share files with Windows PCs: Whether one must run Windows on a Mac or maybe just be able to easily share files and printers with PCs in a network, the book guides users through a flawless setup.


Get the most out of an iPod/iPhone: The guide teaches users how to maximize battery power, use the iPod as an external hard drive and more.
"TEKSERVE Mac FAQ" is available for free at Tekserve, 119 West 23rd Street in Manhattan, or for $4.95 for shipping by calling 212-381-6300. And, Tekserve is offering the complete FAQ online at www.tekserve.com/faq.
To schedule a conversation with a representative from Tekserve or to learn more about "Tekserve Mac FAQ," please contact Katarina Wenk-Bodenmiller of Sommerfield Communications at 212-255-8386 or Katarina@sommerfield.com.
About Tekserve
Tekserve is New York's largest independent Apple store and service facility. Tekserve has been servicing the local New York City community for over 20 years offering Mac sales, service and repair, iPods and accessories, Mac accessories, pro audio and video solutions, rentals, on-site service and data recovery. For more information, visit www.tekserve.com.
Image Available: http://www2.marketwire.com/mw/frame_mw?attachid=977635

Add to Digg Bookmark with del.icio.us Add to Newsvine
Contact:
Katarina Wenk-Bodenmiller
Sommerfield Communications, Inc.
(212) 255-8386
katarina@sommerfield.com


Copyright @ Marketwire
Page: 1
Related Keywords:
Tekserve, Post/Production, Pro Audio, OS (Operating System), Mac, OS9, OSX, Marketwire, Shipping, Outdoor Sports, Spam, Other,
---