MTS Russia Revolutionizes SIM Logistics
Impacting Significantly on MTS' Cost Reduction Policy and Business Profitability
(February 29, 2012)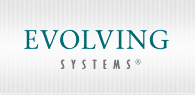 ENGLEWOOD, CO -- (Marketwire) -- 02/29/12 -- Evolving Systems, Inc. (NASDAQ: EVOL), a leading provider of software solutions and services to the wireless, wireline and cable markets, today announced that Mobile TeleSystems OJSC ("MTS") (NYSE: MBT), the leading telecommunications provider in Russia and the CIS, a customer who selected the Company's Dynamic SIM Allocation Solution™ (DSA) in late 2011, is poised to revolutionize their SIM logistics when DSA is deployed later this year.
With over 70 million subscribers and 11 time zones in Russia, getting the right SIM cards to the right customers is difficult and expensive. There are millions of SIM cards in distribution channels at any time, of varying types and each pre-provisioned for a specific product and a specific region.
MTS will use Evolving Systems' Dynamic SIM Allocation solution to introduce a single universal SIM card. The universal SIM card will enable MTS to more efficiently meet demand in specific locations and move SIMs between regions if required.
"We chose Evolving Systems' DSA solution because of the flexibility the solution could offer," says Vasyl Latsanych, Vice President for Marketing at MTS Group. "The introduction of a unified SIM -- one that can be used across the full product range and the whole of Russia -- will enable significant cost savings, simplify logistics and stock management, and allow MTS to distribute SIM cards more efficiently in a shorter timeframe."
"The benefits MTS will receive from DSA reflect the strength of our product and the competitive edge it provides carriers," says Thad Dupper, President and CEO at Evolving Systems. "By leveraging the features of DSA, MTS will streamline its SIM logistics, increase subscriber loyalty and gain a competitive edge by engaging more effectively with its large prepaid customer base through enhanced personalization."
Meet Evolving Systems at Mobile World Congress at hospitality suite 98, in hall 3.1 or email DSA@evolving.com
About Evolving Systems®
Evolving Systems, Inc. (NASDAQ: EVOL) is a provider of software and services to 50 network operators in over 40 countries worldwide. The Company's product portfolio includes market-leading activation products that address subscriber service activation, SIM card activation, mobile broadband activation as well as the activation of connected devices. Founded in 1985, the Company has headquarters in Englewood, Colorado, with offices in the United Kingdom, India and Malaysia. Further information is available on the web at www.evolving.com.
About MTS Group
Mobile TeleSystems OJSC ("MTS") is the leading telecommunications group in Russia, Eastern Europe and Central Asia, offering mobile and fixed voice, broadband, pay TV as well as content and entertainment services in one of the world's fastest growing regions. Including its subsidiaries, the Group services over 100 million mobile subscribers. The Group has been awarded GSM licenses in Russia, Ukraine, Uzbekistan, Armenia and Belarus, a region that boasts a total population of more than 230 million. Since June 2000, MTS' Level 3 ADRs have been listed on the New York Stock Exchange (ticker symbol MBT). Additional information about the MTS Group can be found at www.mtsgsm.com.
CAUTIONARY STATEMENT
This news release contains "forward-looking statements" within the meaning of the United States' Private Securities Litigation Reform Act of 1995, based on current expectations, estimates and projections that are subject to risk. Specifically, Evolving Systems' statements about the impact and ability of Evolving Systems' DSA solution to handle future needs of customers are forward-looking statements. Readers should not place undue reliance on these forward-looking statements, and Evolving Systems may not undertake to update these forward-looking statements. Actual results could differ materially because of many factors, such as internal budgeting changes of customers, the impact of competition and the general state of the telecommunications industry. For a more extensive discussion of Evolving Systems' business, please refer to the Company's Form 10-K filed with the U.S. SEC on March 8, 2011, as well as subsequently filed Forms 10-Q, 8-K and press releases and the Company's website at www.evolving.com.
CONTACTS

Evolving Systems Investor Relations
Jay Pfeiffer
Pfeiffer High Investor Relations, Inc.
303.393.7044
Email Contact

Evolving Systems
Sarah Hurp
Marketing Manager
+44 (0)1225 478060
Email Contact

Evolving Systems Press Relations
Hayley Goff/Chris Harris
The Whiteoaks Consultancy
+44 (0)1252 727313
Email Contact

MTS Press Relations
Valeria Kouzmenko
Head of Mass Media Relations
+7 (916) 978 02 10


Copyright @ Marketwire
Page: 1
Related Keywords:
Evolving Systems, Russia, USA, India, Marketwire, Inc., , Television, Internet Technology, Business, Entertainment, Email, russia, india, england,
---