MEDecision and CAHIE Deliver Pioneering Healthcare Image and Information Exchange Solution
Component of MEDecision Accountable Care Solution to Drive Down Healthcare Costs, Improve Care for Alabama Consumers
(February 23, 2012)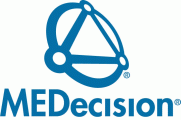 BIRMINGHAM, AL and WAYNE, PA -- (Marketwire) -- 02/23/12 -- HIMSS 2012, LAS VEGAS, Nev. -- MEDecision Inc., the leading provider in collaborative health management solutions, today announced a program with Central Alabama Health Image Exchange (CAHIE) for a federated, XDS-based exchange for DICOM medical images and clinical information across seven hospitals in Alabama including Children's of Alabama, Baptist Medical Center East, Baptist Medical Center South, Cullman Regional Medical Center, Medical Center West, Prattville Baptist, and UAB Hospital. The benefits of the exchange include avoidance of unnecessary duplicate imaging as well as timely collaboration across institutions for image-intensive cases such as trauma, cancer, neurosciences, and pediatrics. The solution's ease of use, security, and rapid delivery of critical information allow rapid user adoption.
Model program to enable a seamless continuum of care
"MEDecision is at the forefront of the movement toward value-based healthcare, with critical solutions that help improve the health of targeted populations, support chronic-condition management, and deliver the connectivity needed to drive enhanced care team collaboration," said Deborah M. Gage, president and CEO of MEDecision. "We are helping CAHIE deploy a platform that can significantly enhance consumer care while improving physician satisfaction and lowering healthcare costs."
"Across the country, thousands of patients who have already undergone imaging studies arrive at a hospital with no access to the data, so the studies must be repeated at great cost in terms of time, money and quality of care," continued Gage. "CAHIE has selected MEDecision's health information exchange application to drive the connectivity necessary to enable the exchange of information and images. It is a first-of-its-kind model that allows medical images to be shared while observing strict requirements for patient privacy and confidentiality. This program will help make the continuum of care seamless and more effective."
Funded by the National Institutes of Health (NIH) through a grant to the University of Alabama at Birmingham (UAB), the technology backbone for the CAHIE is already a success with clinicians who participated in early testing. Participants like its ease of use, security, and the way the exchange provides rapid information that otherwise would have to be obtained by telephone or by a repeat study. UAB Hospital services up to 160,000 patients each year. A significant number of these patients are referred with imaging studies performed elsewhere. In some of UAB's clinics, up to 15-17% of patients arrive with no access to this external data because of technical or process issues. This results in the need for repeat tests. CAHIE's fast and secure exchange for images and associated reports is expected to provide significant clinical and financial value for UAB as well as other participating providers.
A secure, practical, easy-to-use solution
"The healthcare image exchange framework, designed by MEDecision, enables rapid visualization of imaging data across our network without the expensive wide area networks (WANs) and long-term storage required by a traditional centralized image repository," said CAHIE's President and CEO, Allen Scales. "The use of a simple, secure web-based viewer on browsers that are common in hospitals, physician practices, and remote settings greatly simplifies deployment and training. The result for CAHIE is a practical solution that is easy for providers to use, provides enhanced care for our communities, and helps to drive down unsustainable healthcare costs."
Scales will provide perspective on lessons learned from the implementation during a presentation at the 2012 Healthcare Information and Management Systems Society (HIMSS) Conference, taking place this week in Las Vegas. Visit MEDecision HIMSS Booth 1623 for more information.
About MEDecision
MEDecision's contribution to the healthcare industry is a powerful platform that delivers meaningful data to inform the most important healthcare transaction: patient care. We start with a philosophy that patients, providers and payers are all driving towards better health outcomes and that this common interest dictates the need for collaborative working environments. Then, we apply 23 years of experience, $85+ million in research and development and the strongest clinical knowledge to deliver the MEDecision collaborative health management platform, which includes Nexalign®, a health decision support service that applies analytics to information gathered from multiple sources to foster better business and clinical decisions on a patient's behalf, Alineo®, a health management platform for delivering outcome-driven case, disease, utilization and behavioral health management, and InFrame®, a set of tools to facilitate the health and performance management processes for physicians and accountable care organizations.
For more information, visit www.MEDecision.com.
MEDecision is a trademark of MEDecision Inc. The MEDecision logo and product names are also trademarks or registered trademarks of MEDecision Inc. Other product and brand names are trademarks of their respective owners.
Add to Digg Bookmark with del.icio.us Add to Newsvine
Media Contacts:

Patricia Brown
MEDecision Inc.
(610) 540 0202 ext: 1128
[email protected]

Jenn Harrison
Carabiner Communications
678.313.3438
[email protected]


Copyright @ Marketwire
Page: 1
Related Keywords:
health management software, disease management, care management, utilization management, Marketwire, Inc., ,Disease,healthcare,Surgery,Childrens Health,Physician,Children,Financial,Healthcare,Hospitals,Medical,Cancer,Business,Browsers,Other,Medical Professionals,
---