ME911 Launches GPS Check-In and Locate Service: Knowing "Where?" Creates Peace of Mind
(February 27, 2012)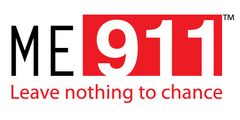 BARCELONA, SPAIN -- (Marketwire) -- 02/27/12 -- Mobile World Congress -- ME911, a San Francisco-based premier provider of family safety services, announced ME911 GPS a mobile App leveraging location awareness such that loved ones, friends and professionals can quickly and powerfully connect and communicate.
Imagine the power of "Where?" Or more specifically, knowing Where:
Your teenage child is after school.
Your daughter is while traveling or studying abroad as a University student.
Transmitting location while visiting a new city such that your host can better guide you.
Broadcasting a lifeline while you're off skiing, hiking or mountain biking.
Checking In safe with loved ones, including your location, in the wake of a disaster.
With ME911 GPS, imagine "Where?" no more, a powerful and elegant solution is here.
"ME911 GPS is a unique solution that's simple yet powerful enabling me to assure my teenage son is where he's supposed to be and that my daughter at University has a virtual guardian," stated Angela Reynolds, a working Mom and resident of Columbus, Ohio.
ME911 GPS addresses a vital problem in a variety of situations where Location is key.
With ME911 GPS Check-In, one can:
Push your location to one or many family, friends, loved ones or colleagues via sms/text message. Simply with a couple taps from your mobile phone.
Choose from a list of "Templates" or fill in your own message: ME911 GPS automatically embeds your GPS coordinates as a link on a map.
Select from recent Check-Ins making it easy to connect with frequent contacts.
"Check-In" with anyone that has an sms and data-capable feature phone or smartphone.
With ME911 GPS Locate, you can:
Locate other family, friends or loved ones that also have ME911 GPS.
Allow loved ones to Locate or Follow you.
Either party can Allow or Deny sharing their location.
Each ME911 GPS user can even determine how long they can be Followed: for example, just for the moment, 15 minutes, 1 hour or an entire day -- the user decides.
"We are very excited to offer citizens the ability to connect with location awareness via ME911 GPS. We've specifically made it very convenient to transmit one's whereabouts to any mobile phone, coupled with security and controls to protect one's privacy," commented Clarence Wesley, ME911 Chairman.
Be safe, be smart and don't leave home without ME911 GPS!
ME911 GPS App is now available on Google's Android mobile platform.
Search or select "ME911 GPS" on the Android Marketplace to download.
About ME911
ME911 is an innovative company offering 24/7 family safety services. ME911 serves as a one-stop spot for vital information and communications to keep you safe and always connected.
To learn more about ME911, visit www.ME911.com.
Follow the company @ME911Inc on Twitter and on Facebook www.facebook.com/ME911Inc.
For Inquiries:

ME911
Attention: Amy Pollard
71 Stevenson Street, Suite 400
San Francisco, CA 94105
1.415.354.1059
Email Contact


Copyright @ Marketwire
Page: 1
Related Keywords:
gps, family, location based services, google, android, mobile, app, mobile app, safety, awareness, me911, safe, Home, Family, Security, Children, Family, Communications, Web, Smart Phone, Search, Security, Family, Google, Social Media, Security, Internet, Business Issues, Security, Search, Search Engines, Spain, Marketwire, , Sports, Communications Technology, Outdoor Sports, disaster, Family, Other,
---