LynuxWorks and TransLattice Collaboration Offers Highest Levels of Security and Resilience for Cloud Deployments
The Combination of the TransLattice Application Platform Running on LynuxWorks LynxSecure 5.0 Gives Superior Protection for Sensitive Cloud-Based Data and Applications
(November 09, 2011)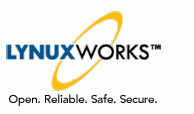 BALTIMORE, MD -- (Marketwire) -- 11/09/11 -- MILCOM -- LynuxWorks, Inc., a world leader in the secure virtualization market, and TransLattice Inc., the geographically distributed application platform company for enterprise, cloud and hybrid environments, today announced that they have ported the TransLattice Application Platform 2.0 onto the latest version of the LynxSecure separation kernel and hypervisor. This combination of the LynuxWorks highly-secure virtualization solution and the TransLattice distributed computing platform, offers new levels of security, availability, scalability and resilience for migration of data and applications to the cloud.
"As we built the TransLattice Application Platform, we looked for virtualization platforms on which to host our solution," said Frank Huerta, CEO and co-founder at TransLattice. "We found that LynxSecure 5.0 from LynuxWorks offered the highest level of security required by our customers as they look to migrate their highly sensitive applications and data to the cloud. The high performance and scalability of LynxSecure is well matched with the design of the TransLattice solution, and we believe that this combination of products will prove to be very successful."
LynxSecure makes it possible to securely run multiple guest operating systems and their applications on a single platform. It does this by isolating applications into separate partitions to prevent unintended or dangerous software interactions. Any communication between the secure partitions is controlled by security policies defined by the system administrator and enforced by LynxSecure.
The TransLattice Application Platform provides exceptional system resilience and data control, while significantly reducing costs and deployment complexity. Underlying the platform is the world's first geographically distributed relational database. The platform aggregates physical appliances and cloud instances into a network of distributed computing resources that cohesively run enterprise applications. There are two types of policy rules that dictate how and where data can be stored. Redundancy policy rules define how many copies to store of a specific set of data. Location policy rules define where a specific set of data can or cannot be stored.
"At LynuxWorks, we are seeing more and more of our customers looking for both security and resilience as they move their applications and data to the cloud," said Gurjot Singh, CEO and president at LynuxWorks. "By bringing the innovative TransLattice Application Platform onto LynxSecure, we can now offer our customers a level of scalability and data control for their applications and data that they have not seen before. We are very much looking forward to working with TransLattice and their exceptional technology."
By having separate instantiations of the TransLattice Application Platform residing in separate LynxSecure partitions on a single hardware platform, a new level of secure multi-tenancy and server utilization is realized. This multi-tenancy could be for different classification levels for applications and data, or even for multiple departments or entities sharing a single cloud infrastructure. This secure multi-tenancy could be applied to all the distributed nodes of a TransLattice system.
"As an existing user of LynxSecure, and a supplier to the U.S. defense industry, we are very excited about the additional security and resilience in cloud deployments that are offered by the collaboration between LynuxWorks and TransLattice," noted Bobbi-Michelle Wehrfritz, CEO of Fritz Technologies. "We will leverage our experience in both virtualization and data-center solutions to bring these technologies into government and commercial enterprise systems that require additional protection for sensitive applications and data."
About TransLattice
TransLattice is the geographically distributed application platform company that provides data where and when it is needed, for enterprise, cloud and hybrid environments. This new approach to enterprise and cloud infrastructure results in significantly reduced costs and deployment complexity, while dramatically improving system reliability, scalability and response time. TransLattice was founded in 2007 and officially launched in August 2010. The company received $9.5M in Series A funding from DCM, a leading early stage investment firm. For more information, please visit www.translattice.com.
About LynuxWorks
LynuxWorks is a world leader in secure virtualization and open and reliable real-time operating systems (RTOS). The award-winning LynxSecure offers a secure separation kernel and hypervisor that forms a platform for the development of high assurance systems and cloud deployments for sensitive data. Since it was established in 1988, LynuxWorks has created technology that has been successfully deployed in thousands of designs and millions of products made by leading communications, avionics, aerospace/defense and consumer electronics companies. LynuxWorks' headquarters are located in San Jose, CA. For more information, visit www.lynuxworks.com.
Add to Digg Bookmark with del.icio.us Add to Newsvine
Media Contacts:

Kirsten Long
LynuxWorks, Inc.
408-979-4404
Email Contact

Kim Dearborn
Nadel Phelan, Inc.
831-440-2407
Email Contact

Barbara Stewart
Patterson & Associates
480-488-6909
Email Contact


Copyright @ Marketwire
Page: 1
Related Keywords:
LynuxWorks, Digital Media Software, Communications, Applications, Productivity Applications, Security, Database, Computer Technology, Business Issues, Hardware, Software Development, Desktop Operating Systems, Other Applications, Platforms, USA, Marketwire, Inc., , IT (Information Technology), Enterprise Applications, Appliances, Consumer Electronics, Computer Science,
---