LynuxWorks Announces Membership in Future Airborne Capability Environment (FACE(TM)) Consortium
New Standard Ensures a Common Operating Environment for Military Avionics Computer Systems Platforms
(March 19, 2012)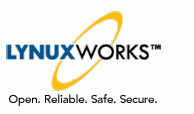 SAN JOSE, CA -- (Marketwire) -- 03/19/12 -- LynuxWorks, Inc., a world leader in the embedded software market, today announced its membership in the Future Airborne Capability Environment (FACE™) Consortium, managed by The Open Group, to provide a common airborne computing environment for the Navy and other military branches. The FACE Consortium is an industry-government collaboration consisting of 39 members, including the U.S. Navy Air Combat Electronics Program Office, the U.S. Army Aviation and Missile Research and Engineering Center, and several leading industry defense contractors and avionics suppliers.
The new FACE™ Technical Standard defines a reference architecture for creating a common operating environment to support applications across multiple Department of Defense avionics systems. The standard is designed to enhance the U.S. military aviation community's ability to address issues of limited software reuse and accelerate and enhance warfighter capabilities, as well as enabling the community to take advantage of new technologies more rapidly and affordably.
According to John Blevins, the director of product marketing at LynuxWorks, "The company has a long history of providing proven, open and reliable real-time operating systems (RTOS) and software tools for mission-critical systems. We strongly embrace the FACE initiative and intend to be an active member collaborating on the next generation avionics architecture." LynuxWorks is participating actively in the Consortium to help ensure the success of the FACE standards in both the military and commercial aviation markets.
"LynuxWorks is already delivering technology to the avionics industry such as real-time operating systems (RTOS) and software tools for mission-critical systems that are open, modular and portable, key tenets of the reference architecture defined in the FACE Technical Standard," said Judy Cerenzia, FACE Program Director at The Open Group. "The growing interest in the FACE Consortium from market leaders such as LynuxWorks has enabled the consortium to develop and continue to evolve a framework for making military computing operations more robust, interoperable, portable and secure."
LynuxWorks' leadership position in military and aerospace systems is solid and long-standing. Offering the most inherently secure and reliable design of virtually any COTS embedded OS, the LynxSecure virtualization technology, is designed to meet the highest levels of security certification, and the LynxOS-178 safety critical real-time operating system (RTOS), certified to DO-178B level A, demonstrate our commitment to open, modular and portable technology. LynuxWorks OSes are proven every day in an array of mission-critical embedded applications and technology programs for the U.S. Army, Navy, Air Force and Joint Forces. LynxOS-178 is the only operating system to have received a Reusable Software Component certification under the FAA DO-178B AC 20--148 allowing customers to save substantial time and money in certifying their own products.
About The Open Group FACE™ Consortium
A managed consortium hosted by The Open Group, The Future Airborne Capability Environment (FACE™) Consortium is an aviation-focused professional group made up of industry suppliers, customers and users. The Consortium is creating a technologically appropriate open FACE reference architecture, standards and business model that will result in:
Standardized approaches for using open standards within avionics systems
Lower implementation costs of FACE systems
Standards that support a robust architecture and enable quality software development
The use of standard interfaces that will lead to reuse of capabilities
Defined interoperability within FACE systems and components
Portability of applications across multiple FACE systems and vendors
Procurement of FACE conformant products
More capabilities reaching the Warfighter faster
Innovation and competition within the avionics industry
The FACE Consortium provides a vendor-neutral forum for industry and the U.S. government to work together to develop and consolidate the open standards, best practices, guidance documents and business models necessary to achieve these results.
About LynuxWorks
LynuxWorks, a world leader in the embedded software market, is committed to providing open and reliable real-time operating systems (RTOS) and software tools to embedded developers. The company's LynxOS family of operating systems offers open standards with the highest level of safety and security features, enabling many mission-critical systems in defense, avionics and other industries. The latest product in the portfolio, the award winning LynxSecure offers a secure separation kernel and embedded hypervisor that forms a platform for the development of high assurance systems. Since it was established in 1988, LynuxWorks has created technology that has been successfully deployed in thousands of designs and millions of products made by leading communications, avionics, aerospace/defense and consumer electronics companies. LynuxWorks' headquarters are located in San Jose, CA. For more information, visit www.lynuxworks.com.
Add to Digg Bookmark with del.icio.us Add to Newsvine
Media Contacts:
Kirsten Long
LynuxWorks, Inc.
408-979-4404
Email Contact

Barbara Stewart
Patterson & Associates
480-488-6909
Email Contact


Copyright @ Marketwire
Page: 1
Related Keywords:
LynuxWorks, Family, Family, Digital Media Software, Communications, USA, Marketwire, Inc., , Consumer Electronics, Computer Science, Business, Military, Family, Other,
---