Luvia.com Gives Online Dating a Makeover
Internet's Premier Cupid Connection Provides Modern Matchmaking to the Masses
(June 28, 2012)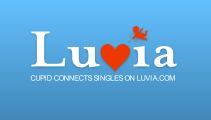 SAN DIEGO, CA -- (Marketwire) -- 06/28/12 -- Luvia.com, the premier cupid connection, is helping revolutionize the online dating space by bringing affordable and convenient matchmaking to the masses.
Unlike most dating sites, which charge a monthly fee, Luvia.com offers a unique Pay-Per-Use model, which allows users to spend LuvNotes (virtual currency on Luvia.com) to connect with other singles.
A member spends LuvNotes to view the detailed profile, called Zoom-Me profile, of another member or to contact that member for the first time. Subsequent views of the same Zoom-Me profile or contacting that member again with the same contact option are free. Very importantly, singles on Luvia.com earn LuvNotes when other singles view their Zoom-Me profiles or contact them for the first time. Spending and earning of LuvNotes is proportional to the percentage completion of a Zoom-Me profile of a single.
With free sign-up feature and no periodic membership fee, Luvia.com is the only online dating service with Pay-Per-View/Contact and Earn-Per-View/Contact models.
"Our unique approach to online dating gives singles a trustworthy, user-friendly and successful dating experience," said Luvia.com cofounder Ravinder Singh. "Our dating algorithms allow users to find out additional information about other singles, such as how often they are active or if they respond to messages received, helping singles save time before making a connection with a possible soul mate."
Luvia.com is scalable and deployed on a cloud, allowing the company to employ multiple servers according to traffic needs, ensuring a smooth user experience.
"We have a state-of-the-art search engine, enabling us to cache user searches," said Sunmeet Gill, cofounder of Luvia.com. "This guarantees fast search results, allowing users to tag search their matches and narrow down results based on their preferences without the need for doing a search again with new options. Luvia.com's geo-code based search option allows users to search for singles based on location of a city or ZIP code."
To keep up with the rising popularity of social media, Luvia.com has a presence on popular social media sites such as Twitter, StumbleUpon, Squidoo etc. and has made it easy for users to sign-up and log in with their Facebook account. The Luvia.com blog offers great dating tips and advice.
"As more and more people rely on the Internet to find their soul mate, Luvia.com's mission is to make the matchmaking process easier, safe and fun," Singh said. "On Luvia.com, the possibilities for love are endless."
About Luvia.com:
Based in San Diego, Luvia.com is the premiere cupid connection for finding love online. With free sign-up and no monthly fee, Luvia.com combines innovative dating models and cloud computing that enhances the online dating experience for singles around the globe. For more information please visit www.luvia.com.
Add to Digg Bookmark with del.icio.us Add to Newsvine
Editorial Contact
Neal Leavitt
Leavitt Communications
760-639-2900 or 760-212-9112
Email Contact


Copyright @ Marketwire
Page: 1
Related Keywords:
Luvia.com, dating, matchmaking, singles, soul mate, cupid, Pay-Per-Use, Zoom-Me, LuvNotes, Earn-Per-View, Internet, Cloud Computing, Social Media, Search, Marketwire, Internet Technology, Computer Science, Internet, Other,
---