Los Angeles, CA, BargainsLA.com, the Premier Guide to Bargain Shopping, Sample Sales in So. California, Announces its New iPhone App
(February 25, 2011)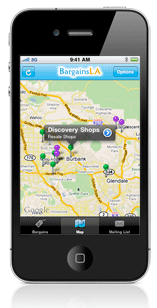 Los Angeles, CA (PRWEB) February 25, 2011
BargainsLA.com, the premiere guide to bargain shopping, sample and warehouse sales in Southern California, has announced its new iPhone app.
Offered free to the public, this new iPhone bargain shopping application allows users to find hundreds of secret bargain shopping sources all over Southern California. From Los Angeles County to Orange County, shoppers will have at their fingertips everything from discount boutiques, sales and wholesale warehouses to liquidators and designer outlets.
Bargain hunters will also be able to find current Sample Sales and Manufacturer Warehouse Sales information on everything from designer clothing and accessories to home furnishings and electronics. Updated daily, you€™ll have the most current hot sales information wherever you go in Southern California. "With this new iPhone app", says BargainsLA.com founder Suzanne O'Connor, "Southern California shoppers will literally have the inside scoop on local outlets, sample sales, and discounters right in the palm of their hand!"

Find the bargains nearest to you
Read detailed reviews of our bargain finds.
Get local sample & warehouse sales sent to your iPhone & iPad.
View bargain finds based on product category.
Be the first for special deals and incentives.
Search the database based on ZIP code or your current location.
Phone numbers are in iPhone format for easy access.
Requires an internet connection (either 3G or wireless)
Users can search through the 6 general categories from Apparel to Home and Furnishings or can search by their GPS location or zip code (up to a 10-mile radius). With a pin point location map, the BargainsLA iPhone App makes it easier than ever before to find great discount stores or warehouses offering great deals.
BargainsLA.com was started in 1999. For the last 11 years€ť, continues Suzanne, €ś BargainsLA.com has been the only locally based website that lists timely €śup-to-the-minute€ť local sales information along side brick & mortar discount outlets. Great deals are out there, we track them down and let the public in on the scoop.€ť
All stores have been personally visited by bargain shopping expert, Suzanne O€™Connor, and must adhere to her motto €śif it€™s not quality, it€™s not a bargain€ť. The BargainsLA.com iPhone / iPad App is Free to the public and is available to download in the Apple iPhone app store.
For more information go to http://www.bargainsla.com/mobile/
BargainsLA.com
Contact: Suzanne O€™Connor (818) 243 -3226
###
Read the full story at http://www.prweb.com/releases/2011/02/prweb5102354.htm.
Page: 1
Related Keywords:
plastic art,entertainment award,entertainment (general),arts (general),arts, culture and entertainment,economy, business and finance,financial and business service,business enterprises,business (general),computer crime,family,family planning,lifestyle and leisure,lifestyle (house and home),society,computing and information technology,satellite technology,wireless technology,science and technology,technology (general),identification technology,agricultural research and technology
---