Los Alamos and Livermore National Laboratories Deploy Xradia's Synchrotron-Caliber X-Ray Imaging for Materials Science Studies
Non-Destructive UltraXRM-L200 Lab-Based Microscope Provides 3D Imaging at 50 nm
(April 24, 2012)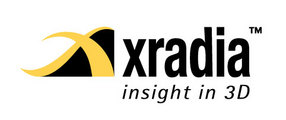 PLEASANTON, CA -- (Marketwire) -- 04/24/12 -- Los Alamos National Laboratory (LANL) and the Lawrence Livermore National Laboratory (LLNL) have each recently deployed Xradia's 3D X-ray imaging solutions to increase their non-destructive materials characterization capabilities. Delivering 3D visualization down to 50 nm resolution, the UltraXRM-L200 provides synchrotron-level resolution crucial to in situ and "4D" studies of microstructural evolution, enabling "materials by design" and other breakthrough research.
Scientists at the two premier laboratories perform vital research into material composition and evolution for government agencies and academia. Their new Xradia UltraXRM™ platforms enable characterization of changing microstructural properties over time and under varying conditions to inform the design of materials used in global and homeland security, advanced fusion techniques used in groundbreaking energy initiatives, and biological innovations such as joint replacements.
As the first lab-based 3D X-ray microscope (XRM) offering ultra-high spatial resolution, the UltraXRM-L200 leverages Xradia's precision X-ray focusing optics and Zernike phase contrast imaging to deliver reliable volumetric information down to 50 nm, otherwise only achievable through cross-sectioning or other destructive techniques.
Researchers can leverage "4D" and in situ capabilities of the UltraXRM-L200 to study microstructural changes over time and subject samples to varying external conditions such as force, impact and temperature to assess constitution and degradation. Physical imaging can be combined with computational assessments to precisely and efficiently predict and model design and evolution.
"The work being done at the Lawrence Livermore and Los Alamos National Laboratories figures to impact every aspect of daily life from our health to our use of natural resources to global safety," says Kevin Fahey, Ph.D. and Chief Materials Scientist at Xradia. "We designed the UltraXRM platform to bring the power of synchrotron technology to the world's premier laboratories to speed and simplify precisely the caliber of research being conducted at these distinguished facilities."
About LANL
Los Alamos National Laboratory, a multidisciplinary research institution engaged in strategic science on behalf of national security, is operated by Los Alamos National Security, LLC, a team composed of Bechtel National, the University of California, The Babcock & Wilcox Company, and URS for the Department of Energy's National Nuclear Security Administration.
Los Alamos enhances national security by ensuring the safety and reliability of the U.S. nuclear stockpile, developing technologies to reduce threats from weapons of mass destruction, and solving problems related to energy, environment, infrastructure, health, and global security concerns.
About LLNL
Founded in 1952, Lawrence Livermore National Laboratory provides solutions to our nation's most important national security challenges through innovative science, engineering and technology. Lawrence Livermore National Laboratory is managed by Lawrence Livermore National Security, LLC for the U.S. Department of Energy's National Nuclear Security Administration.
About Xradia
Xradia designs and manufactures microscopes for industrial and academic research applications. Xradia's solutions offer unparalleled high contrast and high resolution imaging capabilities for a large range of sample sizes and shapes. The company's heritage began in the synchrotron and extends to the laboratory. Xradia's two laboratory product families, the UltraXRM-L and VersaXRM™, together offer a multi-length scale solution delivering full volume 3D imaging with resolution down to 50 nm. Energy-tunable, ultra-high resolution 3D X-ray microscopes for synchrotron facilities include the UltraSPX™ and the UltraXRM-S. Additional information can be found at www.xradia.com.
Xradia, VersaXRM, UltraXRM, UltraSPX and MicroXCT are trademarks of Xradia, Inc.
Add to Digg Bookmark with del.icio.us Add to Newsvine
Media contacts

Liza Kurtz
Email Contact
+1.917.602.5979

Brenda Ropoulos
Email Contact
+1.510.414.6772


Copyright @ Marketwire
Page: 1
Related Keywords:
3D X-ray imaging, microscopy, non-destructive, in situ, computed tomography, high resolution, 4D, USA, Marketwire, Inc., , Medical Technology, Medical, Biology, Engineering, Science, Other,
---