Local Businesses Save Cash and Maximize Efficiency Using InterTech Managed Print Services
IT Solution Provider Simplifies Print Management for Small and Midsize Corporations
(November 02, 2011)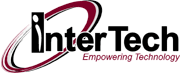 PHOENIX, AZ -- (Marketwire) -- 11/02/11 -- Helping businesses reduce costs by using the right technology solutions, InterTech today announced its new Managed Print Services (MPS) are saving its customers up to 30 percent on average. InterTech's money-saving MPS offering is now available to businesses nationwide and represents an extension of InterTech's existing managed IT services portfolio.
"It's estimated that companies in the U.S. consume approximately 5.4 million tons of paper each year and spend anywhere from $800 to $1,000 per employee annually on printing costs -- that's an insane amount of money for any business to burn through and when you add it all up, the return on investment just isn't there," says Michael J. Novotny, President and CEO of InterTech. "InterTech's new MPS offering makes it easy for businesses of all sizes to radically reduce printing costs by introducing a smarter, more efficient way to manage, secure and streamline their printing practices.
"Competitively priced, InterTech's managed print offering enables better utilization of a company's existing printer/copier investments and helps businesses with IT lifecycle planning by identifying inefficient devices that may need to be replaced. Unlike other MPS offerings, InterTech takes a manufacturer-neutral approach to the business, which allows the IT provider to remotely monitor and proactively support a customer's existing print fleet regardless of product selection. Equipped with customizable reports, InterTech's MPS offering provides customers a turn-key, compliance-savvy print management solution that is flexible, cost efficient and environmentally friendly," says Novotny.
Complimentary Print Audit Assessment Shows Business Value Upfront
To help ensure InterTech customers are paying only for what they need and not a penny more, the full-service IT solution provider runs a complimentary printing audit for customers. This no-hassle, comprehensive audit quickly assesses an organization's current printing habits and is used to establish a new base-line and estimate the total cost savings per month that the customer will save with InterTech's MPS.
"Managed print is a fast and easy way for businesses to quickly reduce hard costs, gain operational efficiencies, comply with regulatory requirements and set processes in place that will close security gaps when it comes to printing confidential documents," says Novotny. "Managed print also helps reduce the environmental impact that excess printing is having on our global ecosystem, and that's always a great, sustainable and marketable benefit for any business."
Managed Print Services are another example of how InterTech's complete managed IT services portfolio helps organizations reduce technology lifecycle support costs and generate greater productivity and operational efficiencies. InterTech offers managed print services, IT managed services, private cloud services and data center co-location services under its "Set It and Forget It" managed IT services portfolio. Available to businesses nationwide, InterTech's managed IT services provide customers with affordable IT service delivery and the promise of exceptional service and first-rate support.
InterTech is an authorized Kyocera and Print Audit business partner that specializes in managed print services. The company is also an HP Gold Partner and certified to sell and support best-in-class manufacturers including DELL, IBM, Lenovo, Microsoft, SONICWALL and VMware.
For more information about InterTech and its new Managed Print Services, visit www.itcomputers.com, email sales@itcomputers.com or call (602) 437-0035.
Add to Digg Bookmark with del.icio.us Add to Newsvine
InterTech
www.itcomputers.com

CONTACT:
Marie Rourke
WhiteFox Marketing & Communications
+1-714-292-2199
Email Contact
for InterTech


Copyright @ Marketwire
Page: 1
Related Keywords:
InterTech , Sales & Marketing, Security, Internet, Business Issues, Security, IT Management, Management, CEO/CFO, USA, Marketwire, , HP, Gold, Business, Email, Other,
---