Lila Delman Real Estate and PlanOmatic Ink Exclusive Corporate Agreement
(March 28, 2011)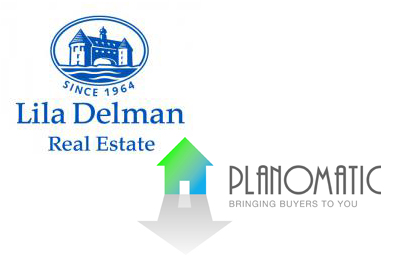 Denver, CO (PRWEB) March 28, 2011
Lila Delman Real Estate of Rhode Island and PlanOmatic have revealed an exclusive one year corporate agreement, effective February 7th, 2011. The move puts Lila Delman at a unique competitive advantage in the region.
Lila Delman will be the exclusive client and recipient of PlanOmatic full service floor plan and photography interactive home tours in the Rhode Island cities of Block Island, Jamestown, Narragansett, Newport and Westerly in exchange for an undisclosed commitment from the brokerage.
"Lila Delman is precisely the type of company we shoot for when looking for corporate accounts" says Aaron Rose, PlanOmatic VP of Corporate Account. "The progressive nature of Lila Delman fits the mold and matches the culture we have at PlanOmatic. Quality, being proactive and a corporate support system that bleeds success. That's what we do here. That's what we strive for with our partners."
Lila Delman, a pioneer in real estate marketing, introduced floor plan technology to the state of Rhode Island in 2007. "Working with PlanOmatic made perfect sense for us at this juncture" says Melanie Delman, President of Lila Delman. "The level of quality and customer service PlanOmatic offers is exactly what we were looking for in a floor plan company. Our exclusive agreement with PlanOmatic allows us to offer our clients high quality photography, 3D tours, and photo plans which are completely iPhone, iPad, and iPod compatible ."
PlanOmatic offers full service floor plan and photography interactive home tours in regions across the US. They are best known for high quality photography, customer care and being a technology leader in the industry. PlanOmatic was the first real estate marketing firm to offer PhotoPlan Mobile, an interactive floor plan optimized for iOS devices (Apple's iPhone, iPad and iPod touch). Recently, PlanOmatic made a giant leap by ridding their product of Adobe Flash, a move also made by Google, facebook, YouTube, etc. PlanOmatic offers an array of software licensing services in addition to their full service floor plan and photography division.
Lila Delman is the source for luxury waterfront real estate and homes in the Rhode Island area. They also offer year-round rentals, vacation rentals, beach houses, student rentals and summer rentals in Narragansett, Newport, Watch Hill, Jamestown, Block Island, and their surrounding Rhode Island communities.
###
Read the full story at http://www.prweb.com/releases/2011/03/prweb5149344.htm.
Page: 1
Related Keywords:
economy, business and finance, real estate, financial and business service, business enterprises, business (general), estate bestowal, economy, business and finance, financial and business service, investment service, business enterprises, business (general), economy, business and finance, financial and business service, business enterprises, advertising, marketing, business (general), architecture, computing and information technology, satellite technology, software, wireless technology, science and technology, technology (general), identification technology, agricultural research and technology, internet, computing and information technology,
---