Light Media Implements Key Internet and Radio Initiatives
(October 21, 2011)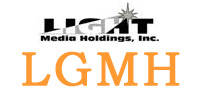 ATLANTA, GA -- (Marketwire) -- 10/21/11 -- Light Media (PINKSHEETS: LGMH), Inspirational Media Specialist, announced today that it has implemented several key Internet and Radio Initiatives, in furtherance of its recent addition to the RBR-TVBR Media Index (see full RBR-TVBR Media Index listing at: http://www.rbr.com/media-news/stocks/three-day-winning-streak-snapped-9-28-11.html), as the 20th publicly-traded media/radio conglomerate, as follows:
INTERNET:
(1) the company has redesigned leading inspirational music portal (1,537 artist accounts) adding social networking integration (facebook and twitter), as well as sales modules (MP3s and Advertising) www.GospelEngine.com;
(2) the company has repositioned www.PrayerMail.com and www.PrayerWall.com, as SmartPhone (iPhone/iPad) Apps as individuals with PrayerMail email accounts (e.g. [email protected]) have rapidly grown virally with $0.00 advertising expense to 1,261 active prayermail email users, using prayermail email accounts as communication alternatives to yahooMail, HotMail, etc.; and
(3) the company has made an offer within the past 24 hours to acquire a key internet/media property to enhance its network; and the company is divesting of non-core web-domains: ChristianBarter.com, ChristianBarter.net, ChristianCapitalFund.com, bringing total media-centric web-domains owned in its Light Media WebNetwork to 77.
RADIO:
(1) the company has closed on its 49% ownership interest in FCC radio construction permit WHRH/AM 1360 (Metro Atlanta);
(2) the company has retained Dr. Lamar Ward (ordained Minister) as Operations Manager for its FM radio station Power 105.5/The King and added local morning and afternoon radio personalities to increase community outreach and sales opportunities (www.Power105theKing.com);
(3) the company has received an offer to acquire a second radio station acquisition, which station would simulcast programming from Power 105.5/The King for maximum synergy and providing additional exposure and benefits to sponsors via expanded listener base.
"Beginning on November 1, 2011, listeners to Power 105.5/The King will begin hearing mentions of our radio properties. For example a short advertisement will air stating "Log on to www.GospelEngine.com and www.GospelCity.com 24/7 or Sign-Up for your www.PrayerMail.com email account to manage your email communications online 24/7." Website surfers will also see Top-Level website links that can be clicked on directing listeners to www.Power105TheKing.com. Simultaneously, we are in currently in discussions for the construction and development of AM 1360/WHRH which would be the newest radio station on-air serving Metro Atlanta (reaching 3.2 million residents), and simultaneously we have received an offer to acquire a radio station in an area of approximately 125,000 residents. Our radio initiatives have now accelerated to also enhancing our local leadership positioning, via adding personalities during valuable drive-time (morning and afternoon slots).
"Our plan is to leverage our radio listenership online and terrestrial to advance our digital media properties, etc., as well as drive listenership to Power 105.5/The King. This integrated multi-media strategy is currently being successfully deployed by the Salem WebNetwork and Salem Radio, for the conservative Christian demographic and to a greater extent by ABC/Disney/Radio Disney Network for the family/children demographic and Radio-One for the urban market. We are confident that we will be able to successfully implement our strategy for the inspirational urban demographic, and successfully capture and grow marketshare in the $9 Billion inspirational media space," said Danny Wilson, CEO of Light Media.
About Light Media:
Light Media (PINKSHEETS: LGMH), Inspirational Media Specialist, markets, produces and distributes inspirational music, video, video games, print media and entertainment in the Urban Media space through its network of radio, Internet, television, print and special events global business platforms and marketing and alliance partners. For more information, please visit: http://www.LightMediaHoldings.com or http://www.InvaluableMedia.com. Light Media Capitalization Structure, as of Q3 (2011): Common Shares Issued: 38,273,500; Common Shares Float; 7,050,000; Common Shares Authorized: 100,000,000. DTCC eligibility application filed.
Cautionary Note Regarding Forward-Looking Statements:
This press release contains statements, which may constitute "forward-looking statements" within the meaning of the Securities Act of 1933 and the Securities Exchange Act of 1934, as amended by the Private Securities Litigation Reform Act of 1995. Those statements include statements regarding the intent, belief or current expectations of Light Media (PINKSHEETS: LGMH) and members of its management as well as the assumptions on which such statements are based. Prospective investors are cautioned that any such forward-looking statements are not guarantees of future performance and involve risks and uncertainties, and that actual results may differ materially from those contemplated by such forward-looking statements.
Copyright @ Marketwire
Page: 1
Related Keywords:
Light Media Holdings, Inc., Internet, Communications, Gaming, Movies & Music, Web, Smart Phone, Music, Video, EMail, Sales, Advertising, Marketing, Sales & Marketing, Networking, Internet, Business Issues, Management, Sales, CEO/CFO, Sales, Internet/Web, Business, Programming, Internet, Email, Marketing, PDA/Smartphone, Standards/Initiatives, Authoring/Programming, email, Marketwire, Inc., , Television, Music, Games, Internet Technology, Game Technology, Business, Entertainment, Internet, Social Networking, Email,
---