Light Media Completes Divestitures and Eliminates Radio Debt
(November 30, 2011)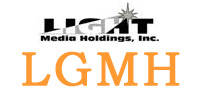 ATLANTA, GA -- (Marketwire) -- 11/30/11 -- Light Media (PINKSHEETS: LGMH), Inspirational Media Specialist, announced today that it has: (1) divested of (a) real estate and (b) minority ownership stakes in certain digital assets, while (2) simultaneously changing the 4th Quarter balance sheet status of its prized and powerful, flagship Albany, Georgia Power 105.5/The King radio station platform media assets from "Owned-with-Outstanding Promissory Note" to "Zero-Balance/Paid-In-Full."
"Light Media has examined extensively every move of Beasley Broadcasting, Radio One and Salem Communications for several years, studying their successes and learning from their mistakes. Consequently, two key elements of Light Media's strategic plan have been to: (1) acquire and integrate key radio/media properties; and (2) not suffocate radio/media assets with mountains of constraining secured debt. As such, Light Media set an objective to quickly pay off the Power 105.5/The King 3-year promissory note balance; and in less than six (6) months following the June 1, 2011 closing of Power 105.5/The King, this zero note balance objective will be reflected in the Light Media 2011 4th Quarter Report. This accomplishment results in Light Media being one of the only publicly-traded conglomerates on the prestigious RBR-TVBR Media Index that owns its platform media assets (radio, TV, or digital) free and clear of secured liens. To see the full RBR-TVBR Media Index, click/copy/paste the following weblink: http://www.rbr.com/radio/stocks-closed-mixed-on-tuesday-11-29-11.html.
Light Media will continue to heed the sage visionary wisdom of Warren Buffet of aggressively investing and reinvesting during what pessimists see as uncertain times, as a part of a focused effort to continuously create value and maximize shareholder wealth and favorable, long-term positioning for the future," said Danny Wilson, CEO of Light Media. Rom.13:8.
About Light Media:
Light Media (PINKSHEETS: LGMH), Inspirational Media Specialist, markets, produces and distributes inspirational music, video, video games, print media and entertainment in the Urban Media space through its network of radio, Internet, television, print and special events global business platforms and marketing and alliance partners. Light Media is also the 20th publicly-traded radio/media conglomerate (member) of the prestigious RBR-TVBR Media Stocks Index (see full RBR-TVBR Media Index listing at: http://www.rbr.com/radio/stocks-closed-mixed-on-tuesday-11-29-11.html) -- To listen to Power 105.5/The King, please visit: www.Power105TheKing.com. For more information, please visit: www.LightMediaHoldings.com, www.InvaluableMedia.com or www.HotChristianStocks.com. Light Media Capitalization Structure, as of Q4 (2011): Common Shares Issued: 38,273,500; Common Shares Float: 7,050,000; Common Shares Authorized: 100,000,000.
Cautionary Note Regarding Forward-Looking Statements: This press release contains statements, which may constitute "forward-looking statements" within the meaning of the Securities Act of 1933 and the Securities Exchange Act of 1934, as amended by the Private Securities Litigation Reform Act of 1995. Those statements include statements regarding the intent, belief or current expectations of Light Media (PINKSHEETS: LGMH) and members of its management as well as the assumptions on which such statements are based. Prospective investors are cautioned that any such forward-looking statements are not guarantees of future performance and involve risks and uncertainties, and that actual results may differ materially from those contemplated by such forward-looking statements.
Copyright @ Marketwire
Page: 1
Related Keywords:
Light Media Holdings, Inc., Internet, Communications, Gaming, Movies & Music, Web, Music, Video, Marketwire, Inc., , Conglomerates, Conglomerates, Television, Music, Games, Internet Technology, Game Technology, Business, Entertainment, Internet,
---