Light Media Builds PrayerWall.com for Peace in Jerusalem
(November 10, 2011)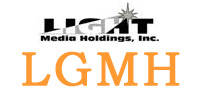 ATLANTA, GA -- (Marketwire) -- 11/10/11 -- Light Media (PINKSHEETS: LGMH), Inspirational Media Specialist, announced today that it has now built www.PrayerWall.com as the single-source online destination Prayer Wall for individuals globally, who may never have an opportunity to visit the world famous 2,000-year-old Western Prayer Wall located in Israel. PrayerWall.com will enable individuals to be able to post messages 24/7 encouraging, supporting, uplifting and fervently praying for: (1) self, family, friends and loved ones; (2) Peace In Jerusalem (Psalm 122:6); (3) Socially-Responsible entities and (4) the global community in general. Light Media fortuitously acquired PrayerWall.com in 2009, as part of a strategic effort to advance its PrayerMail.com digital communications platform and as a value-added enhancement for its Light Media Network. The new PrayerWall.com is a simple and easy-to-use digital message-posting technology, so as to fulfill the singular purpose of enabling individuals worldwide to simply, seamlessly and easily post prayers. Be one of the first to post prayers (24/7) on the #1 global-accessible PrayerWall at: http://www.PrayerWall.com.
About Light Media:
Light Media (PINKSHEETS: LGMH), Inspirational Media Specialist, markets, produces and distributes inspirational music, video, video games, print media and entertainment in the Urban Media space through its network of radio, Internet, television, print and special events global business platforms and marketing and alliance partners. Light Media is also the 20th publicly-traded radio/media conglomerate (member) of the prestigious RBR-TVBR Media Stocks Index (see full RBR-TVBR Media Index listing at: http://www.rbr.com/media-news/stocks/three-day-winning-streak-snapped-9-28-11.html). To listen to Power 105.5/The King, please visit: www.Power105TheKing.com. For more information, please visit: www.LightMediaHoldings.com; www.InvaluableMedia.com or www.HotChristianStocks.com. Light Media Capitalization Structure, as of Q3 (2011): Common Shares Issued: 38,273,500; Common Shares Float; 7,050,000; Common Shares Authorized: 100,000,000.
Cautionary Note Regarding Forward-Looking Statements:
This press release contains statements, which may constitute "forward-looking statements" within the meaning of the Securities Act of 1933 and the Securities Exchange Act of 1934, as amended by the Private Securities Litigation Reform Act of 1995. Those statements include statements regarding the intent, belief or current expectations of Light Media (PINKSHEETS: LGMH) and members of its management as well as the assumptions on which such statements are based. Prospective investors are cautioned that any such forward-looking statements are not guarantees of future performance and involve risks and uncertainties, and that actual results may differ materially from those contemplated by such forward-looking statements.

Copyright @ Marketwire

Page: 1
Related Keywords:
Light Media Holdings, Inc., Family,Internet,Family,Communications,Gaming,Movies & Music,Web,Family,Music,Video,Israel,Marketwire, Inc., ,Television,Music,Games,Internet Technology,Game Technology,Business,Entertainment,Internet,Family,
---