Levees.org Book Review: "Facing Catastrophe: Environmental Action for a Post-Katrina World"
(May 01, 2012)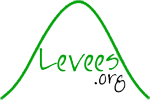 NEW ORLEANS, LA -- (Marketwire) -- 05/01/12 -- Levees.org has released a fourth book review by its founder Sandy Rosenthal that addresses the New Orleans flooding of August 2005.
Rosenthal provides the following commentary on the "Facing Catastrophe: Environmental Action for a Post-Katrina World" (http://www.hup.harvard.edu/catalog.php?isbn=9780674047914) (Harvard University Press, 2010).
While portions of Rob Verchick's book are required reading at several law schools and graduate programs in disaster studies, the book also makes the economics of environmentalism remarkably accessible to lay people. With good writing skills and use of personal experiences, Verchick explains the important distinction between manmade infrastructure (e.g. buildings and bridges) and natural infrastructure (soil, wetlands and forests). And within this analysis, we find that the infrastructure of the Louisiana coast provides not just goods, but also services, most significantly, storm surge reduction.
One gets an education-packed read in "Facing Catastrophe." For example, we learn that half the world's population lives near the coast and that the state of Louisiana's coastal plain is crisscrossed by 10 major navigational channels.
Using illustrative examples from disasters all over the world, Verchick lays out how laws allow for valuable natural infrastructure to be squandered yet at the same time, "a government would never allow private parties to dismantle bridges for cheap steel." Verchick analyzes the failure of environmental policy in protecting natural infrastructure and for imagining proactive solutions. A high price leads to judicious use and perhaps conservation whereas a low price, he says, leads to gluttony.
But our personal favorite portion of "Facing Catastrophe" is chapter nine where Verchick neatly lances a harmful myth pushed in the immediate political aftermath of the New Orleans Flood -- that environmentalists blocked the Army Corps of Engineers' original plans for peripheral barriers and forced the federal agency to choose a second inferior design that could not protect the city.
Verchick describes how the myth developed; then he sliced and diced the myth by telling the full and true story concluding that "it is unfair and destructive to cast responsibility for the failure of the New Orleans levee system on this small band of activists and a popular environmental law."
Furthermore, Verchick reveals another "broken link in the causal chain," namely that Corps officials interviewed by the GAO office a month after the storm "believe that flooding would have been worse if the original (barrier) plan had been adopted."
We close the review with a quote from Chapter 3. "Traditional economics has failed to consider the hard costs society incurs when nature's infrastructure is destroyed... there are no markets for natural infrastructure that support benefits like hot showers and oysters... their hidden value becomes obvious because of the costs to restore or replace them." Such is the story of greater New Orleans in 2005 and her protective wetlands.
Rob Verchick's book has joined Levees.org's must-read list of Katrina books.
Founded in New Orleans after Hurricane Katrina with a mission of education about the 2005 flooding, Levees.org now has over 25,000 supporters and chapters in six states including Florida, New York, Illinois, Arkansas, Missouri and Oregon.
Copyright @ Marketwire
Page: 1
Related Keywords:
Levees.org, Marketwire, ,Meteorology,Military,disaster,
---