Lets Go Chipper! Into the Great Outdoors Series Prepares Kids for Camping and Outdoor Fun: Eco-Educational App Educates and Connects Families to the Parks This Summer
(March 10, 2011)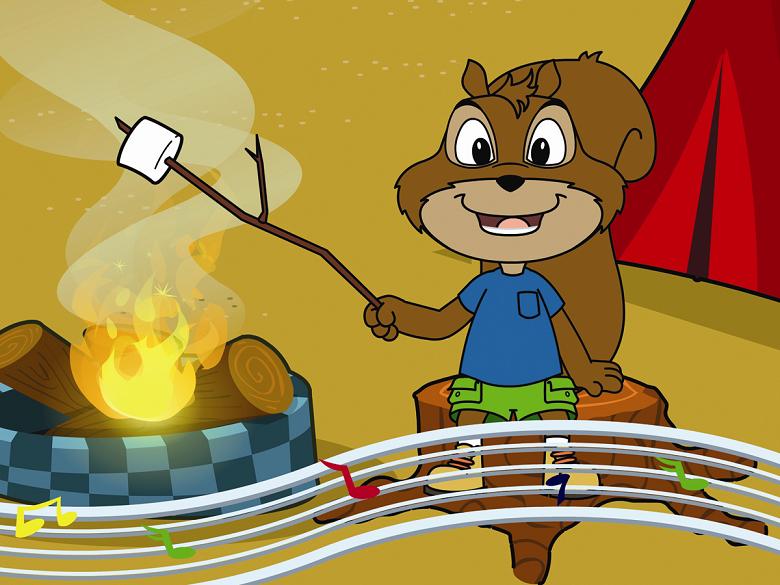 Corte Madera, CA (Vocus/PRWEB) March 10, 2011
With a goal to excite families back into the great outdoors and into our parks this summer, the Lets Go Chipper! Into the Great Outdoors eco-educational app series announces Free App Friday to celebrate Moms With Apps and available on iTunes for the iPad, iPhone, and iTouch. This Friday, March 10, 2011 parents can download the nature-inspired app portal which includes animated movies, books, music, and coloring activities. Additionally, a free gift is available with details included in the initial download.
The premiere download in the Lets Go Chipper app is an animated and live action movie introducing children to Chipper, a young squirrel setting out on his first camping trip to explore nature. From the opening scene its an animated and live action adventure filled with music, mishap and humor that will playfully teach kids about nature and wildlife, and the importance of caring for the environment. Kids learn lessons beginning with what to pack to You can play, but dont stray, hike with a partner, to the importance of respecting wildlife and park rules, and more. Chipper delights kids with songs and storytelling.
The award winning app-series continues with additional adventures to download:
Kids will go on an undersea adventure to learn about the life of a salmon in Out to Sea with Sally; a playful game of tag takes Chipper and his park friend, Paisley, down a silly and slimy path to meet one of natures greatest composters in Break it Down with Bruce; and a bus ride through San Francisco to find Chippers leaf takes him on a day by the Bay in Lets Stroll Crissy Field, teaching kids about one of Americas most visited urban parks.
Our goal is to sneak to educate kids through engaging characters and stories that excite them about getting back into the great outdoors, says creator and company founder Stephanie Rach-Wilson. We get such great feedback from park rangers, parents and grandparents as they talk about Chipper on the trail and use the characters as parenting tools.
The Lets Go Chipper Into the Great Outdoors series is also available as a DVD/CD, activity set, books, and more through REI retailers, online at Barnes and Noble, and the http://www.letsgochipper.com store.
In April, Chipper will kick-off the Into the Great Outdoors National Tour providing a virtual path to the great outdoors via Facebook and Twitter, and physical events throughout the country. Chipper Ambassadors from around the world will share ideas, tips, and pertinent educational information that will help reinforce the importance of connecting children with nature while helping parents and kids get ready to go. Chipper mascots and the Ambassador team will visit community parks, state, and national parks to shake hands with kids and provide story time and activities to teach valuable lessons on being mindful in the great outdoors.
Now is the time to reconnect as a family and the Lets Go Chipper series inspires families to get outside and play, says Stephanie Rach-Wilson. These play-based moments positively benefit the physical, social, and emotional development of a child.
Research from Yale Universitys School of Forestry and Environmental Studies shows that children exposed to nature will develop an appreciation for the environment, and empathy for all living creatures. Chipper characters and story-based programs are ideal for young children because they resonate in a playful way, using music, mishap, rhyme and repetition. Former National Park Service Director Fran Mainella also touts the benefits of outdoor play as co-chair of the US Play Coalition ...play is a basic human need and the foundation of strong intellectual, physical and emotional development. Play is essential to a person reaching his or her full potential.
Visit the Lets Go Chipper website to get ready to go. Find fun facts on US park systems and downloads for kids to color. Kids will learn information like:

There are 391 national parks in the US
Yellowstone, in Wyoming, was the first National Park created in 1872
There are over 3,500 state parks
In 1864, President Lincoln ceded Yosemite to California and made it a state park. It later became a national park
And checklists for the entire family
The Lets Go Chipper series is created and produced by Its All Good media(IAGmedia, Inc.), a conscientious childrens entertainment company providing meaningful content and characters that instill positive life skills and a love for the environment. Download the Lets Go Chipper series on iTunes along with additional apps for children. IAGmedia is a member of Moms with Apps and recipient of the Blue Shield Award, iParenting Hot Product award, and nominated for Best Kids App. To learn more, please visit http://www.letsgochipper.com or http://www.itsallgoodmediainc.com.
###
Read the full story at http://www.prweb.com/releases/2011/3/prweb8195647.htm.
Page: 1
Related Keywords:
education, adult education, further education, religious education, society, social issues (general), family, family planning, freedom of religion, religion and belief, nature religion, society, sports disciplinary action, medical procedure/test, medical research, medical staff, medical specialisation, medical service, medical conditions, market research, research and development, medical research, science and technology, applied science, material science, human science, natural science, philosophical science,
---