LeoNovus to Hold Investor Conference Call Thursday, October 20, 2011
Gordon Campbell, Chairman and CEO to Provide Corporate, Business and Product Update
(October 17, 2011)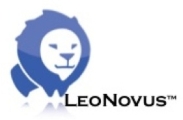 PALO ALTO, CA -- (Marketwire) -- 10/17/11 -- LeoNovus ("LeoNovus" or the "Company") (TSX-V: LTV) today announced an investor conference call to be held Thursday October 20, 2011 - 10:00 AM EDT to discuss corporate, market and product activities. Dial-in details will be made available at http://www.leonovus.com/news.php after 5 p.m. Eastern time Monday, October 17.
The call is expected to be 30 minutes in length. There will be a short Q&A following. The Conference call will be recorded and made available from the LeoNovus website for those that are unable to attend shortly following the call.
About LeoNovus Inc. (www.LeoNovus.com)
LeoNovus is developing a high performance browser-based Internet platform with a managed system approach that will provide HDTVs and other consumer electronic devices with access to all the features, content, and functionality available on the Web without the malware, security and support issues of a PC. LeoNovus seeks to change the way high-value Internet content is organized, monetized, and delivered on HDTVs, providing a true consumer electronics experience to the largest monitor in the house.
LeoNovus shares have traded on the TSX Venture Exchange since June 10, 2009. Further information about LeoNovus can be found in its filings with Canadian securities regulators, which filings are available at www.sedar.com.
Neither TSX Venture Exchange nor its Regulation Services Provider (as that term is defined in policies of the TSX Venture Exchange) accepts responsibility for the adequacy or accuracy of this release.
Certain information included in this press release is forward-looking and may involve risks and uncertainties. The results or events predicted in these statements may differ materially from actual results or events. Factors that might cause a difference include, but are not limited to, competitive developments, risks associated with LeoNovus's growth, the state of the financial markets, regulatory risks and other factors. There can be no assurance that any statements of forward-looking information contained in this release will prove to be accurate. Actual results and future events could differ materially from those anticipated in such statements. These and all subsequent written and oral statements containing forward-looking information are based on the estimates and opinions of management on the dates they are made and expressly qualified in their entirety by this notice. Unless otherwise required by applicable securities laws, LeoNovus disclaims any intention or obligation to update or revise any forward-looking statements, whether as a result of new information, future events or otherwise. Readers are cautioned not to place undue reliance on any statements of forward-looking information that speak only as of the date of this release. More detailed information about potential factors that could affect LeoNovus' financial and business results is included in public documents LeoNovus files from time to time with Canadian securities regulatory authorities and which are available at www.sedar.com.
All trademarks and brands mentioned in this release are the property of their respective owners.
For more information, please contact:

LeoNovus™ Inc.
1800 Embarcadero Rd.
Palo Alto, CA 94303 USA
Phone: (650) 856-8500 (US-PDT)
Fax: (650) 856-8510
www.LeoNovus.com
Email: Email Contact


Copyright @ Marketwire
Page: 1
Related Keywords:
LeoNovus, Internet,Web,Security,Marketwire, Inc.,Financial,Consumer Electronics,Internet Technology,Business,Internet,Other,
---