Leads360 Automated Text Messaging Allows Businesses to Serve More Than 300 Million Wireless Subscribers On the Go
Text Messaging From Leads360 Composes and Sends a Text at the Right Time in the Sales Funnel
(November 29, 2011)

LOS ANGELES, CA -- (Marketwire) -- 11/29/11 -- Leads360, the industry leader in lead management software, today announced automated text messaging functionality that helps businesses connect with the more than 300 million wireless subscribers in the United States(1).
"As more consumers communicate through mobile devices it is important all channels of communication are considered during the sales process," said Nick Hedges, president and CEO of Leads360. "While phone calls and emails continue to be an effective way to communicate with a prospect, at times there is nothing better than a text. Being the only company or organization with intelligent and automated text messaging capabilities can provide a positive customer experience and a real competitive advantage in a sales situation."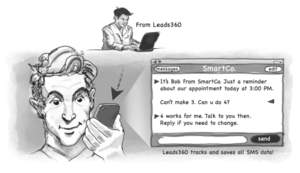 For example, Tricoci University of Beauty Culture is using Leads360 automated text messaging in the enrollment process and has found it to be highly effective for sending reminders to prospective students regarding appointments and key deadlines. More importantly, the prospect's replies go directly to the email box of the admissions rep, eliminating the need for the school to hand out cell phones to their enrollment team.
"Many of our prospective students use mobile devices and utilize text messaging as a primary means of communication," said Jennifer Van, Senior Career Counselor at Tricoci. "The ability to send a quick reminder to prospective students in the form of a text message is yet another way we can provide them with a great enrollment experience."
A recent study shows that at least half of Americans ages 18 to 29 send at least 40 text messages a day, and half of those ages 30 to 49 send at least 10 per day. This is 8 times and 2 times, respectively, the number of phone calls they make per day(2). Like email, texts are less disruptive and allow consumers to be reached in the way that best suits each individual.
For times when a text message is best, Leads360 ensures regulatory compliance while making it easy on the sales associate by eliminating the need for them to remember to type and send out a message. Leads360 automates the process of composing and sending texts at the right points in the sales funnel -- this could include a gentle nudge to fill out and return a form, a reminder of a scheduled call, or simply a "remember me" touch point. The system generates messages from the sales team and sends them via the reliable and SPAM-compliant Short Message Service (SMS) protocol, allowing the prospect to reply to the massages from their cellular phone. Replies are delivered to the sales associate or enrollment counselor as an email, meaning a sales associate can send and receive text messages through their email without ever needing to know the customers cell phone number or use their personal or company-provided cell phone.
The Leads360 text messaging abilities include:
Automatically send personalized, timely and effective text messages to prospects at the right touch-points
Leverage one-to-one text messaging directly from Leads360 -- no mobile phone needed to send messages, receive replies or reply to replies
Looks up which of the prospect's phone numbers is text message-capable so you don't have to figure it out
Control, monitor, and record all text communications to ensure compliance and keep a high quality of customer service
Affordable and easy to start
Leads360 Automated Text messaging is available immediately in the Small Business and Enterprise editions of Leads360. To request a demo visit Leads360.com
About Leads360
Leads360 is the market-leading consumer sales platform, proven to deliver smarter, more efficient sales processes and increased conversion rates for companies that sell to consumers. With unmatched expertise, drawn from managing over 40 million prospects for more than 10,000 clients, Leads360 is the platform of choice for the largest and most successful consumer-focused sales organizations.
Leads360's Software-as-a-Service (SaaS) solution meets the needs of the most demanding sales organizations, from distributed call centers with thousands of users to highly-focused small businesses with a handful of users. Leads360 enables companies to capture, distribute, analyze, nurture, and convert sales leads using a customizable workflow and fully integrated dialing technology. Leads360 serves as the single systems integrator and primary interface for the sales process, incorporating all lead sources, third-party data and services providers, verification and quoting technologies, telephone systems, and, once the sale is made, Customer Relationship Management (CRM) and ERP systems. Leads360 supports existing integrations with thousands of lead sources and hundreds of third-party technology providers. Leads360 also offers professional services including training and process consulting to help customers design and implement highly effective best-practice sales processes.
Whether your prospects are generated online or offline, if you want to turn more prospects into customers, visit Leads360.com.
Follow Leads360 on Twitter: www.twitter.com/Leads360.
(1) CTIA Wireless Association, The Wireless Association Semi-Annual Survey, Oct., 2001
(2) Pew Internet Report: Text Messaging Volume by Age Group, Sept. 2011
Image Available: http://www2.marketwire.com/mw/frame_mw?attachid=1814715

Add to Digg Bookmark with del.icio.us Add to Newsvine
Media Contact:
Alyssa Trenkamp
PR Manager
Leads360
310-765-7392
[email protected]


Copyright @ Marketwire
Page: 1
Related Keywords:
Software, Lead Management, Nick Hedges, Leads360, Sales, Marketing, Lead Management Software, Internet,Digital Media Software,Computers/Home Office,Communications,Web,Cell phone,Training,EMail,Sales,Marketing,CRM - Customer Relationship Management,Sales & Marketing,Internet,Business Issues,Career,Training and e-learning,Management,Sales,CEO/CFO,Sales,Marketwire, ,Communications Technology,Internet Technology,Business,Internet,Email,
---