Lavante Unveils Lavante Recovery+ for Next-Generation Automated Real-Time Recovery
New Release Delivers End-to-End Visibility, Real-Time Interactivity, Multi-Level Connections and Collaboration and All-Inclusive Recovery Tracking for Rapid and Proactive Recovery Auditing
(May 14, 2012)

SAN JOSE, CA -- (Marketwire) -- 05/14/12 -- Lavante, the leading provider of on-demand supplier management solutions, including recovery auditing and supplier information management, today announced the latest version of its next-generation recovery auditing platform, Lavante Recovery+. This technology-driven recovery platform has been designed to automate recovery audit processes across a comprehensive vendor set and to provide automated real-time credit recovery. Lavante Recovery+ features powerful new capabilities that deliver tomorrow's recovery audit automation, today.
Lavante's technology-enabled recovery solutions offer a stark contrast to the more traditional audit services, which rely on labor-intensive manual processes. Built on patented technology, Lavante Recovery+ delivers real-time access to recovery results accessible to clients through a highly intuitive on-demand portal and dashboard.
"Lavante Recovery+ dramatically improves clients' understanding and control of their recovery processes, while uncovering new recovery opportunities," said Henry Ijams, Managing Director, PayStream Advisors. "The high-level visibility together with the interactive drill down into the recovery details offers expanded insight into the recovery process."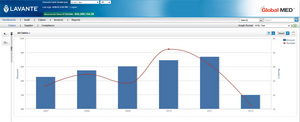 This latest Lavante Recovery+ automated real-time recovery release offers key new features to provide the following benefits:
End-to-End Visibility into Recovery Trends and Results. Lavante Recovery+ offers the built-in flexibility to configure recovery results, combined with click-through drill-downs for a full review of transactional details. As a result, users can clearly see the total value of credits recovered, quickly uncover root cause issues and account for all audit results, over time. KPIs are also now available that allow users to benchmark results as an aggregate or by industry
Real-Time Interactivity to Manage the Recovery Process. Lavante Recovery+ provides live access, 24 x 7, to audit results and processes through an interactive web portal. This gives users fingertip access to real-time audit details and results while streamlining an actionable workflow process. It also allows for data exports for use in other corporate enterprise systems.
Multi-Level Connections & Collaboration between Suppliers and Clients. Lavante Recovery+ manages the massive volumes and extreme complexities involved with multiple outbound connections (including fax, email, and postal mail) and inbound documents, across all business units and supplier locations, over time. This automates and manages all communications with suppliers and streamlines communications between client, supplier and audit team. It also provides a single source of truth for all supplier communications and information.
All-Inclusive Recovery Tracking - Past, Present & Future. With a system that traces the millions of transactions from every document, (invoice, statement, etc), Lavante Recovery+ constantly compares current vs. past transactions, with proprietary software that quickly identifies possible credits -- in real time -- tracking these changes over time. This automation and the sophisticated technology that manages these potentially millions of transactions means our clients can be fully confident that credits are not falling through the cracks.
Lavante Recovery+ incorporates a range of key technology features that drive real benefits to customers, including:
Expanded Private Supplier Network: Built on patented technology, this release expands the supplier universe and accelerates connections while broadening outreach capacity.
Smart OCR: Continuing improvements to proprietary technology with increased capacity to handle extremely high volumes of statements.
Distributed Collaborative Workflow: Automates claim reconciliation and actualization by allowing various Lavante and customer domain experts to work concurrently in the common environment.
Increased Scalability: The distributed architecture allows full scalability and increased processing speed, with the ability to manage an unlimited number of statements, line items and back-up documents.
Interactive Reporting Interface: To deliver real-time, interactive analytics, Lavante has built-in user-defined dashboards with seamless drill-down capabilities.
"With Lavante Recovery+ we have taken recovery audit automation to a completely new level," said Joe Flynn, CEO and founder, Lavante. "Now users have full visibility into every aspect of how their recovery program is performing with the reports needed to demonstrate the impact across every level of the organization. Users have finger-tip access to live audit results and processes 24x7 through our user-friendly online portal, giving them always-current audit details and results. Never before has recovery auditing been this rapid, effective, interactive or comprehensive."
Lavante Recovery+ is available now as a SaaS-based application for both mid and large enterprises across all verticals. For more information, please visit: http://www.lavante.com/recovery-audit.
About Lavante
Lavante is the leader in on-demand supplier management solutions, including recovery audit and supplier information management applications. Built with advanced, patented technology, Lavante delivers to the financial arena a new standard in efficient technology-driven solutions that allow companies to quickly drive dollars to the bottom line, improve supplier communications, and assure high supplier data quality. Lavante solutions are deployed across Fortune 1000 enterprises including the hospitality, retail, entertainment, manufacturing, and medical industries. Headquartered in San Jose, California, Lavante is privately held and was founded in 2001. For more information please visit www.lavante.com.
© 2012 Lavante, Inc. Lavante Recovery+ is a trademarks of Lavante, Inc.
Image Available: http://www2.marketwire.com/mw/frame_mw?attachid=1981690

Press Contact:
Erin Jones
E.S. Jones Public Relations for Lavante
(P) 704.664.2170
ejones@esjonespr.com


Copyright @ Marketwire
Page: 1
Related Keywords:
Lavante, Manufacturing, Applications, Suppliers, Manufacturing/Production, Robotics, Public Relations, Manufacturing, Internet, Business Issues, Architecture, Internet Server Applications, E-mail, Public Relations, Management, CEO/CFO, Marketwire, Inc., , Financial, Internet Technology, Business, Entertainment, Email, Other,
---