Launch of Appolicious.com Helps Consumers Find Mobile Apps They'll Love
Appolicious Inc. and AdvertisingAge Present "Apps for Brands" Conference
(September 01, 2009)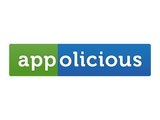 CHICAGO, IL -- (Marketwire) -- 09/01/09 -- Consumers everywhere now have a way to easily search for, discover and download the best apps for their iPhone(TM) and iPod® touch. Appolicious Inc. has launched the first web service to combine social networking, ratings and reviews, original articles, advanced content aggregation and search.
Anytime consumers visit Appolicious.com, they can immediately get recommendations about apps from:
-- their friends, -- other consumers who share their likes and dislikes, and -- the Appolicious editorial team.
"The last 18 months have seen a tremendous explosion in the availability of apps for mobile devices," said Alan K. Warms, founder and CEO of Appolicious Inc. "Yet it's difficult to find the right app for your mobile device. As the number of apps explodes and corporate America rolls out even more apps, the problem of discovery -- and subsequently driving consumer adoption of apps -- will only be exacerbated. Appolicious' goal is to provide consumers with an easy-to-use service to cut through this clutter and find the apps that are right for them."
By going to the Appolicious.com built-in search bar at the top of each page consumers can type the name of an app and instantly find ratings, reviews and a quick list of who's talking about the app, all designed to help people make a quick decision about whether or not an app is worth downloading. Along with every search, Appolicious' best-in-class technology delivers social activity around the app (i.e., which of your friends use the app), media mentions about the app and videos and pictures of the app.
Appolicious' recommendations are based on not only ratings but also who owns the app among a consumer's friends and the Appolicious community. The website's "create-a-profile" functionality allows consumers to enter their interests and use the App Library Builder to automatically load their personal app inventory into their Appolicious profile. Even without a profile, consumers can still scroll to the bottom right-hand side of the website's home page and get recommendations from people like them by clicking on a phrase of their choosing under the "From People Like You" box.
Another feature of the newly launched site is The Appolicious Advisor, written by Appolicious' editors. The Advisor features hundreds of articles to help consumers understand and make decisions about apps.
Other elements of the site include "The Hot List," which is a real-time list of the day's top stories about apps; "The Fresh Feed," which is a real-time stream of Appolicious users' comments and actions; and, individual app pages with more detail on the app than is available anywhere.
As part of its September launch activities, Appolicious Inc. is also co-producing the "Apps for Brands" Conference in conjunction with Advertising Age® magazine in New York City on September 23, 2009, to help executives develop and drive value from mobile apps. Conference speakers include: Matt Bean, senior editor, Men's Health; Robert Bowman, president and CEO of Major League Baseball Advanced Media LP; Ryan Charles, product manager, Internet and wireless projects, Zagat; J.B. Holston, CEO and president of NewsGator; and, Jen McDonald, digital marketing executive, Bank of America.
About Appolicious Inc.
Appolicious Inc. was founded in 2009 with the goal of making it easy for you to find mobile applications you'll use and love. We've combined social networking, journalism and technology to help you discover the best of the tens of thousands of apps available today. Appolicious is not affiliated with any mobile device maker or carrier, and the Appolicious Advisor reporters are independent journalists without ties to the mobile industry. For more information, please visit http://www.appolicious.com.
Image Available: http://www2.marketwire.com/mw/frame_mw?attachid=1054512
Image Available: http://www2.marketwire.com/mw/frame_mw?attachid=1054520
Image Available: http://www2.marketwire.com/mw/frame_mw?attachid=1054517

Add to Digg Bookmark with del.icio.us Add to Newsvine
Media contacts:

Eric Benderoff
Email Contact

Brad Spirrison
Email Contact

Bill Perry
Email Contact
mobile: +1 614 975 7538

Email Contact


Copyright @ Marketwire
Page: 1
Related Keywords:
appolicious, iPhone, iPod touch, social media graph, apps, mobile apps, alan warms, Sales, Applications, Advertising, Marketing, Sales & Marketing, Networking, Internet, Social Media, Search, Internet Server Applications, Search Servers, Marketwire, Inc., Apple Computer, Internet Technology, Internet, Baseball, Social Networking, Other,
---