Latest Version of Appian Business Process Management Suite Delivers Mobile, Cloud and Social BPM
Appian Tempo Interface Expands BPM Participation and Collaboration Across the Organization, Partners and Customers
(February 09, 2011)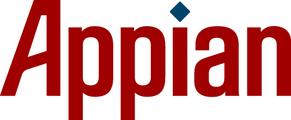 RESTON, VA -- (Marketwire) -- 02/09/11 -- Appian, the global innovator in enterprise and cloud-based business process management (BPM) software, today announced the availability of the latest version of the Appian BPM Suite, the simplest and most powerful BPM platform for process improvement. The release delivers a revolutionary way to extend process visibility and participation through native mobile device access, real-time collaboration, filtered and personalized views of key business events, integration to external systems, and the ability to take direct action in a familiar and intuitive social media interface.
"The new capabilities of Appian's already-robust business process management platform will deliver a new level of value for our customer service associates, who would welcome instant mobile access to our key enterprise processes and forms," said David Carpenter, Director of BPM at Appian customer Archstone. "These associates are locally managing thousands of disparate apartment properties, and can't be tied to their desktops while responding to service requests."
All Appian customers and partners can use the new interface via the Appian Forum community site. Customers can log support cases, register for webinars, get product and industry updates, share components and collaborate on topics of mutual interest.
Mobile, Cloud and Social BPM Just Got Better
"In 2011, we expect to see transformative technologies make the critical transition from early adopter status to early mainstream adoption," said Frank Gens, senior vice president and chief analyst at IDC. "As a result, we'll see the IT industry revolving more and more around the build-out and adoption of this next dominant platform, characterized by mobility, cloud-based application and service delivery, and value-generating overlays of social business and pervasive analytics."
The new Appian release drives increased business value through a focus on Mobile, Cloud and Social BPM. The platform builds on Appian's heritage of natively-integrated process, business rules, reporting and analytics, content management, data integration and collaboration. By enhancing support for ad-hoc collaboration, unstructured processes and unplanned business events, Appian delivers even more powerful solutions in areas such as Case Management. Forrester Research Inc. recently named Appian a Leader in its January 2011 report "The Forrester Wave™: Dynamic Case Management, Q1 2011" stating, "Appian shone with its emphasis on collaboration supported by the new Appian Tempo interface."
Mobile BPM
Appian is leading the evolution of mobile BPM through native client applications for the Apple iPhone, iPad, and RIM BlackBerry devices. Mobile BPM allows employees to stay connected, informed and empowered to make important business decisions regardless of where they are. It also extends BPM participation beyond pre-defined process participants to include all levels of the organization.
The iPhone and iPad applications are available for immediate download from the Apple App Store
The BlackBerry application is available now from the Appian Forum community site, and will be available shortly on the BlackBerry App World site
A native application for Google Android devices will be available shortly
Cloud BPM
Appian is already established as the leader in cloud-based business process management. In its October 2010 "Magic Quadrant for Business Process Management Suites" report, Gartner states that Appian "sets the bar for BPM in the cloud." Appian in the cloud delivers full Appian functionality, providing a powerful way to accelerate process improvement initiatives. BPM in the cloud from Appian:
Offers low up-front investment, instant deployment and fast time-to-value
Reduces risk by enabling customers to easily migrate between cloud and on-premise at any time
Includes VPN access for integration to systems and applications behind a company firewall
"We use Appian in the cloud to rapidly deliver solutions for healthcare organizations like Chartis and Bupa while reducing cost and risk," said Ingolv Urnes, founder and principal at psHEALTH. "With the new version of the platform we can extend the value of those solutions for greater speed and collaboration among healthcare professionals in the office and those delivering in-home care."
Social BPM
Social technologies are powerful communication and collaboration platforms, but they must be harnessed in a business context to have business value. Appian utilizes familiar social tools and interfaces to drive business collaboration across the enterprise.
Personalized, Filtered Views: Users can filter views by relevant application or process areas and subscribe to customized feeds to monitor the key events and information that is meaningful to them
Easy Collaboration: Comment, question and collaborate on business events through real-time message posts and ad-hoc updates to targeted groups within and outside of pre-planned business processes
Take Action: Generate actions and complete tasks from inside the event feed or from a mobile device, using optimized web and mobile forms to capture data and route tasks
"Appian is committed to extending both the reach and value of BPM," said Matt Calkins, CEO and President of Appian. "The latest version of our BPM suite continues our tradition of innovation, simplicity and power by enabling native BPM mobility and a new level of enterprise collaboration."
About Appian
Appian is the global innovator in enterprise and cloud-based business process management (BPM) software. Appian's combination of simplicity and power provides everything business users need to drive transformational process improvement -- on the desktop or via mobile devices. Commercial and government organizations around the globe use Appian to increase agility and collaboration, and accelerate business performance. Appian empowers more than 3 million users from large Fortune 100 companies, to the mid-market and small businesses worldwide. Appian is headquartered in the Washington, D.C. region, with professional services and partners around the globe. For more information, visit www.appian.com.
Add to Digg Bookmark with del.icio.us Add to Newsvine
For Information Contact:
Ben Farrell
Director, Corporate Communications
+1 703.442.1067
Email Contact


Copyright @ Marketwire
Page: 1
Related Keywords:
BPM, business process management, mobile, cloud, social, Gartner, Forrester, IDC, collaboration, Marketwire, Inc.,Apple Computer,healthcare,Internet Technology,Biology,Business,
---