Latest Release of Kalido(R) Information Engine(TM) Eliminates Data Mart Migration and Consolidation Hassles
Ability to Automatically Translate Existing Data Models, Taxonomies and Glossaries Into Business Information Models Dramatically Reduces Time and Cost
(January 31, 2012)

BURLINGTON, MA -- (Marketwire) -- 01/31/12 --

News Facts
Today, Kalido, the leading provider of agile information management software, unveiled the latest release of the Kalido® Information Engine™ that helps companies slash the time for data mart migrations and consolidations.
Companies have invested significant resources in their logical data models, taxonomies and glossaries. With this new release, customers will be able to exploit existing logical and physical models and taxonomies to build a new more agile data warehouse, delivering three key benefits:

Cost savings: Existing assets are re-used rather than recreated, with automated consolidation and migration tasks that reduce resource requirements.
Speed: Automation enables reverse engineering, accelerating conversion to a business information model and providing an agile data foundation for analytics. Existing models can be converted in hours instead of weeks.
Risk reduction: IT teams can improve governance and overall standardization by implementing standards during consolidation.

See today's related release: "Kalido Information Engine Achieves Oracle Exadata® Ready Status" at http://bit.ly/Kalido-on-Exadata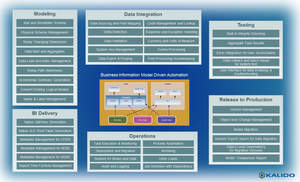 New Release Enables Both IT and Business to Share Control
According to Gartner, "CIOs should be aware that data marts will emerge continuously in the organization. They should advise the business intelligence and data warehouse teams to plan for ongoing data mart consolidation and demand that a strategy for accomplishing it is in place." ("Data Warehousing Trends for the CIO, 2011-2012," M. Beyer, D. Feinberg, R. Edjlali, 27 January 2011)
Organizations seeking to migrate or consolidate their data marts onto new platforms will benefit from greater control in both business and IT environments:

Business teams improve data consistency and use of personnel as shadow data marts become unnecessary.
IT teams forge a continuous link from business requirements all the way through to data warehouse-driven reports and analytics.

Companies can download the business modeling component of the Kalido Information Engine for free at http://www.kalido.com/business-modeling-community.htm
Supporting Quotes
Ralph Hughes, chief systems architect, Ceregenics, said:
"What's the value of yet another data warehouse in a large company? If you can't consolidate existing BI applications and retire the legacy systems, your maintenance and operations costs are only going to go up. Kalido's migration accelerators place all the requirements and design knowledge formerly locked in those legacy warehouses into the 'consolidation hopper,' giving companies a straightforward means to merge designs, meta data, and data in a single effort, allowing us to drive toward much more economical and intelligible total operating models for our enterprise business intelligence solutions."
Bill Hewitt, president and CEO of Kalido, said:
"This new release delivers something the market has been wanting for years. By automating the migration process, we can breathe new life into old data warehouses and at the same time help customers consolidate existing marts faster and more efficiently than ever before. It clearly extends our market leadership as the only vendor providing agility and cost efficiency at the same time."
Additional Resources
Join the Kalido Information Engine 9 SP1 launch webinar on "Overcoming the Top 5 Challenges in Data Mart Consolidation" on January 31 at 11AM EST. Register at http://bit.ly/mart-challenges
Join the February 7 webinar, "CIO's View: Transforming Healthcare Using an Information-Centric Approach," featuring Independent Health CIO Judith Feldman. Register at http://bit.ly/Healthcare-CIO-webinar
Visit the Kalido booth at TDWI Las Vegas to learn more and to get your complementary, signed copy of Ralph Hughes' book, "Agile Data Warehousing."
Join the conversation by joining Kalido's online community, Kalido Connections, at www.kalidoconnections.com or following us on Twitter @kalido
Visit the Kalido blog, "Kalido Conversations" at http://blog.kalido.com
About Kalido
Kalido is the leading provider of agile information management software. Kalido enables companies to manage data as a shared enterprise asset by supporting the business process of data management. Kalido software has been deployed at more than 300 locations in over 100 countries, including 20 percent of the world's most profitable companies as determined by Fortune Magazine. More information about Kalido can be found at: http://www.kalido.com.
Image Available: http://www2.marketwire.com/mw/frame_mw?attachid=1870860

Add to Digg Bookmark with del.icio.us Add to Newsvine
Analyst Contact:
Lorita Vannah
Kalido
+1 781 202 3211
Lorita.vannah@kalido.com

Media Contact:
Julie Crotty
Attune Communications
julie@attunecommunications.com


Copyright @ Marketwire
Page: 1
Related Keywords:
Kalido, data warehousing, data mart, business intelligence, BI, data mart migration, data warehouse, Applications, Business Issues, IT Management, Management, CTO/CIO, CEO/CFO, Marketwire, , Business,
---