LA Net Adopts Emerge.MD's Cloud Based TeleHealth Solution to enable Clinical Collaboration
(April 27, 2012)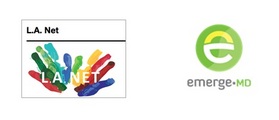 PHOENIX, AZ -- (Marketwire) -- 04/27/12 -- LA Net, a community-based Practice-Based Research Network (PBRN) focused on addressing health disparities reduction in Southern California, is working with Emerge.MD and services partner Burwood Group to implement Emerge.MD's Enterprise Consult Accelerator solution. This solution will solution will enable clinical collaboration between community based clinicians and specialists. LA Net supports the largest population of uninsured patients in the nation and their program is intended to emulate The University of New Mexico's nationally renowned ECHO Clinic.
Defined as ECHO = Extension for Community Health Outcomes, LA Net's program will enable bi-weekly ONE TO MANY, PEER TO PEER learning and case-review sessions between specialists (or a team of specialists) and a group of PCPs around a priority condition. Emerge.MD's TeleHealth solution provides the ability to review and discuss patient cases in a HIPAA compliant and FDA certified manner in an open forum and enable expert consultations to be delivered either by appointment or on an ad-hoc real-time basis. The solution is completely ubiquitous and can be accessed from any internet enabled device through a web browser. It includes the ability to deliver SMS and text messaging between members of the community as well as the ability to host collaborative sessions sharing multi-point HD video, audio and remote multi-modality screen sharing.
"The vision for Project ECHO LA, an initiative of LA Net, is to support the safety net community, improve health outcomes of patients, and reduce costs through E.C.H.O. Knowledge Networks -- made available to any primary care practice in L.A. Our vision is to provide a virtual learning community that brings together primary care providers and specialists to build expertise, share best practices, improve communication and enable PCPs to expand their scope of practice. We are grateful to L.A. Care Health Plan for the support it is providing to help us launch Project ECHO in Los Angeles." Lyndee Knox, Ph.D., CEO LA Net
Emerge.MD
Emerge.MD provides workflow aware TeleHealth SaaS (software-as-a-service) solutions that are cloud-based and device agnostic, allowing anytime/anywhere access to critical information and care.
"We are thrilled to be supporting LA Net's vision to improve patient care and outcomes to underserved communities in Southern California and look forward to simplifying telehealth and enabling care without boundaries," Eric Trappen, Emerge.MD CEO
IMPROVING CARE THROUGH REAL-TIME COLLABORATION
The workflow around patient care is complex, involving numerous interconnected parts. Any single episode of care can involve multiple specialists, may span across departments, and require patient encounters in various locations. Emerge.MD offers solutions that bring people, processes and technology together to efficiently deliver remote care across the continuum of care, from admission through to discharge, follow-up clinic, and into the home. Emerge.MD TeleHealth solutions are workflow-aware, cloud-based and device agnostic, enabling remote care delivery to anyone, anywhere, anytime.
For more information on Project ECHO please contact, Lyndee Knox, P.hD., Executive Director of LA Net (626) 833-8270.
For more information on Emerge.MD and our suite of telehealth solutions, please visit our website at www.emergemd.com or contact Vince Balsamo, Vice President of Sales and Marketing (858) 204-7966, [email protected].
Emerge.MD will also be demonstrating its solutions at the American Telemedicine Association conference in San Jose, CA from 4/29-5/1 in partnership with Cisco Systems and AT&T (booth numbers: 1434 and 1328).
CONTACT:
Vince Balsamo
Sr. Vice President of Sales and Marketing
Emerge.MD, Inc.
5025 N. Central Ave. Suite 486
Phoenix, AZ 85012-1520
(858) 204-7966


Copyright @ Marketwire
Page: 1
Related Keywords:
telemedicine, telehealth, clinical collaboration, Marketwire, ,Internet Technology,Medical,Internet,
---