Kony Adds Support for iPad 2 and iOS 4.3
More Than 8,500 Devices and Operating Systems Are Now Supported Through the Kony Platform
(April 26, 2011)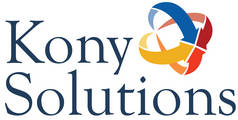 SAN MATEO, CA -- (Marketwire) -- 04/26/11 -- Kony, the leading mobile application platform provider, announced today that the Kony Platform now supports the iPad 2 and Apple's iOS 4.3. These additions enable enterprises to take advantage of the unique, native device capabilities of the iPad 2 and Apple's iOS 4.3 for their new and existing applications. These capabilities include video communication, multi-tasking and multi-touch features. With this new support, Kony clients can continue to implement ubiquitous, future-proofed mobile application deployments and seamlessly navigate the ever-changing mobile landscape.
"The exploding popularity of the iPad and Apple devices in general shows no sign of abating. Our clients need to be everywhere their customers are, without dealing with the headache and overwhelming cost of creating, deploying and maintaining mobile applications," explained Raj Koneru, CEO of Kony Solutions. "By announcing support for the iPad 2 and iOS 4.3, we're demonstrating once again to our customers that with Kony, they can effortlessly keep in lockstep with today's, and tomorrow's, hottest device and OS without compromising the user experience or investing additional IT resources."
The Kony Platform leverages Kony's proven technology for designing, developing, deploying and managing mobile applications that run on more than 8,500 mobile devices and seven operating systems (iOS, Android, BlackBerry, Windows Phone, webOS, Symbian, J2ME). In addition, Kony's technology enhances the user experience with a super-set of mobile capabilities that are optimized for each mobile device. Unlike other solutions, which force companies to downgrade their mobile offerings to meet the capabilities of the device with least functionality, Kony's solution adds functionality to devices without these extended capabilities.
"We are committed to supporting the full spectrum of mobile devices and operating systems on the market today without sacrificing application functionality and user experience," Koneru continued. "Our team is constantly innovating and responding to the changing marketplace -- anyone in the mobile industry knows that today's hottest device can easily be yesterday's news in a matter of months. Any application developed on our platform is future-proofed and positioned to take full advantage of the cutting-edge features offered by each new device and OS."
About Kony
Kony enables enterprises to offer consumers and employees feature-rich mobile applications in less time and at lower costs than any other solution. Leveraging a single application definition, applications are designed and developed just once, in a device-independent manner, and deployed across multiple channels, including native applications, device-optimized mobile web, SMS, web gadgets, kiosks, and tablets without compromises. Kony's unique platform is proven to future-proof a company's mobile investment by enabling applications to be changed once for all channels, ensuring faster adoption of new operating systems and standards as they are introduced, while eliminating maintenance, upgrade and future development costs. For more information, please visit www.kony.com. Connect with Kony on Twitter, Facebook and LinkedIn.
Add to Digg Bookmark with del.icio.us Add to Newsvine
Copyright @ Marketwire
Page: 1
Related Keywords:
mobile marketing, mobile commerce, iPhone, Fortune 500, mobile strategy, iPad, iPad 2, iOS 4.3, Kony, Marketwire, Apple Computer, Internet Technology, Computer Science, Other,
---