Kogeto's Dot Successfully Funded on Kickstarter and Announces Sales to Begin July 30
(July 11, 2011)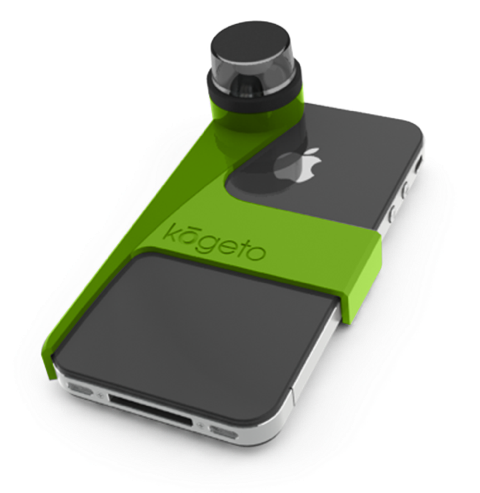 New York (PRWEB) July 11, 2011
Kogeto today announces that Dot, the worlds smallest 360-degree panoramic video camera accessory for the iPhone 4, has successfully been funded on Kickstarter; reaching $120,514 with more than 1,000-backers in less than six weeks.
Heralded as one of the most successful Kickstarter projects to date, Kogetos Dot lets iPhone users capture immersive, fully-navigable panoramic video in real-time. Dot footage can also be shared with friends from the iPhone via social networks like Facebook and Twitter, and live-streamed using Kogetos SaaS-based web platform.
Kickstarter provided a platform for Kogeto to demonstrate Dots capabilities even before it went to market. Weve seen camera and video enthusiasts to the everyday consumer join Dot on this journey to new features and capabilities, manufacturing and getting her ready for the market place, said Jeff Glasse, Chief Executive Officer of Kogeto. This is the final stretch before Dot is on iPhones everywhere capturing and sharing experiences panoramically, in real-time.
Pre-Order Sales Start July 30 on, http://www.Kogeto.com.
To help supplement demand prior to Kogetos Dot hitting shelves, Kogeto.com will begin taking pre-orders on July 30, 2011. Dots companion iPhone application, Looker, which integrates directly with Kogetos SaaS web platform, will be available as a free download upon Dots launch date.
Weighing just 15-grams, Kogetos Dot is an accessory for the iPhones camera lens, and requires no additional battery power or memory beyond standard camera use. Manufactured in the U.S., Dot is made out of durable and lightweight polycarbonate plastic and has a slim profile for the custom optic to automatically align with the built-in iPhone 4 cameras and without affecting the iPhones design.
Also, because all iPhone 4s come equipped with an internal compass and GPS, Looker can intuitively learn where in the world a video is being uploaded from and the position of that iPhone at the time of capture. When two or more Dots are in one location, Looker can link videos from those Dot users together, allowing a viewer to jump from one perspective to another at the same event.
About KOGETO
Founded in 2010, Kogeto, LLC designs and manufactures Lucy and Dot, the worlds most advanced panoramic video cameras. Kogetos Lucy technology was developed with the participation of the Bill and Melinda Gates Foundation and is currrenly in use in hundreds of schools around the country as part of Teachscape Reflect. Dot represents the next step in Kogetos mission to put panoramic video technology in the hands of as many people as possible. Kogetos products are manufactured in the United States. Additional information can be found at, http://www.kogeto.com
###
Read the full story at http://www.prweb.com/releases/2011/7/prweb8632071.htm.
Page: 1
Related Keywords:
computing and information technology, satellite technology, wireless technology, science and technology, technology (general), identification technology, agricultural research and technology, internet, computing and information technology, satellite technology, wireless technology, science and technology, technology (general), identification technology, agricultural research and technology, computing and information technology, satellite technology, wireless technology, science and technology, technology (general), electronics, identification technology, agricultural research and technology, plastic art, photography, entertainment award, entertainment (general), arts (general),
---