Kdan Mobile Launches Animation Desk for iPhone to Unleash the Creative Side of iOS Users
(July 20, 2011)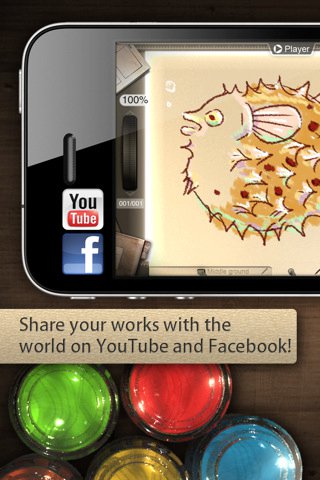 (PRWEB) July 20, 2011
Building upon the strength and success of its highly-rated entertainment app, Animation Desk for iPad, Kdan Mobile has released Animation Desk for iPhone to encourage more users to explore their creative selves through the process of animation making. According to the developer, Animation Desk for iPhone has adopted the same elegant design as its iPad counterpart, but with a cleaner interface and brand new features such as layers and brush opacity adjustment.
Animation Desk for iPhone is a mobile application that allows users to create hand-drawn animations on their iPhones. The drawing interface provided by the app resembles the real working environment of a professional animator who completes each frame of an animation on a specially-designed desk, the animation desk.
Despite its professional visual design, Animation Desk for iPhone is easy and intuitive to work with. We want to provide a friendly drawing environment so that everyone can enjoy creating their own animated works. In the end, we hope more people will learn to appreciate the beauty of traditional animations, says Kevin Huang, chief designer of Kdan Mobile.
Animation Desk for iPhone 1.0 is now on sale for a limited time at a price of $0.99 USD (or equivalent amount in other currencies). It's available worldwide exclusively through the App Store in the Entertainment category.
At the same time, Animation Desk for iPad is being updated to version 1.4.3 and is now priced at $2.99 for a limited time to celebrate the launch of Animation Desk for iPhone. This update includes dynamic backgrounds and enhanced playback control.
About Kdan Mobile Software
Kdan Mobile Software is a company specializing in mobile application development. Kdan aims to bring a ubiquitous mobile operating environment to end users by providing innovative service and powerful technology. © 2011 Kdan Mobile Software Ltd. All Rights Reserved.
###
Read the full story at http://www.prweb.com/releases/2011/7/prweb8649069.htm.
Page: 1
Related Keywords:
computing and information technology,satellite technology,wireless technology,science and technology,technology (general),identification technology,agricultural research and technology,plastic art,entertainment award,entertainment (general),arts (general),arts, culture and entertainment,computer crime,arts, culture and entertainment,entertainment (general),entertainment award,computer crime,Commonwealth Games,Winter Goodwill Games,Summer Asian Games,Winter Asian Games,Panamerican Games,African Games,Mediterranean Games,SouthEast Asiatic Games,PanPacific Games,SouthPacific Games,PanArabic Games,
---