Kapow Technologies Delivers on "Power of Less" Web 2.0 Expo Theme With iPhone Scheduler App
Rapid Application Development Technology Puts Conference Schedule on iPhone in Three Hours; Reduces Typical Development Time and Cost by 90%
(April 01, 2009)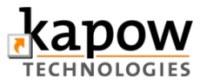 SAN FRANCISCO, CA -- (Marketwire) -- 04/01/09 -- In the opening keynote presentation today at the Web 2.0 Expo, conference leaders will demonstrate a mashup application for the iPhone created by Kapow Technologies and IBM Rational EGL as an example of the "Power of Less" theme.
"Traditionally, it would have taken at least 3 months and significant IT resources to create and integrate a Web data source and serve it to a mobile device," said Stefan Andreasen, founder and CTO of Kapow Technologies. "But today, through rapid application development technology from Kapow Technologies and IBM, two developers spent a total of three hours creating a dynamic personalized Web application for the iPhone."
The Web 2.0 Mobile Scheduler is a very simple example meant to inspire conference attendees to envision how new agile Web 2.0 applications can empower knowledge workers to innovate with total freedom. In an ever more challenging economy, this application showcases the modern Web services and data integration tools available that can enable rapid creation of applications, saving significant costs while increasing productivity and leveraging existing IT assets.
With the Kapow Enterprise Web Data Server, companies can easily gain data access to any intranet or extranet business application as well as any website or application on the Web. Rapid data access is vital for today's agile application development, like mobile, mashups and other types of agile business applications. Regardless of whether or not developers have programmatic access via an API, Kapow Technologies provides easy access to enterprise and public Web data, then extracts and transforms it into a standard Web service or data feed. This allows for simple integration with application interface development tools, such as IBM Rational EGL or the IBM Mashup Center, to power new situational applications for the enterprise.
For example, the Kapow solution can enable sales professionals to get a full 360-degree view of prospects and customers by automatically extracting data from internal CRM systems, subscription data feeds such as Edgar Online, corporate websites, blogs and social media sites including LinkedIn, Technorati and Facebook. This powerful combination of data sources can reveal up-to-the-minute insight on corporate news, competitors, markets, suppliers, customers and financial information.
"Creating new applications out of internal and external data feeds to empower knowledge workers is no longer a nice-to-have, it's a critical business function," said Hayden Lindsey, Vice President and Distinguished Engineer, IBM Rational Software. "Mashups have rapidly emerged as one of the most compelling new technologies to help achieve the need for business users to directly remix and gain insight from information in the context of a secured enterprise environment."
Kapow Technologies is a leading provider of enterprise-class server software that enables precise extraction and access to enterprise and public Web data. As the number-one solution in its class for four years running, Kapow Technologies consistently delivers strategic business and IT results on budgets and timelines that were once thought impossible. Consequently, the solution received top honors in the enterprise tools category of the 2008 JOLT Awards as Best Enterprise Tool.
To learn more about Kapow Technologies solutions, please visit www.kapowtech.com. To learn more about IBM's Web 2.0 initiatives, please visit: www.ibm.com/software/info/web20.
About Kapow Technologies
Kapow is the best choice when developers and knowledge workers want to access, enrich, and serve real-time noise free Web data... with no coding! The Kapow Web Data Server, based on the company's patented, visual programming and IDE technology, powers solutions in Web and business intelligence, portal expansion, SOA/ WOA enablement, and content migration -- enabling line-of-business and IT to rapidly create new business applications in a fraction of the time and cost compared to traditional software development methods. The JOLT award-winning Kapow Web Data Server has more than 300 customers from leading Fortune 1000 companies such as AT&T, Wells Fargo, Intel, DHL to global enterprises such as Vodafone, Audi as well as leading Web 2.0 companies such as SimplyHired. Kapow Technologies also has partnerships with SAP, IBM, and Oracle.
Media Contacts
Kapow Technologies:
Kurt Foeller
+1 415-578-3251
Email Contact


Copyright @ Marketwire
Page: 1
Related Keywords:
rapid application development, data access, mashups, Web 2.0 Expo, mobile application development, Sales, Applications, CRM - Customer Relationship Management, Sales & Marketing, Productivity Applications, Internet, Software Development, Other Applications, Social Media, Internet Server Applications, Web Servers, Tools, Sales, Sales, Marketwire, Apple Computer, Financial, Internet Technology, Computer Science, Engineering, Business, Outdoor Sports, Web 2.0, Other,
---