Kalido Survey Highlights Need for Agile Information Supply Chain
Two-Thirds of Respondents at TDWI Las Vegas Fail to Enable Agility Required by the Business
(February 27, 2012)

BURLINGTON, MA -- (Marketwire) -- 02/27/12 --
Eighty-five percent of TDWI World Conference Las Vegas attendees can't keep up with changing requests from the business, according to new survey results posted today by Kalido, the leading provider of agile information management software.
While more than half (53 percent) of respondents agreed that their IT capabilities and business requirements were aligned, closer scrutiny shows that benefits of "alignment" are tenuous at best:

In total, 70 percent of respondents take more than a month to accommodate a new source of information, hindering the agility required by the business.
Nearly two-thirds of respondents with BI teams of 20+ take more than three months to integrate a new source of information into standard reports.

The report can be found here: http://info.kalido.com/tdwi-survey-results.html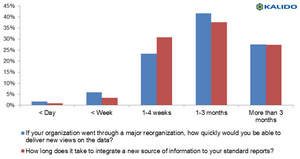 More Money and People Aren't the Answer
Twenty-seven percent of respondents require a team of more than 20 people to support their BI environment, and 24 percent cite an annual budget of more than $1 million.
Because these organizations are likely to be larger and more complex, respondents with large teams and budgets had a disproportionate challenge in keeping up with business requirements.

Of the 22 percent who spend more than $1 million annually to maintain their data warehouse, only 12 percent feel that they can keep up with changing requests from the business.
Respondents who spend more than $1 million annually were almost twice as likely to spend more than three months reflecting a reorganization than others, and more than two and a half times likely to spend more than three months to integrate a new data source.
Survey Details
Kalido polled 119 attendees on February 14-15 at the TDWI World Conference in Las Vegas.
The complete survey report analyzes responses based on business and IT alignment, ability to support business agility and the impact of greater resources on success.
Full analysis of the results is available at http://info.kalido.com/tdwi-survey-results.html
Supporting Quotes
Allen Johnson, vice president of marketing and channels at Kalido, said:
"This survey reemphasized the gap between the need for business agility and the capabilities of the information supply chain. More than anything, it spotlights the futility of throwing more money and people at a dated approach."
Supporting Resources
About Kalido
Kalido is the leading provider of agile information management software. Kalido enables companies to manage data as a shared enterprise asset by supporting the business process of data management. Kalido software has been deployed at more than 300 locations in over 100 countries, including 20 percent of the world's most profitable companies as determined by Fortune Magazine. More information about Kalido can be found at: http://www.kalido.com.
Image Available: http://www2.marketwire.com/mw/frame_mw?attachid=1899243
Embedded Video Available: http://www2.marketwire.com/mw/frame_mw?attachid=1899255

Add to Digg Bookmark with del.icio.us Add to Newsvine
Analyst Contact:
Lorita Vannah
Kalido
+1 781 202 3211
lorita.vannah@kalido.com

Media Contact:
Julie Crotty
Attune Communications
+1 978 877 0053
julie@attunecommunications.com


Copyright @ Marketwire
Page: 1
Related Keywords:
Kalido, data warehousing, business intelligence, BI, agile, analytics, data warehouse, information, Marketwire, , Business,
---