Kairos Transmedia Establishes SpillWall Inc.-Major Social Media Platform For Kids
New Online Platform Delivers Safe, Secure and Age Appropriate Content to Pre-teen and Teen Market
(January 30, 2012)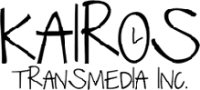 TORONTO, ONTARIO and LOS ANGELES, CALIFORNIA -- (Marketwire) -- 01/30/12 -- Kairos Transmedia (www.kairostransmedia.com), today announced it has established SpillWall Inc., its wholly owned social media site for youth.
SpillWall is a safe, monitored, feature and function rich social media platform, giving its users everything they need to create, showcase and manage on-demand rich-media content or even view proprietary live pay-per-view events. Specifically targeted to the tween and teen markets, the SpillWall platform is designed to deliver all forms of content created, owned or sourced by Kairos Transmedia Companies which is compelling, safe, and age appropriate.
"As Kairos Transmedia's flagship platform, SpillWall will be able to truly showcase the creativity of its users, allow them to learn, collaborate and share ideas, while encouraging great lifestyle decisions," said Los Angeles-based Sam Levine, SpillWall's Executive Vice President. "The social media platform is content and feature-rich, with tools allowing kids to create and share their creations."
SpillWall targets the uncommon denominator: the smart kids. All kids want to be considered smart, and recognized as such. By using their personal space to showcase their work, or the work of others that they admire, users can define their own brand, as they would on a bedroom wall, or on the inside of a locker. While some may simply adorn the wall with promos supplied from existing content from The Magazine, (a Kairos Transmedia property) or the latest Hollywood blockbuster, or pop stars of the moment, many will use the opportunity to display their creative endeavors, which will be rewarded with the promise of international exposure.
SpillWall was established to deliver fun, age appropriate content to the pre-teen and teen markets that encourages platform engagement, creativity and community service by way of incentives based on each individual's usage patterns and community activities. User generated content in the form of videos starting from a base of more than seven thousand new pre-teens and teens monthly will be featured on Spillwall.com.
SpillWall's open systems based platform is capable of providing robust backend accounting, audit and security functionality, initially supporting ten million and scalable to one-hundred million users, supporting over five-million simultaneous users.
About Kairos Transmedia, Inc. (www.kairostransmedia.com)
Kairos Transmedia, Inc. (KTI) is a new breed edutainment company serving the 8 to 18 year old market with safe, monitored and age appropriate content developed by in-house professionals, media and studios, and generated by our readers. The company is built to service kids, encouraging their creativity and giving them multiple interactive creative venues and outlets to showcase, celebrate and be rewarded for their creativity. KTI offers this compelling content and creative outlet though several business units including The Magazine, social media such as Spillwall.com and via partners such as The Directors Cut. The company believes it will create significant enterprise value for its stakeholders through growing its current business units, buying complimentary youth-centric media content companies and utilizing transmedia to leverage this content across its platforms and media assets. Read more at www.kairostransmedia.com.
Contacts:
Sacke & Associates Inc.
John Sacke
(647) 886.0750
johns@sackepr.com


Copyright @ Marketwire
Page: 1
Related Keywords:
Kairos Transmedia, Inc. , Marketwire, Inc., , Lifestyle, Business, Teens,
---