Kairos Transmedia Engages Frontech Solutions to Build SpillWall.com
Social Media Platform Aims to be Highly Secure, Safe, and Most Creative Site for Youth on the Internet
(January 31, 2012)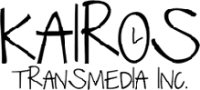 LOS ANGELES, CALIFORNIA and REHOBOTH BEACH, DELAWARE -- (Marketwire) -- 01/31/12 -- Kairos Transmedia, Inc. (www.kairostransmedia.com), today announced it has selected and contracted Edmonton-based Frontech Solutions to build and develop SpillWall.com, the company's social media platform aimed at the youth market. SpillWall will immediately target The Magazine's (www.themagazine.ca) more than one-million readers to its online platform as SpillWall launches.
Kairos Transmedia (KTI) has entered into a development and programming agreement in September 2011 valued at over US$1million for Frontech Solutions (FSI) to build a safe and secure social media platform which will feature compelling age-appropriate content developed, created and procured by its growing number of KTI's subsidiaries. The agreement calls for Frontech to deliver a beta version for the public during Q1, 2012.
"SpillWall.com is now being behind-the-curtain tested and we're well ahead of schedule," said Bill Stuart, Chief Executive Officer of Kairos Transmedia, Inc. "Feeding into the obsession with an evolving mobile handheld platform; SpillWall's entire value proposition is in its ability for allowing youth to create, manipulate and consume content when, how and wherever they want it. The platform allows its users to view, store, manipulate instantaneously and share content anytime, not on a schedule but on demand."
SpillWall is a safe, monitored, feature and function rich social media platform, giving its users everything they need to create, showcase and manage on-demand rich-media content or even view proprietary live pay-per-view events. Specifically targeted to the tween and teen markets, SpillWall is the first platform of its kind to deliver safe content at all times.
"When we evaluated Kairos Transmedia's plans and strategy for SpillWall we immediately opted in and decided to become a shareholder simultaneously. Not only is there nothing like this platform out there, the positive things that Spillwall is going to do for kids is amazing," said Frontech's CEO, Boris Djordjevic. "Kairos has a cohesive content creation and significant built-in distribution strategy which is being been executed flawlessly. They have made smart choices and have a funded acquisition strategy and organic growth plan in place."
SpillWall was established to act as the primary delivery platform for Kairos Transmedia's content to the pre-teen and teen markets. The social media platform encourages creativity and community service by way of incentives based on each individual's platform engagement patterns and activities.
About Kairos Transmedia, Inc. (www.kairostransmedia.com)
Kairos Transmedia, Inc. (KTI) is a new breed edutainment company serving the 8 to 18 year old market with safe, monitored and age appropriate content developed by in-house professionals, media and studios, and generated by our readers. The company is built to service kids, encouraging their creativity and giving them multiple interactive creative venues and outlets to showcase, celebrate and be rewarded for their creativity. KTI offers this compelling content and creative outlet though several business units including The Magazine, social media such as Spillwall.com and via partners such as The Directors Cut. The company believes it will create significant enterprise value for its stakeholders through growing its current business units, buying complimentary youth-centric media content companies and utilizing transmedia to leverage this content across its platforms and media assets. Read more at www.kairostransmedia.com.
About Frontech Solutions (www.frontech.ca)
Frontech Solutions, Inc. provides customized programming solutions, service and products to a diverse range of large and medium businesses, all possessing growth strategies aligned with improving their internet B2B or B2C services. Frontech has recently joined forces with the largest Canadian Telecom provider to design and bring to market new, cutting edge handheld computing technology. Frontech is headquartered in Edmonton, Canada and has offices in Europe, Asia and other North American cities.
Contacts:
Sacke & Associates Inc.
John Sacke
(647) 886.0750
[email protected]


Copyright @ Marketwire
Page: 1
Related Keywords:
Kairos Transmedia, Inc. , Canada,Marketwire, Inc., ,Internet Technology,Business,Internet,Other,
---