Kairos Transmedia Acquires The Magazine
Major Step Forward for Leading Canadian Publication Focused on the Pre-teen and Teen Markets
(January 16, 2012)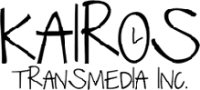 TORONTO, ONTARIO -- (Marketwire) -- 01/16/12 -- Kairos Transmedia (www.kairostransmedia.com), today announced its acquisition of The Magazine (www.themagazine.ca), Canada's leading and best-known national publication targeted to the pre-teen and teen market.
Established in 2000, The Magazine's editorial mandate is to deliver captivating content to its readers from coast-to-coast. In doing so, The Magazine ensures its content is age-appropriate as well as appealing to the diverse interests of its target market. The Magazine is read by more than one-million Canadian pre-teens and teens every year and is relied on to keep this rapidly growing and increasingly important market informed as to popular culture and matters of interest.
"This acquisition totally fits with our long term strategy of entertaining youth with safe, age appropriate content infused with positive lifestyle choices," said Bill Stuart, President and CEO of Kairos Transmedia. "We're planning on leveraging all of The Magazine's compelling content and 11 years of library, repurposing it for our coming internet properties and even growing the print business across North America. The Magazine offers a truly interactive customer experience that we'll expand online in the coming months through newly formed partnerships."
In addition to publishing eight regular editions every year, the company also produces award-wining custom publications for some of North America's largest companies targeting the pre-teen and teen market. Each of these branded publications runs to 80 pages plus of creative and engaging content incorporating positive lifestyle messages to The Magazine's customers. Looking ahead, and thanks to Kairos' knowledge of the key U.S market, the company is already succeeding in growing this business.
"We are very excited with this acquisition," said Becky Brown, The Magazine's newly appointed Executive Vice President. "We're looking forward to establishing a solid presence in the United States as well as continuing to pursue our on-line properties in working closely with Kairos' other media interests. Our specialty publication sector is one of the fastest growing and most progressive spaces and thanks to Kairos' acute understanding and demonstrated expertise regarding growing businesses - our future has never been brighter."
The Magazine's beginnings were a humble family owned and operated business according to Ed Conroy, its Vice President, Social Media and Print. "I've seen many sweeping changes since I joined the company in 1993, when published under a different name, as one of its junior writers. We've weathered the changing marketplace exceptionally well - the result of keeping our eyes on delivering exceptional reader experiences to our markets - and this will continue into the future as we expand into the United States via partnerships and beyond. It's a great time to be the publisher of such an exciting property."
About Kairos Transmedia, Inc.
Kairos Transmedia, Inc. (KTI) is a new breed edutainment company serving the 8 to 18 year old market with safe, monitored and age appropriate content developed by in-house professionals, media and studios, and generated by our readers. The company is built to service kids, encouraging their creativity and giving them multiple interactive creative venues and outlets to showcase, celebrate and be rewarded for their creativity. KTI offers this compelling content and creative outlet though several business units including The Magazine, social media such as Spillwall.com and via partners such as The Directors Cut. The company believes it will create significant enterprise value for its stakeholders through growing its current business units, buying complimentary youth-centric media content companies and utilizing transmedia to leverage this content across its platforms and media assets. Read more at www.kairostransmedia.com.
About The Magazine (www.themagazine.ca)
Launched in 2000, The Magazine is Canada's most popular youth lifestyle magazine, covering music, movies, television, social issues, the environment, health topics and just about anything that affects the lives of 8 to 14 year-olds. Customers including Disney, Warner Bros., YTV, Lego as well as parents, educators and community leaders have praised The Magazine for promoting literacy, media awareness and positive lifestyles, while remaining true to a youthful style and non-condescending editorial voice. The Magazine publishes bi-monthly, plus summer and December holiday editions, and is currently available in most retail stores across Canada including Walmart, Shoppers Drug Mart, Zellers and Indigo. A 2012 launch is planned for circulation throughout the United States via a corporate partner. For a full list of locations, please see 'Participating Stores' (www.themagazine.ca/participating-stores/) at www.themagazine.ca.
Contacts:
Sacke & Associates Inc.
John Sacke
(647) 886.0750
[email protected]


Copyright @ Marketwire
Page: 1
Related Keywords:
Kairos Transmedia, Inc. , Canada,USA,Toronto,Marketwire, Inc., ,Television,Music,Lifestyle,Internet Technology,Business,Internet,Family,Teens,Parents,Other,
---