Kairos Transmedia Acquires The Directors Cut
Leading Kids Media Literacy Workshop Company Teaches More Than 7,000 Kids a Month How to Make Movies
(February 06, 2012)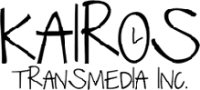 TORONTO, ONTARIO -- (Marketwire) -- 02/06/12 -- Kairos Transmedia (www.kairostransmedia.com), a new media content creation company focused on youth, today announced it has acquired all the capital stock of The Directors Cut Canada and The Directors Cut USA.
The Directors Cut (TDC) teaches kids digital literacy through its in-classroom work-shops, after school programs and week-long summer day camps. Over the last six years, TDC has grown from one school servicing six children to over 400 schools servicing over 110,000 children during the 2010/2011 film season. TDC comes with a large content library of videos made by kids for kids. The TDC acquisition brings a wide range of lesson plans from both educational and technical perspectives to its fun curriculums with attendees learning the exciting world of digital media.
"The company reaches more than 7,000 kids per month and is growing," said Bryan Goldmintz, President of The Directors Cut. "We never dreamed the company would grow across North America as large as it has. Joining with Kairos provides us with an opportunity to focus on our core strengths of developing digital curriculum and teaching kids while plugging into Kairos' media relationships for growth."
TDC digital media literacy workshops' success is the result of its broad appeal to kids and educators' in public and private schools demand for digital curriculum and its "field trip" budgeting approach. Kids in TDC programs learn by doing, collaborating and teaming up for pre-production, film shooting and post-production including sound track recording. These programs reach a broad range of kids many times including those with learning challenges. Public and private schools enjoy TDC's day-long workshops and programs, which culminate in a free film festival hosted at participating Cineplex theaters. TDC offers week-long summer camps and after school programs for kids ranging from 8 to 17.
"The Directors Cut has world class digital literacy programs that schools actively seek to fill their digital curriculum," said Bill Stuart, Kairos Transmedia's CEO. "In addition to the immediate revenue and growth this acquisition provides, TDC gives Kairos additional content for its platform and extended awareness of its brands. Not only is The Directors Cut program super fun, it provides compelling videos, infused with positive messages and great lifestyle choices, tied to our firm's existing culture."
About Kairos Transmedia, Inc. (www.kairostransmedia.com)
Kairos Transmedia, Inc. (KTI) is a new media content creation company serving the 8 to 18 year old market with safe, monitored and age appropriate content developed by in-house professionals, media and studios, and generated by our readers. The Company is built to service kids, encouraging their creativity and giving them multiple interactive creative venues and outlets to showcase, celebrate and be rewarded for their creativity. KTI offers this compelling content and creative outlet through several business units including The Magazine and its web site www.theMagazine.ca, its social media site www.Spillwall.com and The Directors Cut. The Company believes it will create significant enterprise value for its stakeholders through growing its current business units, buying complimentary youth-centric media content companies and utilizing transmedia to leverage this content across its platforms and media assets. Read more at www.kairostransmedia.com.
About The Directors Cut (www.thedirectorscut.ca)
The Directors Cut (TDC) is a media literacy company that teaches kids ages 8 to 17 how to make movies. Through their in-classroom day-long workshops, week-long summer day camps and after school programs, TDC works with more than 7,000 kids a month and is growing. Through its employees and licensees, TDC offers workshops throughout Canada and the United States. Founded by former teachers Bryan and Lori Goldmintz, The Director's Cut has grown from 1 school servicing 6 children, 6 years ago to over 400 schools servicing over 110,000 children during the 2010 / 2011 film season. TDC's head office is currently in Richmond Hill, Ontario and is expanding its presence into several markets in the United States. TDC's digital curriculum ranges from interactive storybooks and digital comic books to claymation, stop animation, documentary and music videos. TDC celebrates kids creativity and its digital curriculum is sought by public and private schools alike. The Company has spoken at several conferences including the Edmonton Teacher's Conference, PREVNET and NEDIC Shades of Gray. TDC's corporate partners and sponsors include Cineplex Theaters and Crayola. The Directors Cut provides in-class curriculum opportunities for Warner Bros. For more information please visit www.thedirectorscut.ca.
Contacts:
Sacke & Associates Inc.
John Sacke
(647) 886.0750
[email protected]


Copyright @ Marketwire
Page: 1
Related Keywords:
Kairos Transmedia, Inc. , Animators, Camera/Film, Business, Production/Post, Facility (Post Production), Canada, USA, Toronto, Marketwire, Inc., , Theaters, Film, Music, Lifestyle, Internet Technology, Business, Children, Teachers,
---