KTH Launches 'Why? Kids Dinosaur,' a Kids' iPad Application
KTH Increases Its Presence in Global Edutainment Market for Toddlers by Rolling out 'Why? Kids Dinosaur' Application; 'Why? Kids Dinosaur' Helps Children Satisfy Curiosity About Dinosaurs by Seeing, Listening and Touching
(September 06, 2011)

SEOUL, SOUTH KOREA -- (Marketwire) -- 09/06/11 -- KTH (President: Seo Jeong-su) (KOSDAQ: 036030), a leading smart mobile company in Korea, launched today a kids' application used for iPad, 'Why? Kids Dinosaur,' that can help toddlers learn about dinosaurs in more amusing and realistic ways through interesting video stories and a variety of quizzes.
'Why? Kids Dinosaur' is the second application for kids used for iPad following 'Why? Kids Poo' that has earned explosive popularity in the market for educational applications for children since its launch in February this year.
Unlike 2-D education animations that display only text and pictures, the new 3-D 'Why? Kids Dinosaur' is designed to enable kids to learn about dinosaurs using five senses, such as seeing, listening and touching, as it is equipped with various interactive functions and rich sound. Particularly, the strong and dynamic sound that expresses features of 'dinosaur' provides a lifelike atmosphere that cannot be felt with text and pictures.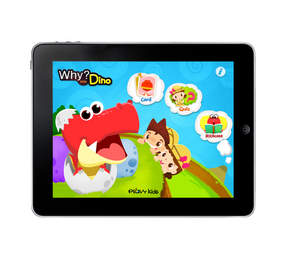 The application 'Why? Kids Dinosaur' consists of three parts, including 13 sheets of interaction cards featuring interesting stories of various subjects related to dinosaurs that can stimulate the curiosity of toddlers, a 'quiz' corner that can easily test knowledge gained from cards, and a 'bookcase' that includes a box of dinosaur cards and 'my own dinosaur world.' Dinosaurs obtained through quizzes can be stored in the 'box of dinosaur cards' and used for decorating the screen in 'my own dinosaur world.' Also, parents can decorate pictures of their children stored in tablet PCs by putting dinosaur stickers on them as though children took pictures with dinosaurs. Through these processes, kids can be acquainted with knowledge about dinosaurs using all senses, including sight, auditory sense and tactile sense, and they now can review the knowledge while enjoying the application like 'picture games.'
Lee Seung-hun, PM of edu-content team at KTH, said, "KTH will also provide iPhone and Android phone versions of 'Why? Kids Dinosaur' application soon, and it is preparing to launch 'Why? Kids Insect' that features episodes of insects, following 'Why? Kids Poo' and 'Why? Kids Dinosaur.' KTH will continuously roll out 'Why? Kids' application series to help toddlers across the world with lively curiosity learn science in a three-dimensional way by seeing, listening and touching as they play games using smart devices."
Device requirements:
*Devices that can use the application: iOS (iPad)
*Versions that can use the application: iOS 3.2 or higher
*Capacity: iOS (iPad 310MB)
Pricing and availability
'Why Kids Dinosaur' is $3.99 and available worldwide exclusively through the App Store in education category (http://itunes.apple.com/app/whykids-dinosaur/id459036738?mt=8).
Meanwhile, as a leader in smart mobile market in Korea, KTH has launched a number of globally hit applications, including 'Pudding Camera,' which was highly praised by 'Mashable,' a prominent IT journal in the United States, and 'Pudding Face Recognition,' a popular entertainment application provided in three language versions, including Korean, Chinese and Japanese. In particular, 'Why? Kids Poo' and 'Why? Kids Dinosaur' were recognized to have achieved high degree of completion in quality in kids' edutainment application market in Korea as they ranked first for the longest period of time in paid application segment of the Korea App Store. KTH is headquartered in Seoul, Korea with about 560 employees. For more information on KTH, please visit www.kthcorp.com.
Image Available: http://www2.marketwire.com/mw/frame_mw?attachid=1721671

Add to Digg Bookmark with del.icio.us Add to Newsvine
Media Contact
KTH
Manager
Hyun Jung Yim
Email Contact

PR Agency
PR ONE
Yujin Lee
+82 2-6370-3130
+82 10-3448-4866
Email Contact


Copyright @ Marketwire
Page: 1
Related Keywords:
KTH, Camera,Displays,Children,Parents,Communications,Digital Audio,iPods,iphone,iPad,Applications,Education,USA,Korea,Marketwire,Apple Computer,Paleontology,Entertainment,Science,Children,Parents,
---