KEMP Technologies' Newest Load Balancer Delivers Faster Processing, Throughput and Double the Concurrent Connections for Less
New LoadMaster 5300 Is the Ultimate Combination of Price and Performance for Load Balancers
(April 25, 2012)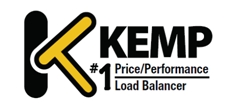 YAPHANK, NY -- (Marketwire) -- 04/25/12 -- KEMP Technologies announces the newest addition to its LoadMaster family of load balancers and application delivery controllers. The successor to KEMP's flagship LoadMaster 5500, the LoadMaster 5300 boasts numerous performance improvements including a 10-percent increase in "requests/sec," a 45% improvement of max balancer throughput at 8.8Gbps, and double the number of Layer 4/Layer 7 concurrent connections.
The LoadMaster 5300 comes with standard dual power supplies (redundant, hot-swap) delivered in a more compact 1U rack space footprint. Using significantly less power, the LM 5300 is environmentally friendly. As with all KEMP LoadMaster products, the new model intelligently and efficiently distributes user traffic among servers to ensure the best possible end-user experience and high availability for web and business applications.
The LoadMaster 5300 is a technologically advanced server load balancing and content switching appliance with ASIC-based SSL acceleration. High performance Layer 4 and 7 load balancing ensures the best application experience possible and with a US MSRP of $15,990 the LM 5300 comes at a significantly lower price point than competing offerings, continuing KEMP's #1 position in price-performance load balancers.
Application acceleration features such as compression and caching reduce network latency and optimize performance over existing ISP links. The active/hot standby with stateful failover provides 99.99% high availability of application servers and removes the server load balancer as a single point of failure. The 5300's server and application health check feature directs users to the best available resource. The intrusion prevention system (IPS) thwarts application-level threats, even with SSL-encrypted traffic.
"The LoadMaster 5300 is a reflection of our customers' needs and an impressive addition to the LoadMaster family of products," said Peter Melerud, executive vice president of product management at KEMP. "The 5300 increases optimization for Microsoft Lync and Microsoft Exchange and improves user experience, at a lower price point to its predecessor the 5500. Businesses of all sizes looking to improve website performance as they experience increased traffic loads can benefit from the LoadMaster 5300's cutting edge technology."
The new LoadMaster 5300 will be shipping at the end of April 2012.
About KEMP Technologies
KEMP Technologies is the #1 price/performance load balancer and application delivery controller, used by thousands of businesses who consider IT, e-commerce, web and business applications as mission-critical to their long-term success. KEMP helps companies rapidly grow their business by providing 24/7 infrastructure availability, better web performance and secure operations -- while streamlining IT costs.
KEMP's LoadMaster products include Layers 4-7 load balancing, content switching, server persistence, SSL offload/acceleration, and application front-end capabilities (caching, compression, intrusion prevention system), plus one full year of product support -- delivering industry leading price/performance.
The company is headquartered in New York City. For more information, visit www.KEMPtechnologies.com, or call at +1 631-345-5292.
Application delivery solutions are known as application delivery controllers (ADC), server load balancers (SLB), application front-end devices (AFE), web switches, content switches and application switches.
Press Contact:
Lynda Starr
Vantage Communications for KEMP Technologies
973 386 5949
Email Contact

David Finkelstein
Director of Worldwide Marketing
KEMP Technologies
www.kemptechnologies.com
Email Contact


Copyright @ Marketwire
Page: 1
Related Keywords:
load balancer, SSL acceleration, application delivery controller, Microsoft Lync, Microsoft Exchange, Applications,Shipping & Receiving,Internet,Business Issues,Internet Server Applications,E-Commerce,Web Servers,Management,Marketwire, ,Shipping,Internet Service Providers,Internet Technology,Business,Internet Information Provider,Family,
---