KEMP Technologies Arrives in Brazil, Bringing to the Market a Family of Application Delivery Controller and Server Load Balancers
Company Has a Leading Cost-Benefit in the Worldwide Load Balancer Market and Will Help Companies Streamline Responses to Web Users and General Online Applications
(June 26, 2012)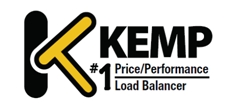 NEW YORK, NY and SAO PAULO, BRAZIL -- (Marketwire) -- 06/26/12 -- KEMP Technologies, a global company that provides hardware and software-based server and website load balancing, has just arrived in Brazil. KEMP Technologies provides LoadMaster solutions that help companies streamline access to distributed applications, both over the Internet and private networks. Operating initially through a few value-added partners, the company intends to repeat in Brazil the good performance it is achieving worldwide, due to its super-competitive prices and solid products. For that, KEMP is structuring its channel program, and developing its marketing and sales expansion plan in the territory.
According to Kat Silberstein, KEMP Business Development director for Latin America, Brazil is a priority for the company that is now starting to invest in the local market, especially in the SMB -- Small and Medium Sized Business market. "We grew above 130% in 2011, almost 240% only in Europe; and we are optimistic in relation to Brazil already in 2012." She anticipates the hiring of the company's Brazilian team in the near future and anticipates the headquarters for Brazil to be located in São Paulo (SP).
Based on last year's solid growth, in the beginning of this year, KEMP received a capital injection of $16 million, from an investor group including Edison Ventures, Kennet Partners and ORIX. That financial reinforcement will allow consolidation of KEMP's position, while promoting its technical and commercial development in some Europe and Latin America countries where the company has just started expanding.
Partner Program
KEMP is already searching for new partners and a strong distributor in Brazil to increase its sales capacity and disseminate the use of the technology that is considered essential for all companies today. "We are looking for partners with a VAR -- Value Added Reseller profile, that is, resellers that offer added services to the solutions. This also includes integrators, server vendors, datacenter providers, network integrators and web service providers; and always focusing on SMB," Kat details. The KEMP VARMaster Partner Program includes two categories -- Authorized Partner and KEMP Center Partner. The KEMP Center Partner is a more advanced category and has more than 100 active resellers worldwide.
KEMP's product line has a strong appeal for companies that want to optimize their web infrastructure, ensuring availability, performance, scalability and secure operations while rationalizing IT budgets. KEMP LoadMaster (hardware) line intelligently manages user traffic and traditional applications, and web, ensuring the delivery of applications to small and medium-sized companies and to managed service providers. LoadMaster deployment is extremely fast, and completed in a few hours, and all products include Gold support for the first year of use.
KEMP load balancer solutions organize and make life easier for users of technology. The hardware of the company directs users' requests to the closest and available servers, so as to ensure that the response is immediate. A click in an Internet Banking webpage is considered a user request, as well as the search for products in an e-commerce website, among others.
KEMP's mission is to optimize access to Web-based applications
"Our products are designed for small-to-medium companies concerned with customer satisfaction, optimization and reliability of the Web infrastructure, such as e-commerce and business-critical applications. Administration of those problems is often seen as expensive; within this scenario, KEMP differs from others thanks to its range of hardware and virtual devices that provide the same level of performance and reliability, for a fraction of the cost of other platforms," explains Kat Silberstein.
Founded in Yaphank (NY), US, in 2000, KEMP Technologies has positioned itself very well in its segment of performance thanks to the best market cost-benefit ratio it offers. Since the launching of its first product, in 2003, the company grew quickly. In addition to its two offices in New York, KEMP has a local presence in many countries worldwide. In Latin America, KEMP has subsidiaries in Ecuador, Guatamala, and now, Brazil.
About KEMP Technologies
KEMP Technologies is the #1 price/performance load balancer and application delivery controller, used by thousands of businesses who consider IT, e-commerce, web and business applications as mission-critical to their long-term success. KEMP helps companies rapidly grow their business by providing 24/7 infrastructure availability, better web performance and secure operations -- while streamlining IT costs.
KEMP's LoadMaster products include Layers 4-7 load balancing, content switching, server persistence, SSL offload/acceleration, and application front-end capabilities (caching, compression, intrusion prevention system), plus one full year of product support -- delivering industry leading price/performance.
The company is headquartered in New York City. For more information, visit www.KEMPtechnologies.com, or call at +1 631-345-5292.
Application delivery solutions are known as application delivery controllers (ADC), server load balancers (SLB), application front-end devices (AFE), web switches, content switches and application switches.
Press Contact:
Lynda Starr
Vantage Communications for KEMP Technologies
973 386 5949
Email Contact

David Finkelstein
Director of Worldwide Marketing
KEMP Technologies
www.kemptechnologies.com
Email Contact


Copyright @ Marketwire
Page: 1
Related Keywords:
load balancer, adc, application delivery controllers, high availability, brazil, load masters, Sales,Applications,Marketing,Sales & Marketing,Internet,Business Issues,Hardware,Administration,Search,Internet Server Applications,E-Commerce,Search Servers,Web Servers,Sales,Sales,Brazil,Marketwire,Financial,Gold,Internet Technology,Business,Internet,Family,Other,
---