KARE 11 to Celebrate Day of Sharing on 11.11.11
Public Can Nominate Local Non-Profits to Receive $1,100 Grants
(November 07, 2011)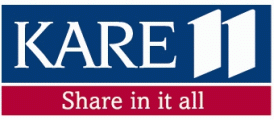 GOLDEN VALLEY, MN -- (Marketwire) -- 11/07/11 -- KARE 11 has announced a "Day of Sharing" on 11.11.11. Join the fun of celebrating this unique numerical occasion with parties, prizes, live studio audiences, and most importantly, an opportunity for Minnesotans to honor and share their favorite non-profit making a difference in our community.
This special day is part of a year-long "11th of the month" celebration, providing viewers an 'all access pass' to KARE 11 and an opportunity to showcase some incredible, positive change makers across the Twin Cities. From KARE 11 News Sunrise to KARE 11 News at 10 p.m., the station will be live behind the scenes at the studio, as well as throughout the Minneapolis-St. Paul area profiling some of the non-profit organizations that will receive a $1,100 gifts for their extraordinary work. In all, nearly $50,000 will be given away to Minnesota non-profits in November based on recommendations from KARE 11 viewers.
The public is encouraged to nominate an organization through noon on Wednesday, November 9 by writing a paragraph (no more than 111 words) about their favorite local non-profit and the difference it is making in the community. This paragraph should be e-mailed to [email protected], including the sender's contact information. Individual winners of $1,100 GiveMN.org gift cards will be announced on 11.11.11 via KARE 11, kare11.com, Twitter and Facebook, every hour starting at 5:11 a.m. Individual winners can then use their gift card to donate to their chosen non-profit at GiveMN.org.
This grand giving opportunity is made possible thanks to the partnership of GiveMN.org, the Minneapolis Foundation, the Saint Paul Foundation, an affiliate of Minnesota Philanthropy Partners, and the Gannett Foundation (KARE 11's parent company).
"This is a perfect extension of Share in it All," said John Remes, president and general manager of KARE 11. "It is a great opportunity to work together with our community and help individual's give back to the organizations making a positive impact right here in our backyard."
"We are proud to partner with KARE 11 to recognize the outstanding work being done by local non-profit organizations within our communities," said Dana Nelson, executive director of GiveMN.org. "The 'Day of Sharing' aims to spotlight the community we live in while recognizing those organizations that are committed to making a difference in the lives of Minnesotans each and every day."
About GiveMN.org
GiveMN is a collaborative venture to transform philanthropy in Minnesota by growing overall giving and moving more of it online. GiveMN is an independent 501(c) (3) organization that is a supporting organization of the Minnesota Community Foundation. Many partners shaped GiveMN to build upon Minnesota's strong tradition of philanthropy including: ADC, Blandin Foundation, The Otto Bremer Foundation, the Bush Foundation, Central Minnesota Community Foundation, Ecolab Foundation, F.R. Bigelow Foundation, General Mills, Inc., Greater Twin Cities United Way, HealthPartners, Initiative Foundation, The Minneapolis Foundation, The Mosaic Company, Northland Foundation, Northwest Minnesota Foundation, The Saint Paul Foundation, Southern Minnesota Initiative Foundation, Southwest Initiative Foundation, Target, UCare, West Central Initiative Foundation and Women's Foundation of Minnesota. For more information, visit www.GiveMN.org.
About Gannett
Gannett Co., Inc. (NYSE: GCI) is an international media and marketing solutions company that informs and engages more than 100 million people every month through its powerful network of broadcast, digital, mobile and publishing properties. Our portfolio of trusted brands offers marketers unmatched local-to-national reach and customizable, innovative marketing solutions across any platform. Gannett is committed to connecting people -- and the companies who want to reach them -- with their interests and communities. For more information, visit www.gannett.com.
Contact:
Mandy Whiteside
763.797.7364


Copyright @ Marketwire
Page: 1
Related Keywords:
KARE 11, Marketwire, Inc., ,
---