JustAskGemalto Explains: We're in the Middle of a National Identity Crisis
Leader in Digital Security Explores How to Protect Your "Real" Identity
(November 10, 2009)

AUSTIN, TX -- (Marketwire) -- 11/10/09 -- Is it possible for a paper card to provide the level of protection required in this digital age? Like a fingerprint, no two Social Security numbers are exactly alike. This numeric identifier is given to every U.S. citizen with the expectation and confidence to secure an individual's identity. This includes personal information related to your finances, health records and government data.
A solution to this national identity crisis is a digital identity credential utilizing smart card technology. In this video, Neville Pattinson, VP of Government Affairs at Gemalto and member of the Department of Homeland Security's Data Protection and Integrity Advisory Committee, explores the advantages of utilizing smart card technology as an answer to the national identity crisis.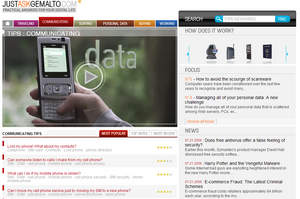 The digital ID credential works both online and in person. Individuals can easily carry the card, decide when they want to use it and prove their identity. The card is inserted in a USB reader attached to a PC, for example, and the owner touches a fingerprint scanner. The card looks at the scan, confirms the owner is present and then digitally verifies their identity. The biometric and smart card technology in the credential itself is what creates the higher level of security. Think of it as a "digital seal" that cannot be copied or forged or used by anyone but its proper owner.
Smart cards are a proven high security technology already used in billions of mobile phone SIMs, credit cards, transit fare cards, electronic passports and other ID credentials. Mr. Pattinson discusses applicable uses of smart card technology in e-Government 2.0, healthcare reform, identity theft and immigration to take control of your identity in both the real and virtual worlds.
JustAskGemalto offers additional recommendations to protect your digital identity by being aware of scams, employing strong passwords, installing anti-virus and anti-spyware software and keeping it up-to-date. The safest way to protect your online identity is with a personal digital security smart card or token. You can learn about these terms and security precautions to take at www.JustAskGemalto.com
Digital Identity: Questions and answers available on JustAskGemalto.com
What is digital identity?
How can I protect my digital identity on the Internet?
What is digital security?
No one knows my passwords. Why are passwords an identity theft risk?
What does "digital" mean?

About www.JustAskGemalto.com
We use electronic devices on a frequent, if not daily basis -- our PC or Mac, BlackBerry, iPhone, cell phone, epassport, credit card, and employee badge. They bring us freedom and convenience and we depend on these devices to carry and exchange our personal information. Along with this freedom comes the responsibility to safeguard our identity, personal data and financial transactions. www.JustAskGemalto.com answers consumer questions about how to better enjoy the conveniences of the digital world and how to secure one's digital identity and information while surfing, buying, traveling and communicating.
Image Available: http://www2.marketwire.com/mw/frame_mw?attachid=1110076
Youtube Video Available: http://www2.marketwire.com/mw/frame_mw?attachid=1110132

Add to Digg Bookmark with del.icio.us Add to Newsvine
Contact:
Deb Montner
Montner & Associates for JustAskGemalto
[email protected]


Copyright @ Marketwire
Page: 1
Related Keywords:
Social Security number, identity theft, authentication, identity, network security, e-government, Computers/Peripherals,Internet,Scanner (flatbed),USB,Digital Media Software,Communications,Digital Audio,Web,Cell phone,PDA,iPods,iphone,Security,Video,Security,Internet,Authentication,Authentication,Biometrics,Security,Mac,OS9,OSX,USA,Marketwire,IT (Information Technology),Security,Apple Computer,healthcare,Financial,Communications Technology,Internet Technology,Internet,Other,
---