Jenne Solution Designer (JSD) Enables Gage Telecom to Generate Hundreds of Quotes and Proposals Each Year, Resulting in Increased Revenue
Next-Generation VAR Depends on JSD for Designing and Configuring Solutions, and Outrunning Competitors for Lucrative Projects
(April 11, 2012)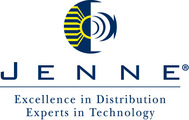 WACO, TX -- (Marketwire) -- 04/11/12 -- Gage Telecom is a certified Avaya reseller headquartered in Waco, TX, deploying Avaya PBX and Cisco network solutions. Known as an Avaya IP Implementation Specialist, Gage primarily sells Avaya IP Office systems to large-scale businesses across the US. The company has employees located throughout Texas, Minnesota, Pennsylvania, Georgia, California, Tennessee and Illinois, and recently expanded its sales staff to include the UK and other areas of Europe.
Making Gage Telecom standout from the competition -- besides its impressive inter-continental presence -- is that CEO Brian Curtis designs 100 percent of the growing company's customer systems using the Jenne Solutions Designer (JSD) multi-vendor web-based solutions portal, offered by major VoIP distributor Jenne, Inc. Curtis claims to maintain hundreds of potential systems in the program's portal at any given time, and is able to assemble 20 to 30 new system configurations per day through his JSD account, which is constantly in use.
The Jenne Solution Designer (JSD) features hundreds of VoIP product SKUs from Jenne distributor's vendor partners. These include Avaya, Panasonic, Adtran, LifeSize and other complementary manufacturers. JSD provides product specifications, pricing and critical details that help VARs select system components. By accessing the tool, resellers are able to review, revise and sub-in products as often as they'd like before finalizing an order. They are also able to compare and contrast product solutions based on a range of different criteria. Configurations are then easily stored on the JSD portal for future review by both the VAR and the end-user.
"I know the JSD tool inside and out -- I actually live in that portal all day," says Curtis. "The system is lightening fast." The market isn't wanting for configuration tools, but many of these fall short in successfully delivering value. Curtis acknowledges that he had used competing system design programs in the past -- both from other distributors and vendor-based system-building programs. However, he has since abandoned such offerings in favor of Jenne's. "Other companies have their configurator tools, but they are often un-intuitive, spreadsheet based solutions," confirms Curtis. "Jenne's program is not only intelligent, it is easier and enables me to get through the process twice as fast. It's seamless."
Gage Telecom now has salespeople located all over the US, servicing businesses across the continent and beyond. Employees can log-in to JSD to review system designs along with Curtis, any time of day. That accessibility allows him to collaborate with his staff in real time, while making it simple to choose system designs while consulting with his account executives.
Jenne Solutions Designer gives Gage Telecom an agility that is critical in securing new business. Curtis insists he simply can turn over proposals for new solutions faster than the next guy. For example, Gage recently pitched an Avaya IP office system for an industrial supply company located on New York's Long Island. Curtis was able to turn around a system quote quickly, and closed the deal before other VARs could present acceptable bids. Jenne Solutions Designer was a critical factor in helping Gage win a 10-location install worth close to $250,000.
"We're growing dramatically. We just recently added our own direct sales staff in addition to our existing business model of partnering with other providers," added Curtis. "Jenne Solutions Designer helps in that transition by streamlining the design and the purchasing process, and by making it more collaborative. We can leverage the system to give us an edge in assembling the best solution design for the customer, fast."
The Power Behind the Platform
JSD is a multi-vendor online portal where users can mix-and-match different VoIP products and assemble a tentative, turn key solution. As customers view specs, pricing and other critical details associated with a set of products, they can review changes or substitutions before making a commitment to purchase. This expedient model allows VARs to streamline their purchasing decisions, without the need to for in-depth spreadsheets or long customer service calls. JSD is accessible 24x7, and includes products from Avaya, Panasonic, ADTRAN and various other complementary VoIP vendors.
Powered by eXalt Solutions, the Jenne Solution Design portal offers a more accessible and versatile alternative to stand-alone vendor configuration tools -- which typically do not provide the ability to provide quotes for solutions involving multiple manufacturers.
About Jenne®
Jenne, Inc., headquartered in Avon, Ohio, is a leading value-added distributor of business telephony, data, audio and video conferencing, and security technology products, including equipment and software for the Enterprise and SMB markets. More than 150 major manufacturers partner with Jenne including Avaya, Aastra, ADTRAN, Bogen, ClearOne, Extreme Networks, GN Netcom, ICC, Lifesize, Panasonic, Plantronics, Revolabs, Valcom, and Verint. Jenne is dedicated to tracking emerging technologies, offering fresh solutions, new equipment and related applications, accredited training and certification to better serve dealers and resellers.
Add to Digg Bookmark with del.icio.us Add to Newsvine
Contact:
Jeff Touzeau
Hummingbird Media, Inc.
(914) 602-2913
Email Contact


Copyright @ Marketwire
Page: 1
Related Keywords:
Jenne, Inc., Office Equipment, Sales, Applications, Sales & Marketing, Security, Business Issues, Sales, Sales, Marketwire, Inc., , Panasonic, Business, Other,
---