Jack Kirwan, CalVet's Director of Veteran Services, to Address Project HIRED 3rd Monterey Wounded Warrior Workforce(SM) Conference and Job Fair on June 8, 2012
Veterans, Federal Agencies, Regional Support Organizations, and Local Business Leaders Meet to Focus on Transition of Veterans With Disabilities to Civilian Careers
(June 05, 2012)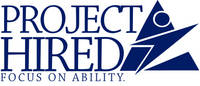 SAN JOSE, CA -- (Marketwire) -- 06/05/12 -- Project HIRED, whose job search, training, and employment services have helped hundreds of people with disabilities find the right job with the right company for more than 35 years, announced today that the third annual Wounded Warrior Workforce(SM) Conference and Career Fair in Monterey will take place at the Monterey Institute of International Studies in Monterey, California, on Friday, June 8, 2012. This year's keynote will be delivered by Jack Kirwan, the Director of Veteran Services for the California Department of Veterans Affairs (CDVA). Newly appointed to his position in May 2012, Mr. Kirwan is responsible for making sure the Department fulfills its mission of providing a broad range of services to help California's nearly two million veterans get connected to the benefits and services they have earned.
This year's conference builds on the tremendous successes of the first two annual Monterey events. The one-day event brings together federal and state agencies, local and regional public officials, and area businesses. The afternoon sessions -- including the Career Fair -- are open and free to all job-seeking veterans and military job seekers from every branch, conflict, and era. In addition to the morning keynote, scheduled events include an invitation-only executive roundtable, employer training sessions, and networking opportunities at the career fair. Business leaders will gain valuable information on how to hire and retain veterans, hear directly from the IRS about the special Work Opportunity Tax Credits (WOTC) in place for companies who hire vets, and have access to experts who will answer their questions about OFCCP guidelines for hiring vets.
A detailed agenda of the event can be found at the Project HIRED website: http://goo.gl/34DZm
This event is part of the Project HIRED Wounded Warrior Workforce program, a specialized portfolio of Project HIRED services designed to help veterans with disabilities successfully transition to the civilian workforce and to support their employers with long-term services and strategies for hiring and retaining these dedicated and skilled heroes to their organizations. The conference also exemplifies the grassroots outreach to both employers and individuals that is a unique hallmark of Project HIRED. Public agencies, private non-profits, and employers interested in adding disabled veterans to their workforce are welcome to register and participate in discussion, learning, and networking all day beginning at 8 a.m. All veterans, both with and without disabilities, are welcome free of charge to a special afternoon informational session (at 1:30 p.m.) and to the afternoon Career Fair (beginning at 2:00 p.m.)
"I'm very pleased to be part of this year's Monterey Wounded Warriors Workforce Conference, both to speak to the businessmen and women that have come to learn more about how they can help and be helped by hiring veterans, but also to meet and shake the hands of some of the great Veterans in the Monterey area," said Jack Kirwan, Director of Veteran Services for the California Department of Veterans Affairs.
"Our first two years in Monterey have been very successful for us. We're extremely grateful for Director Kirwan's enthusiasm for the event, and his willingness to take time from his busy schedule to come spend time with local vets and business leaders," said Gwen Ford, executive director of Project HIRED. "We're also very indebted to the wonderful staff and administrators at the Monterey Institute of International Studies for making their wonderful facility available to us, and for their ongoing partnership in support of the Wounded Warrior Workforce Conference."
About Project HIRED
Founded in 1978, the mission of Project HIRED is to help persons with disabilities gain and sustain employment. Project HIRED offers an array of job placement, training, and employment services designed to promote self sufficiency and independence, and has helped hundreds of people with disabilities get good jobs at competitive wages. Project HIRED has received the Distinguished Service Award from the California Governor's Committee for Employment of Disabled Persons, the Distinguished Service Award from the President's Committee for Employment of People with Disabilities, the Innovative Partnership award from the HR Symposium, and the 2008 AbilityOne/NISH National Award for Performance Excellence in Government Contracts. Through reciprocal relationships with industry, Project HIRED develops and maintains a range of services to the community, which includes outreach, employment training, job placement, education of employers and advocacy. Learn more about Project HIRED at www.projecthired.org.
About the Wounded Warrior Workforce Program
The Project HIRED Wounded Warrior Workforce program is a portfolio of people, resources, and services that focuses Project HIRED's extensive experience and expertise in human resources strategy to support veterans as they evolve their military training, resourcefulness, and resilience into a successful civilian career. Additionally, the program helps businesses leverage the unique advantages of the veteran workforce. The Wounded Warrior Workforce program supports disabled veterans throughout their transition to the civilian workforce and supports them and their employers throughout their entire careers by creating a community of resources to serve both.
Add to Digg Bookmark with del.icio.us Add to Newsvine
For more information, contact:
David Wright
Email Contact
(408) 363-2843


Copyright @ Marketwire
Page: 1
Related Keywords:
Project HIRED, Human Resources, Education, Networking, Human Resources, Human Resources, Marketwire, Medical, Business, Women,
---