J. Hilburn Names Scott Bedbury to Board of Directors
Legendary Branding Executive Joins Fastest Growing Men's Luxury Apparel Brand
(November 08, 2011)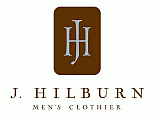 DALLAS, TX -- (Marketwire) -- 11/08/11 -- J. Hilburn, the fastest-growing luxury men's brand in the US, announced today that Scott Bedbury has joined its board of directors. Bringing more than thirty years of marketing, branding and advertising experience with some of the most iconic brands in the world such as Nike and Starbucks, Bedbury will work closely with J. Hilburn to continue accelerating the company's rapid growth and help it become a household name for luxury, custom men's apparel.
J. Hilburn offers impeccably handcrafted custom dress shirts and trousers, personalized suiting, ready-to-wear items like cashmere sweaters, polos and fine accessories, available online or from a rapidly expanding brigade of local style advisors. J. Hilburn has sold 120,000 luxury dress shirts in 2011, more than any other custom clothing maker in the world.
"In the competitive consumer landscape, it's not often that you see a company with the promise and potential to become a global leader on multiple fronts," said Bedbury. "When I first looked at J. Hilburn, I was impressed not just by the quality and innovation of the product and growth thus far, but by the unique J. Hilburn business model. It blends direct sales and personalized service with the scalability and efficiencies of e-commerce. J. Hilburn is making luxury products more accessible, more customized and at the same time more affordable. That's a hat trick. I'm excited to be part of something so bold. J. Hilburn is pushing the edges of luxury retail as we know it."
Referred to as "perhaps the greatest brand maven of our time," by management consultant and author Tom Peters, Bedbury was the marketing executive behind Nike's ubiquitous "Just Do It" campaign, and Starbucks' repositioning and redesign in the 90s.
Currently, Scott serves as the CEO of Brandstream, a global brand development company he established in 1998. He holds a Bachelor of Arts degree from the University of Oregon and was inducted into the American Advertising Federation's Hall of Achievement in 1996.
"Scott is a legend in brand innovation, with a humbling track record at some of the world's most iconic and game-changing companies of our time," said Hil Davis, co-founder and CEO of J. Hilburn. "His role on the J. Hilburn board is an enormous asset to J. Hilburn and a huge honor for the company. Scott's experience, insight and strategic counsel will without a doubt drive the current J. Hilburn momentum--and overall brand vision--to the next level of success."
To learn more about J. Hilburn, please visit www.jhilburn.com.
About J. Hilburn
J. Hilburn is a luxury men's brand that delivers custom apparel made from the world's finest materials at off the rack prices. Our clothes are made from the finest Italian fabric and hand constructed for every customer. The J. Hilburn experience is unlike any retail experience in the world in terms of quality, service and value. Our network of more than 1,000 trusted personal style advisors across the country serve as style concierges for every customer, ensuring the highest quality of service, customized fit and personal attention. J. Hilburn is disrupting the entire retail industry by compressing its supply chain, delivering high quality custom fit clothing at mass scale and wrapping it with service and personal attention that no other retailer can provide. If you're ready to join the revolution, go to: www.jhilburn.com to learn more.
Media Contact
LaunchSquad for J. Hilburn
Tessa Greenwood
415.625.8555
Email Contact


Copyright @ Marketwire
Page: 1
Related Keywords:
J. Hilburn, Marketwire, ,Business,Other,
---