Irish America Magazine to Honor Concannon Vineyard Vintners Jim and John Concannon in the 2011 Business 100
Award Is the Latest in a Series of Recent Accolades for Jim Concannon
(December 15, 2011)
NEW YORK, NY -- (Marketwire) -- 12/15/11 -- Father and son Jim and John Concannon, third and fourth generation vintners of Concannon Vineyard, will join an elite group of the nation's top Irish-American business leaders being honored at Irish America Magazine's "Business 100" annual awards luncheon to be held at the Metropolitan Club of New York on December 15th. The distinction celebrates the entrepreneurial and business success of Irish-Americans and this year's inductees include Dennis Crowley, Co-founder, Foursquare; John Donahoe, President & CEO, eBay Marketplace; Alan T. Ennis, President & CEO, Revlon; J. Timothy Gannon, Co-Founder of Outback Steakhouse; and John P. Mackey, CEO, Whole Foods Market. In addition to the award, Jim and John are featured in the December/January issue of Irish America Magazine.
According to the magazine, the event honors "the best and brightest Irish American leaders in corporate America. These honorees are at the helms of some of the most innovative and powerful corporations in the world. From insurance giant Mutual of America to Coca-Cola, the world's most recognizable soft drink brand, the companies represented are not only globally successful but are also pioneers leading their industry in a new age of consumerism. Twenty-seven Fortune 500 companies are represented by Irish America's honorees. Three of the Business 100 are among Forbes' 2011 100 most Powerful Women in the World."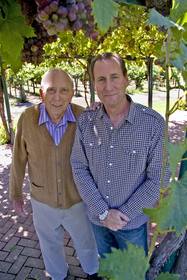 "It's an honor to be named to this esteemed list of Irish American business leaders," said Jim Concannon, 3rd generation vintner of Concannon Vineyard. "The accomplishments among this distinguished group are many and my son John and I are gratified to be in their company. We are proud to be a part of the over 40 million Irish Americans in this country and to be recognized for our contributions to the wine industry." John Concannon, 4th generation vintner of Concannon Vineyard, stated that "I am deeply touched to be recognized with my father in this tribute and inspired to further build on his accomplishments and wine industry legacy."
The honor is the latest in a series of recent accolades for Jim Concannon. In 2007, Jim received the California State Fair Lifetime Achievement Award. According to the California State Fair, Jim Concannon was chosen for his industry leadership in development of clones 7, 8 and 11 that provided the backbone of Napa Valley's Cabernet Sauvignon resurgence in the 1970s and 1980s and led the world in quality standards for this grape which is America's best-selling red wine varietal. In 2010, Jim was honored as Man of the Year by one of the leading industry publication, Tasting Panel Magazine. Anthony Dias Blue, Editor in Chief, stated, "We salute Concannon Vineyard, a founding family of California wine, and credit Jim and the winery for completion of a ten-year, $30 million revitalization program focused on quality in the vineyards, winery and operations. Concannon Vineyard is one of the first of seventeen wineries to earn certification by the California Sustainable Winegrowing Alliance; launched a new tier of Conservancy wines to produce quality vintages from vineyards protected in perpetuity from urban development and will shortly earn organic certification for its estate vineyards." In 2011, the national Petite Sirah organization, P.S. I Love You recognized Jim as the father of America's first varietally labeled Petite Sirah at a special event attended by over 130 winemakers, growers and other industry and community leaders. Jim also received its Founder's Award for leading the nation in advocacy for Petite Sirah wine.
"2011 marks the 50th anniversary of Concannon Vineyard's inaugural bottling of the first Petite Sirah varietal, and we are justly proud of its continuing contribution to the development of viticulture in America," notes John Concannon. "This really has been a remarkable year for the Concannon family."
Twenty-seven Fortune 500 companies are represented on the 2011 Irish America Honor Roll including top executives from Intel, Microsoft, DuPont, Bank of America and Visa. Ford Motor Company CEO, William Clay Ford, Jr., will be the Key Note speaker at the luncheon. Featured wines will be Concannon Conservancy Chardonnay and Crimson & Clover, a wine developed as a special tribute from John to his father Jim on his 80th birthday earlier this year.
About Concannon Vineyard
With four generations of family involvement, Concannon Vineyard's pioneering contributions to California winemaking and viticulture have built a landmark winery with an enduring commitment to creating outstanding, award-winning wines proudly served on American tables for over 128 years. Founder of America's first Petite Sirah, Concannon Vineyard also introduced Concannon Cabernet Sauvignon clones 7, 8 and 11, which provided the backbone of Napa Valley's Cabernet resurgence in the 1970s and 1980s. The historic winery earned organic certification for its estate vineyards in 2010 and preserves an agricultural way of life by protecting vineyards from urban development through its new Conservancy tier of critically acclaimed wines. For additional information please visit: www.concannonvineyard.com
Image Available: http://www2.marketwire.com/mw/frame_mw?attachid=1834346

Add to Digg Bookmark with del.icio.us Add to Newsvine
Contact:

Patricia Schneider
(415) 717-7595
Email Contact


Copyright @ Marketwire
Page: 1
Related Keywords:
Concannon Vineyard, Marketwire, , Auto Manufacturers - Major, Business, Family, Other, Women,
---