Internet America Reports Net Income and Adjusted EBITDA Profit for the Quarter Ended December 31, 2011
(February 13, 2012)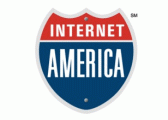 HOUSTON, TX -- (Marketwire) -- 02/13/12 -- Internet America, Inc. (OTCBB: GEEK) today announced results for its fiscal second quarter ended December 31, 2011. The Company's net income under U.S. GAAP for the quarter ended December 31, 2011 increased by $53,000 to $114,000, or $0.01 per share, as compared to net income of $61,000, or $0.00 per share, for the prior year period. Adjusted EBITDA, as defined below, for the quarter ended December 31, 2011 was $319,000 as compared to $330,000 for the prior year period.
Revenue for the quarter ended December 31, 2011 increased by $64,000 to $1,786,000 as compared to $1,722,000 for quarter ended December 31, 2010. Cash on hand at December 31, 2011 was $1,646,000, up $133,000 from $1,513,000 at June 30, 2011.
Billy Ladin, CEO, commented, "The quarter ended December 31, 2011 showed similar Adjusted EBITDA and a slightly improved level of net income as compared to the prior year and prior quarter periods. During the quarter ended December 31, 2011, we focused more and invested more of our surplus cash on infrastructure upgrades, installation of higher throughput licensed wireless backhauls, and improvements to our system monitoring and service to our existing customers. During the foreseeable future, we anticipate using even more of our excess cash for technology improvements and acquisitions while continuing to focus on top line revenue growth and profitability. We continue to believe that we are well positioned to withstand a prolonged sluggish economy and/or to capitalize on growth possibilities through internal growth and acquisitions."
Mr. Ladin continued, "We have begun to see more potential acquisitions that utilize both licensed and unlicensed spectrum at more attractive prices than in previous years. On January 31, 2012, we closed the purchase of wireless radios (access points) on three leased towers in Joplin, Missouri. This asset acquisition is the first time in more than five years that the Company has entered into operations outside the state of Texas and it is the first time that we have utilized 2.5 GHz spectrum."
About Internet America
Internet America is a leading Internet service provider serving the Texas market. Based in Houston, Internet America offers businesses and individuals a wide array of Internet services including broadband Internet delivered wirelessly and over DSL, dedicated high-speed access, web hosting, and dial-up Internet access. Internet America provides customers a wide range of related value-added services, including Fax-2-Email, VoIP, desktop video conferencing, online backup and storage solutions, and global roaming solutions. Internet America focuses on the speed and quality of its Internet services and its commitment to providing excellent customer care. Additional information on Internet America is available on the Company's web site at http://www.internetamerica.com.
Use of Non-GAAP Financial Measures
As used herein, Adjusted EBITDA means earnings before the effect of interest, taxes, depreciation, amortization, stock-based compensation and transfer of assets. The Company refers to this non-GAAP financial measure because management believes that this measure is a financial indicator of the Company's ability to internally generate operating funds. Management also believes that this non-GAAP financial measure is useful information to investors because it is widely used by professional research analysts in the valuation and investment recommendations of companies in the Company's peer group. Adjusted EBITDA should not be considered an alternative to net income, as defined by GAAP. A table reconciling Adjusted EBITDA to net income is included below.
Forward Looking Statements
Certain of the statements contained in this press release, including the comments of our CEO, are forward-looking statements (rather than historical facts) that are subject to risks and uncertainties that could cause actual results to differ materially from those described in the forward-looking statements. These risks include, without limitation, that (1) we will not be able to increase our rural customer base at the expected rate, (2) we will not improve EBITDA, profitability or product margins, (3) Internet revenue in high-speed broadband will continue to increase at a slower pace than the decrease in other Internet services resulting in greater operating losses in future periods, (4) financing will not be available to us if and as needed, (5) we will not be competitive with existing or new competitors, (6) we will not keep up with industry pricing or technological developments impacting the Internet, (7) we will be adversely affected by dependence on network infrastructure, telecommunications providers and other vendors or by regulatory changes, (8) service interruptions or impediments could harm our business, (9) acts of God and other events outside our control, such as hurricanes and other dangerous weather conditions, fires and lightning, could damage or destroy our facilities and network infrastructure, (10) we may be accused of infringing upon the intellectual property rights of third parties, which will be costly to defend and could limit our ability to use certain technologies in the future, (11) government regulations could force us to change our business practices, (12) we may be unable to hire and retain qualified personnel, including our key officers, (13) future acquisitions of wireless broadband Internet customers and infrastructure may not be available on attractive terms and, if available, we may not successfully integrate those acquisitions into our operations, (14) provisions in our certificate of incorporation, bylaws and shareholder rights plan could limit our share price and delay a change of management and (15) our stock price has historically been thinly traded and volatile and may continue to be thinly traded and volatile. The foregoing list is intended to identify certain of the principal factors that could cause actual results to differ materially from those described in the forward-looking statements included elsewhere herein. These factors are not intended to represent a complete list of all risks and uncertainties inherent in our business, and should be read in conjunction with the more detailed risk factors included in our other annual, quarterly and current reports filed with the Securities and Exchange Commission. These forward-looking statements speak only as of the date hereof and we disclaim any obligation to update such forward-looking statements.
Internet America, Inc. Preliminary Unaudited Financial Summary (in thousands, except share data and subscriber counts) Statement of Operations Data: Quarters Ended 12/31/2011 12/31/2010 ----------- ----------- Wireless Broadband Internet Subscribers 7,800 8,000 Total Subscribers 25,000 25,100 Revenue: Internet Services $ 1,786 $ 1,722 ----------- ----------- Total Revenue 1,786 1,722 Operating Costs and Expenses: Connectivity and Operations 1,010 1,050 Sales & Marketing 92 45 General & Administrative 361 299 Recoveries of Bad Debt 4 1 Depreciation & Amortization 197 254 ----------- ----------- Operating Income 122 73 Interest Expense, Net (8) (12) ----------- ----------- Net Income $ 114 $ 61 =========== =========== Basic and Diluted Net Income Per Share $ 0.01 $ 0.00 =========== =========== Weighted Average Basic Shares 16,730 16,718 =========== =========== Weighted Average Diluted Shares 19,448 19,448 =========== =========== Adjusted EBITDA 319 330 Reconciliation of Net Income (a GAAP Measure) to Adjusted EBITDA (a Non- GAAP Measure) Quarters Ended 12/31/2011 12/31/2010 ----------- ----------- Net Income $ 114 $ 61 Add: Depreciation and Amortization 197 254 Stock-Based Compensation - 3 Interest Expense, net 8 12 ----------- ----------- Adjusted EBITDA $ 319 $ 330 =========== =========== Balance Sheet Data: Periods Ended 12/31/2011 12/31/2010 ----------- ----------- Current Assets $ 2,211 $ 2,093 Property and Equipment, Net 1,306 1,600 Other Assets, Net 2,252 2,605 ----------- ----------- Total Assets $ 5,769 $ 6,298 =========== =========== Current Liabilities $ 1,571 $ 1,725 Long-Term Liabilities 429 677 Total Shareholders' Equity 3,769 3,896 ----------- ----------- Total Liabilities and Shareholders' Equity $ 5,769 $ 6,298 =========== ===========
Contact
Internet America, Inc.
713.968.2500
William E. Ladin, Jr.
Email Contact


Copyright @ Marketwire
Page: 1
Related Keywords:
Internet America, Inc., Office Equipment,Sales,Marketing,Sales & Marketing,Storage,Internet,Business Issues,Services,Misc,Law & Regulations,Management,Sales,CEO/CFO,Sales,USA,Marketwire, Inc., ,Financial,Internet Technology,Business,Internet,Other,
---