Intermedia Launches UK's First Business-Class Hosted Exchange 2010 Service
Brings Power of Exchange 2010 to Small- and Mid-Size Businesses
(January 26, 2010)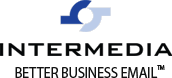 LONDON -- (Marketwire) -- 01/26/10 -- Intermedia, the world's largest Microsoft Exchange hosting company, today extended its hosted Exchange 2010 service to the UK market. Intermedia's industry-leading new offering is the first to deliver Exchange 2010 with clustering and redundant server infrastructure -- technologies critical to the high reliability businesses expect for email service.
According to Michael Osterman of IT analyst firm Osterman Research, "Businesses are increasingly using hosted Exchange for their email given the lower cost of ownership that it can provide -- not to mention the very high availability that comes from the use of clustering and redundant servers in a carrier-grade environment. Exchange 2010 offers a number of important benefits, particularly to remote and mobile workers, not least of which is a much-improved Outlook Web App experience. As one of the leading providers of hosted Exchange, Intermedia is well positioned to help organizations drive down their cost of providing email, as well as provide a variety of additional, value-added services."
Intermedia's announcement comes on the heels of a strong 2009 performance for its London-based UK operations. The company tripled its UK customer base last year with a product line that includes hosted Microsoft Exchange, Office Communications Server 2007, SharePoint 3.0 and support for BlackBerry, iPhone, Droid and other smartphones.
Intermedia has also secured space for an additional datacenter located in the UK. Like the company's four US datacenters, the UK datacenter will feature redundant Tier-1 Internet connections and hardware from Cisco, Dell and EMC -- investments that assure high reliability and the fastest round trip for email. The UK datacenter will also provide in-country email service and storage for UK companies that prefer this option.
"Small- and mid-size businesses in the UK require hosted services that give them the same capabilities as much larger competitors," says Serguei Sofinski, chief executive officer, Intermedia. "We deliver enterprise-class service in a way that's incredibly simple for our customers to use and manage. That's why we've been successful in the UK market and expect additional growth with hosted Exchange 2010."
New features in Exchange 2010 include an enhanced Outlook Web App and capabilities for personal archives and multi-mailbox search. Intermedia also includes its own proprietary features with hosted Exchange 2010:
-- Premium infrastructure: Intermedia operates hosted Exchange on a multi-million dollar infrastructure with multiple datacenters. Service is backed by a 99.999 percent service level agreement, guaranteeing less than six minutes of downtime per year. -- Free full-service migration: Using proprietary migration tools, Intermedia migrates new customers to hosted Exchange 2010 from their current email system, often Exchange 2003 or Exchange 2000. Customers' Active Directories -- including distribution lists -- are imported typically in less than 60 minutes, enabling them to rapidly begin using the service. -- Control of the Exchange environment: Unique in an industry that relies on generic third-party control panels, Intermedia's HostPilot® Control Panel was designed for small- and medium-sized businesses. It enables business owners and IT managers to delegate complex Exchange administration -- such as deleting data from a lost BlackBerry Wireless Handheld™ -- to non-technical staff. -- Support with an average hold time of less than one minute: Support is available by phone and email, 24 hours a day. Intermedia support representatives are certified by Microsoft® and RIM®.
ABOUT INTERMEDIA
Intermedia is the premier provider of communications services, including hosted Microsoft Exchange, to small- and mid-sized businesses. For an affordable monthly fee, customers get business email, telephony, smartphones, instant messaging, fax and other communications delivered as a service with 24x7 support. Intermedia also empowers thousands of smaller VARs and MSPs -- as well as select Fortune 500 companies -- to sell communications services under their own brand. Founded in 1995, Intermedia was the first company to offer cloud-based business-class email and now has over 225,000 premium hosted Exchange mailboxes under management -- more than any other provider. For more information, visit www.intermedia.net.
CONTACT:
Cynthia Greenberg
646-225-9473
[email protected]


Copyright @ Marketwire
Page: 1
Related Keywords:
Intermedia, Internet,Communications,Digital Audio,Web,Smart Phone,PDA,iPods,iphone,Search,Research,EMail,Storage,Internet,Business Issues,Hardware,Services,Misc,Administration,Search,Management,IT Managers,Marketwire,Apple Computer,Internet Technology,Business,Internet,Email,Other,
---