Intercity Transit Deploys RouteMatch Software's Customer Web Portal and Interactive Voice Response Technology to Enhance Scheduling, Coordination, and Rider Communications
(April 16, 2012)
ATLANTA, GA and OLYMPIA, WA -- (Marketwire) -- 04/16/12 -- Intercity Transit, of Olympia, Washington, has launched a new customer web portal and RouteMatch Software's interactive voice response (IVR) technology to better serve their paratransit riders with online scheduling and trip management, as well as automated notifications and communications to riders.
Intercity Transit is a public transit agency that covers an area of approximately 94 miles with 101 fixed route buses serving 24 bus routes, 34 ADA paratransit vans and 221 vanpool vans. The agency utilizes RouteMatch's paratransit solution to perform driver and vehicle management, dispatching, verification, reporting and overall trip management for the (average) 500 passengers they accommodate per week day, and 200 on weekends.
Intercity's RouteMatch-Powered Customer Web Portal Allows for Easier Scheduling and Dispatching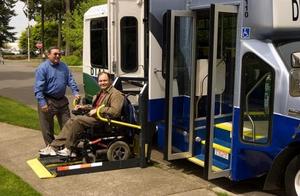 Intercity worked with RouteMatch to help build a secure, easy to navigate, and branded customer facing web portal that captures all of the necessary rider information and parameters, making it more convenient for passengers to book rides, and for the transit agency to more effectively accommodate rides. The customer web portal is integrated into Intercity's current RouteMatch scheduling and dispatching technologies.
"The web portal is a terrific enhancement for our riders, and it has helped alleviate some specific challenges," says Emily Bergkamp, the Dial-A-Lift Manger at Intercity. "We would receive multiple email requests for rides; however, requests sometimes did not contain complete rider information which would cause confusion." The addition of the customer web portal has allowed Intercity to improve processes and better manage scheduling and dispatching, and streamline the number of rider requests that come in each day.
"Our clients have been thankful for this new service," says Emily. RouteMatch worked closely with Intercity to ensure the web portal reflected Intercity's brand, look-and-feel, with customized language, colors and overall content. RouteMatch's open architecture permits ongoing design modifications and changes as Intercity sees fit.
Agency and Riders Reap Communications Benefits from Interactive Voice Response Technologies
In addition to the customer web portal, Intercity has also implemented RouteMatch's interactive voice response and notification system. Currently, Intercity's IVR system is configured to perform outbound calls.
"Now, we can perform call-outs to clients the night before. Many times, riders may forget they had a ride scheduled, and we now can remind them. The IVR system also has the capability for us to quickly and consistently communicate to our customers about standing holidays or changes in ride service," explains Emily.
During the two month period that Intercity has utilized the IVR technology, they have noticed a slight decrease in their number of no-shows, and anticipate this to grow. Prior to launching the IVR system, Intercity worked closely with RouteMatch to establish parameters and ensure required features were included. Intercity then piloted it with a small group of clients, before going live on the system.
"Piloting really helped us," explains Emily. "We were able to get a sense of what the issues were early on, and we also let clients opt-out of calls, which helps to manage expectations."
"Intercity's decision to invest in these two forward-thinking technologies -- RouteMatch's customer portal and IVR system -- demonstrates that relatively small operational changes can reap large benefits to passengers down the road. By introducing easy, web-friendly passenger communications tools, Intercity is making their agency more efficient and growing customer relationships and trust at the same time," says Tim Quinn, RouteMatch's Executive Vice President and Co-founder. "We look forward to continuing to work with Intercity as they continue to enhance their ITS technologies and abilities."
About RouteMatch Software
RouteMatch is the leading provider of end-to-end transit ITS software and innovative passenger and vehicle technology solutions. The company is headquartered in Atlanta, GA and works with more than 450 transit agencies across the U.S. and internationally, providing quality software and customer service. Partnering with public and private sector passenger transportation providers, the company's products address routing, scheduling, dispatching, billing, reporting, fixed route, CAD/AVL, paratransit and fixed route integration, traveler information services, fleet management, mobility management, and more. Additional information about RouteMatch's ITS technologies are available at www.routematch.com or by calling RouteMatch toll-free at (US) 1-888-840-8791.
About Intercity Transit
Intercity Transit is a municipal corporation that provides public transportation for people who live and work in Olympia, Lacey, Tumwater, and Yelm, an area of approximately 94 square miles. They operate 24 bus routes, a door-to-door service for people with disabilities, a vanpool program, specialized van programs, and are active in community partnerships.
Image Available: http://www2.marketwire.com/mw/frame_mw?attachid=1949891

Add to Digg Bookmark with del.icio.us Add to Newsvine
Media Contact:
Brooke Phillips
RouteMatch Software
E: Email Contact
P: 404-253-7839


Copyright @ Marketwire
Page: 1
Related Keywords:
Traveler information systems, paratransit, Washington, transit software, Intercity, demand response, USA, Marketwire, , Internet Technology, Medical, Email,
---