InsFocus Releases New Insurance Agent Portal for InsFocus BI
(April 15, 2011)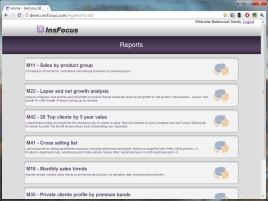 (PRWEB) April 15, 2011
Uri Taiber, founder and CEO of InsFocus Systems, Ltd., leading developer of business intelligence software for the insurance industry, today announced a new agent portal for users of InsFocus BI.
Designed to give agents easy access to targeted information critical to their marketing and client retention efforts, InsFocus BIs agent portal requires no software installation or training, making it quick to deploy and immediately useful to insurance agents of any level of technical sophistication.
The guiding principle in the development of our agent portal has always been to break down the barriers between agents and the information they need to generate value for their companies, notes Hanan Taiber, CTO of InsFocus Systems. With this new tool, insurance agents can simply log in and get immediate access to activity monitors, sales and growth analysis, renewal lists, and much more, all with a zero learning curve.
As part of their efforts to provide easy and transparent insurance data access, InsFocus developers concentrated on making the new agent portal available from a wide array of mobile devices, in addition to the desktop. Our new agent portal unchains insurance agents from their desks, says Uri Taiber. Whether they carry an iPhone, iPad, Blackberry, or another Internet-connected device, agents get the same functionality as they would from their offices. As long as theyve got a browser, theyve got the updated information they need to serve existing clients and sell to prospects.
InsFocus BIs agent portal offers a number of predefined reports, including sales by product group and cross selling lists, though system administrators can easily add more at any time. User administration is as simple as adding or removing agents from a permission list, and sensitive operating and client information is protected by business-grade encryption.
Our new agent portal is a real workhorse secure, reliable, and powerful, yet lightweight enough to allow anytime, anywhere, any device access, says Hanan Taiber. Were excited to see what our users do with this key new extension of their insurance business intelligence solution and proud to facilitate better customer service, improved sales, and agency growth for our clients.
About InsFocus:
InsFocus is a leading provider of business intelligence software for the insurance industry. Leveraging decades of insurance industry experience paired with BI and DW expertise, InsFocus Systems brings advanced analytics to every part of the insurance business, including marketing, underwriting, reinsurance, actuarial, and accounting domains.
Building on its proprietary data model and extensive field experience, InsFocus has developed Structured Insurance BI Methodology. Using this methodology, InsFocus creates and deploys structured BI projects with a focus on predictable and accurate results, customizability, and user-friendliness. InsFocus is a Microsoft Certified ISV Partner, operating globally through local implementation partners.
For more information on InsFocus Systems, InsFocus BI, and the new agent portal, please email info(at)insfocus(dot)com or visit InsFocus Systems website.
###
Read the full story at http://www.prweb.com/releases/2011/insurance-agent-portal/prweb5253624.htm.
Page: 1
Related Keywords:
economy, business and finance, financial and business service, insurance, business enterprises, business (general), health insurance, computing and information technology, satellite technology, software, wireless technology, science and technology, technology (general), identification technology, agricultural research and technology, computing and information technology, satellite technology, wireless technology, company information, science and technology, technology (general), identification technology, agricultural research and technology, economy, business and finance, financial and business service, , business enterprises, business (general), finance (general),
---