Innovative Ski Insurance Provider is First to Release a Free iPhone App for Skiers
(March 09, 2011)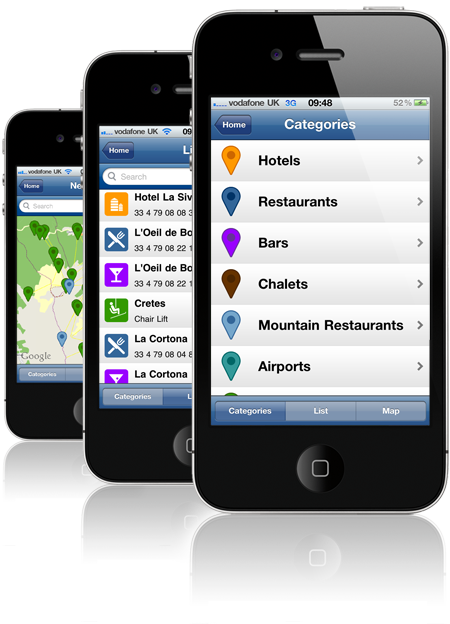 (PRWeb UK) March 9, 2011
Complete Ski, a leading winter sports insurance specialist, has built on its reputation for innovation by being the first UK insurance company to bring its customers value added travel data in an iPhone app for ski resorts.
The free 'Resort Maps' app from Complete Ski lets users quickly find out what places of interest are located near them in a ski resort. Covering 22 top ski resorts in Europe, America and Canada, the app is a must have ski trip companion.
Tim Lister, Head of Development at Complete Ski said "We are pleased to bring winter sports enthusiasts a useful navigational tool, which unlike many other apps enables users to make the most of their après ski, as well as time on the slopes."
"Based on your current GPS location, the app maps the restaurants, bars, hotels and ski lifts that are in your resort, so users can easily get their bearings and find where they want to go. As such, anyone new to a resort can quickly view the points of interest around them or for those looking for a particular location, they can search for it and view it on the map."
An offline version of the app is also in development. This offers the same great functionality but since it works in offline mode there is no need for roaming when abroad. The first offline resort version has been released - Offline Resort Map for Lech - which for a nominal download price saves users potentially hefty roaming fees. It is the first app of its kind available for Lech, Austria. The full offline resort range will be integrated for 'in app' purchase via the master app, Resort Maps.
The app also offers the added benefits of an exclusive discount on Complete Ski travel insurance and a handy list of local emergency numbers. So for anyone going to any of the top resorts in France, Austria, Switzerland, the USA and Canada, the 'Resort Maps' app from Complete Ski is something for winter sports enthusiasts to add to their holiday checklist.
Find out more at http://www.complete-ski.com/app where you can view a video demo or search in the App Store for Resort Maps from Complete Ski.
About Complete Ski
Complete Ski was established to offer UK customers comprehensive ski travel insurance at competitive low prices. We are a specialist insurance intermediary and our primary service is to distribute low priced, but high quality holiday insurance cover. We have a range of products including single trip holiday insurance, long stay holiday insurance, annual multi trip holiday insurance, ski holiday insurance and more for individuals, couples and families. Complete Ski is part of the Collinson Insurance Group.
# # #
Read the full story at http://www.prweb.com/releases/ski/apps/prweb5101234.htm.
Page: 1
Related Keywords:
tourism and leisure, lifestyle and leisure, tourism, travel and commuting, lifestyle (house and home), insurance, health insurance, computer crime, economy, business and finance, financial and business service, business enterprises, business (general), travel and commuting
---